How Netflix's Longmire Modernizes the Myth of "The West"
Photo: Courtesy of Netflix
TV
Features
Longmire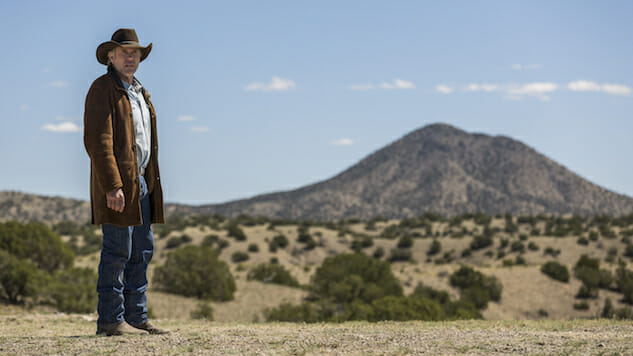 The final season of Netflix's modern Western procedural, Longmire, opens with a bank robbery. A man in cowboy boots and a Stetson pushes a bag across to a teller, along with a paper note demanding she fill it with all the 50s and 100s in her drawer. He is wearing leather work gloves. He has an apparent shoot-out with the bank guard out on the street before getting away clean. He never says a single word.
Later, when Durant, Wyoming's election-panicked, smartphone-toting mayor storms up to the crime scene to rail at Sheriff Longmire (Robert Taylor) and his deputies (Katee Sackhoff and Adam Bartley), his opening volley is, "I just wanted to stop by and tell you guys about a Facebook message I got from one of my college buddies back east. He says, 'You made the news this morning, bro! A real-life outlaw in your county! Hope you're not tied to any train tracks or anything!' He attached a link to a blog."
The Western was America's dominant genre for the first half-century of radio's, and then Hollywood's, existence, immortalizing the popular conception of the American West as a lawless, brutal—yet still so romantic!—frontier, and at the same time as cementing the popular understanding of media and technology as drivers (and proofs) of modernity. Listen to the sharpshooting adventures of Dodge City's toughest lawman, Marshall Matt Dillon, on your brand new Westinghouse Personal Portable Radio, in lovely holly berry red, with a chrome finish, just $29.95! Watch the tough-talking adventures of Shiloh Ranch's mysterious foreman, The Virginian, on your brand new, plane-ready RCA Victor Portable Television Set! Want to get the most intense viewing experience out of Seth Bullock's bloody law-keeping in the grimly lawless, eternally unevolved town of Deadwood? Catch it on a Samsung DLP TV on a pedestal!
As the gods of media and technology evolved, the Western—and by extension, the actual, living, American West—remained the lawless, brutal, and romantically anti-modern place it had been in the cultural imagination from the start. And while intellectually most people understand that life in 2017 Wyoming, Colorado, Montana, Utah, Idaho, Kansas, Nebraska, Nevada, New Mexico, Arizona, South Dakota, Texas, and Oklahoma can't actually be like it is in the Westerns that have dwindled in dominance but still remain, annually, in some degree of production, it is viscerally hard to let those stereotypes go—especially when, as with all stereotypes, some key details remain true. Stoic cowboys still exist in Wyoming. I lived in a suburb and spent most of my free time hacking away at an overachiever's academic load or hanging out at the coffee shop with my friends, but I was only one degree separated from one: our family's farrier friend, who took care of my horse's hooves. To even more stereotypical wit: I had a horse. But I also had indoor plumbing, and dial-up, and a summer pass to mini-golf, and a parental "in" in the community college jazz and percussion department.
Thus the quiet radicalness of Westerns that take their settings not as relics of historical romanticism, but as they live and breathe in the modern world, stereotypes meeting reality to tell richer and more universally relatable stories than even the best gunslinging 19th-century allegories ever could. See: Justified, with the lawless mountains of Raylan Givens' Eastern Kentucky, economically and ideologically bust after decades trapped in between coal and drug titans but fighting to stay alive. See: Wynonna Earp, trapped in the hardscrabble Rockies frontier town of Purgatory, isolated by terrain and weather (and demonic magic), but fortified by the technological muscle and scientific might of a secret government agency.
But see, above all, Longmire, whose stories (adapted from Craig Johnson's mystery series of the same name) most successfully disambiguate modern life on the frontier from that shown in the genre's Golden Age in the 1950s. Yes, this success can be seen in the Season Six premiere's juxtaposition of the "Cowboy Bill" bank robber and Durant's reputationally consternated, Facebooking mayor, but it is found in even greater measure in the the whole series' unflinching inclusion of life on and alongside contemporary American Indian reservations, its laser focus on land and resource development as the source of the most dangerous local drama, and the fact that, yeah, lots of people do wear cowboy boots and hats, and yes, horses and rodeos are not unfamiliar local features, and sure, there are more signal-less open spaces than there are bodies to fill them, but simultaneously most people in Wyoming wear Carhartt and fleece and jeans, and mostly they drive trucks, and literally everyone save Absaroka's one fictional pigheaded old-school Sheriff owns and values a cell phone. Because it is the 21st century. All towns and great pockets of wilderness have cell coverage, and in the kind of bind that Wyoming's sweeping emptiness can bring, a cell phone might save your life as surely as a gun, or a knife, or bear spray, or road flares. Every Wyomingite knows the dramatic possibility in all of this modern frontier life; only Longmire has had the good sense to capitalize on it.
It is not just the modern Westernness of Longmire that makes it successful, though. Or rather, it is exactly the modern Westernness of Longmire that makes it successful, but not because it's a Western—because it's a mystery. And mysteries—especially serialized ones—depend on their setting to be a character as much, or even more than, their human subjects. In a mystery, the details that the human characters react to and obsess over change case to case, mystery to mystery. For those characters to develop meaningfully, then, they need some unchanging circumstances that will constrain and challenge them; for the mysteries to have enough context for the human characters to make sense of, they, too, need constraining and unchanging circumstances.
Enter, the setting. Just as Lucifer and Bosch and, hell, NCIS: LA succeed on the heat and hollowness of Los Angeles, and Shawn Spencer's laid back fakery succeeded on the chill vibes of Santa Barbara, and Miss Fisher's feminist glam succeeds on the hot and cold culture-in-transition in 1930s Melbourne, so too does Longmire succeed on the rough and modern specificity of Absaroka County, Wyoming: sparse in population, brittle in settler-Indian relations, rich in swaths of land and resources that will as soon kill you as make you rich. It is the precise place Walt Longmire could be both gruff, law-bending Sheriff and warm best friend to occasional rez vigilante Henry Standing Bear (Lou Diamond Phillips). It is exactly the kind of place a Philly cop (Katee Sackhoff) looking to start over might escape to do so quietly. It is the best place an achingly ethical lawyer (Cassidy Freeman as Cady, Walt's daughter) could set up a legal services office to employ and protect federally ignored and abused local tribal members. It is the unlikely place where a bank robbery can be followed by a staged bear mauling can be followed by the poisoning of a Basque sheep farmer can be followed by an Indian foster care fraud ring bust. It is, on top of all the that, the place all of this could happen against a sky so wide and a horizon so vast and natural resources so baldly on display that every single crime—even Walt Longmire's—makes sense, the result of Absaroka County's residents feeling the wrench of freedom colliding with isolation.
After six seasons, Longmire is, like the best mysteries, a reflection of the best and worst of its place, and is, like the best Westerns, a reflection of our national mythology. But in its clear-eyed modernity, it is also a reminder that mythologies thrive by evolving.
And you know I'm telling the truth: you read it via a link, on a blog.
Season Six of Longmire is now streaming on Netflix.
---
Alexis Gunderson is a TV critic whose writing has appeared on
Forever Young Adult
,
Screener
, and
Birth.Movies.Death
. She'll go ten rounds fighting for teens and intelligently executed genre fare to be taken seriously by pop culture. She can be found @AlexisKG.