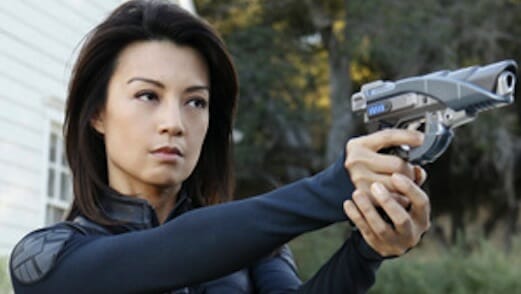 After last week's episode and the show that followed this week, we're accepting the show's format is possibly set in stone. And while it might change later on, the goal seems the same weekly—show some cool, super-human stuff; watch Coulson's S.H.I.E.L.D. team assemble and take it on and, most importantly, develop our characters individually along the way. And although we've gone into Skye's rough past, peeked a little into Ward's dark childhood, explored the relationship between Fitz and Simmons, and frequently looked into Coulson's questionable death, there was still one main character that has a fairly unknown history.
This week, we took a look at Agent Melinda May—one of the characters who I've grown to like a lot over the course of the series—and her not-so-favorable nickname, The Calvary. Per the show's format, we're thrust into a situation that can definitely be resolved within the hour-long episode—with a young woman named Hanna who possesses a Carrie-like ability to move things with her own anger (or anxiety).
The first look at May's past (although it's not really correct) comes early on when Skye, who is left on the sidelines of a mission for not handling situations delicately enough, first poses the question to our favorite nerdy lab team. While hanging out with Fitz and Simmons, they spoon-feed her a bogus story of May on horseback, taking out over a hundred men in a critical situation. Sure, the episode centered on some pretty awesome elements between tales of May's path—it was cool to see unmanned police cars glide across a neighborhood during an early confrontation with Hanna, and there's a fairly epic Big Fight At The End with our Baddie of the Hour: Tobias, a demon trapped between two worlds who is essentially stalking Hanna.
But in a show of this format, where so much feels predetermined from minute one, the May drama and character development is what I find myself looking forward to weekly. Sure, Demon Drama is fun, but at least some of the juicier, more personal bits feel fresh—like May spending a surprise evening with Ward last week. (I could have sworn that Skye/Ward were a guaranteed thing.) And then there was the actual reveal of the origin of May's nickname. The "Calvary" comes from what Coulson describes to Skye as a "welcome wagon gone wrong," an incident where a fight started, May had to respond without a weapon, and like Coulson, returned a changed Agent as a result. Here, the May/Ward hookup starts to make a little more sense after Coulson compares Skye to a younger version of Ms. Serious, noting that May wasn't always that way.
In the end, it's business as usual: the baddie is neutralized in a showdown, the team is left hanging at HQ goofing off. The events of this show, past shining some light on a character's past, won't really affect us beyond a referential line on demons in stories to come. But here was something refreshing: after our first serious look at the usually stone-faced May, she's behind a bunk prank with whipped cream on Agent Fitz. And it's nice to know that while the storylines might not take us by surprise, these characters still can.