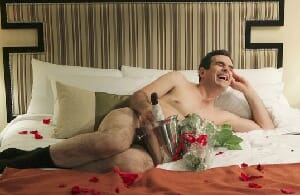 Modern Family tackled that great American Hallmark holiday—Valentine's Day—in last night's episode, trying to bring a few laughs to a day that's usually filled with boring cliches.
Since Feb. 14 is a mandatory date night for couples, the adult members of the Pritchett and Dunphy clans separately make reservations at Ibiza, the hottest restaurant in town. Phil (Ty Burrell) and Claire (Julie Bowen) Dunphy are up for a quiet dinner out to make up for last year's embarrassing Valentine's Day—when Claire gets stuck on a hotel escalator wearing nothing but a trenchcoat and runs into her father and his wife.
So fast-forward a year and Phil and Claire laugh about using their alter egos Clive Bixby and Juliana (as strangers who meet at the aforementioned hotel's bar for an anonymous tryst). But as Claire looks around at their dining companions (at the 6:30 seating), she notices a generational difference. "Now this how you do V-Day," Phil goofily gushes, to which she retorts, "Except most of these people could have been here on V-E day."
Claire decides that they're too young to retire Clive Bixby, and another hotel rendezvous is planned during dinner. This year, however, Phil's the one caught with his pants down. And while it wasn't exactly a surprising scenario—a case of mistaken hotel rooms—Burrell makes the most of it with his deft timing and ease with physical comedy.
Meanwhile, Jay (Ed O'Neill) and Gloria (Sofía Vergara)—Claire's dad and her nubile, Columbian stepmom—are also at Ibiza under false pretenses. Jay screwed up Valentine's Day plans last year, so this year he's hired a catering company to prepare a five-course meal at home. While the trip to Ibiza is a rouse, Gloria also has a trick or two up her sleeve. She's ultra competitive and is
determined to "win Valentine's Day."
Jay's son Mitchell (Jesse Tyler Ferguson) and his partner Cameron (Eric Stonestreet) are also out for the holiday, but their date is broken up by an argument over which one of them Mitchell's assistant has a crush on. The segment wasn't great, but Ferguson and Stonestreet can turn a weak phrase on its ear with the cock of an eyebrow. These two are just fun to watch.
The kids aren't left out of the Valentine's Day mix, with Manny (Rico Rodriguez) encouraging Haley (Sarah Hyland) to dump the guys she's seeing and wait for the right one—with brains and a sense of humor. "How about all of that in one fine little brown package," the pint-sized poet tells her. But she doesn't get his innuendo, and we're kind of glad since, technically, isn't he her step-uncle?
"Bixby's Back" is a good episode, though not a great on. The show runs on all four cylinders when the families' dilemmas intertwine, when they zing each other with insults or focus on nuances and absurdities of every day life. In the end
this episode turned out to be a little bit of a letdown—much like the holiday it was a trying to skewer.
Stray Observations
• Rico Rodriguez (Manny) has the best pickup lines: "Like me today, love me tomorrow."
• Cam tells Mitchell that Broderick (Mitchell's assistant) hugged him in the elevator. Mitchell's comeback? "Well pick out China and move to Vermont"
• Gloria to Jay, on learning he "forgot" to make a reservation at Ibiza: "I am the second wife…why you treat me like the first?"
• Clive's (aka Phil) to Juliana (aka Claire): "I don't like to talk about
money…but I have 10 million dollars."
• Haley, who's now in high school: "I haven't been single since I was 9."