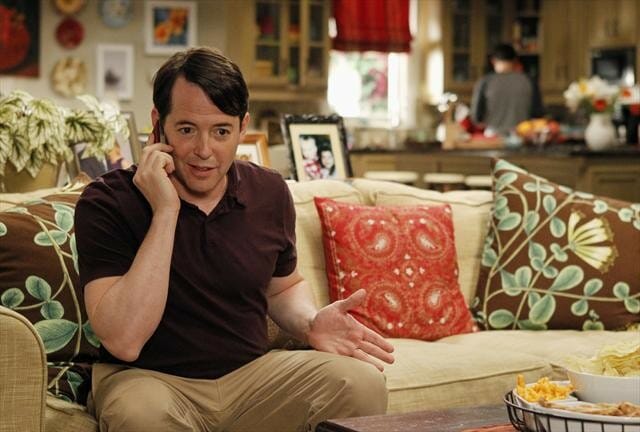 If I had to rank this episode (which I do), I would say it's pretty average, but for some reason I like it more than that. There isn't anything spectacular about it: the storylines aren't intensely intriguing, but there is just enough quality dialogue sprinkled throughout that I was happy to keep watching. And with the addition of the most awkward encounter since Jay and Cam's "moon landing" last season, we get a pretty solid episode in "Mistery Date."
Leading the kid crew, Claire takes Alex, Manny, and Luke to the Academic Challenge. Alex is there to try and keep the title of reigning champ; Luke is there for the waterslide; and Manny tagged along because he didn't get invited to a dance. His spirits are quickly lifted when he sees a girl that smiles at him like no other girl has smiled at him before. He enlists Luke to help him break into three bar mitzvahs to find her.
The actual Academic Challenge doesn't last long because Alex gets out on the first round—exactly at the time her mom is humble-bragging to the other moms. But Alex's failure gives the mother-daughter duo time to talk about Claire's parenting skills. Alex realizes she's too hard on herself, and Claire realizes she likes to brag to the other moms.
Mitchell and Cam are trying to get Jay and Gloria out of the house so their super-secret custom gift can be installed in the nursery. Mitchell goes crib shopping with Jay. After some talks about babies, Jay running into his doctor and then hugging a life-size rabbit, and finally purchasing the crib, the father-son pair finally have a heart-to-heart. His foul mood (in this episode) is due to him realizing he'll have to give up his office for the nursery. It's rough in Southern California.
Speaking of his office, it's now covered in the world's best worst painting—Cam's custom gift—the reason they had to be out of the house all day. This situation provides some great one-liners, but it's not a life-changing storyline by any means. However, I will forever cherish it for giving us this dialogue gem:
Gloria: The baby kicked me all night. It's either going to be a football player or a chorus girl.
Cam: You can be both. My senior year I was a right-side linebacker and left-side can-can dancer in Gigi.
Mitchell: Wow, she really set you up for that one, didn't she?
?Cam: Yeah, when it came out of her mouth, I nearly stopped breathing.
Priceless. The episode could have stopped there for me. But it didn't…
Now, let's all thank Matthew Broderick for giving us the most awkward moments on this episode—and the season. He meets Phil at the gym, where the Dunphy patriarch acts like his usual self, inviting the stranger to watch a Bulldog game at his house. Only Broderick's character isn't a stranger to us—it's Cam's friend who went to the gym to meet men. Their time together is full of mixed messages, innuendos, and just outright uncomfortable moments to watch. Broderick was a great guest star, though, and I would love to see him come back now that Phil understands their date was a real date.
Best Lines:
"Phil Dunphy, welcome to the year 2025. You're the first one here."—Phil
"You made a very similar speech to get my mom to stop for those churros."—Luke
"That place is like a gay bar with dumbbells … redundant."—Cam
"I like it too much when you win. I really love lording it over the other moms."—Claire
Discuss:
Was Haley babysitting Lily this whole episode?
Why exactly did Phil not go to the Academic Challenge?
Is it hard to break into a bar mitzvah?