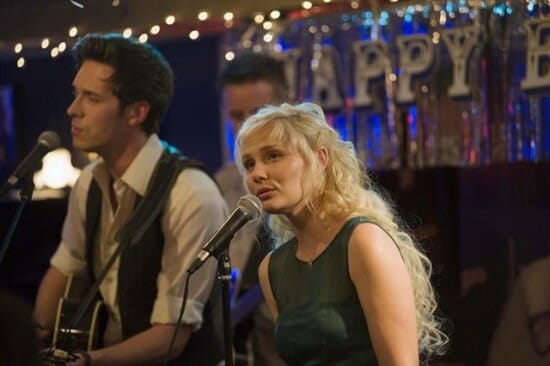 Country music is frequently about drinking with buddies and drinking away your problems. So, it's no wonder Nashville hit on every somber note this week after a week of devastating turns.
In the center of the storm is the revelation that Rayna and Teddy are divorcing. First a sleazy magazine leaks the news, followed by photos of the country star dancing with her guitarist/producer Liam. We've seen paparazzi exclusively attacking Juliette, but to see them turn on the lovable Rayna is a poignant reminder that creeps will attack any good-natured person. It isn't hard for Britton to take on the role of a matriarch fighting against society; in fact, it's where she's at her finest. She controls every scene she's in, even playing someone as vulnerable as Rayna is in this episode.
Her husband isn't getting off that easy though. After announcing his lover as a member of his council, he's attacked by Rayna's father, the man who got Teddy elected in the first place. Lamar basically lays down the law: you're not my son-in-law, so you don't get the benefit of the doubt. Lamar is a man of power, and he's about to use some of it to tighten Teddy's world.
While Rayna deals with her divorce, Deacon's birthday approaches. Normally he celebrates by watching Old Yeller, but Juliette has other plans and decides to throw a party at the Blue Bird. She enlists Scarlett to help trick him into coming. Scarlett's rewarded for her deception by playing a song with Gunnar in front of the partygoers, which includes some of the industry's heavy-hitters. Bonus: there are cameos by Dan Auerbach, Vince Gill, Pam Tillis, Kate York and Kip Moore. In an episode of bummer moments, this was a shining moment for the two breakout stars of the series. This is followed up by Rayna, who was supposed to stay home and away from Deacon, showing up and really turning it into a surprise party. She performs a song with some of those heavy-hitters and dedicates it to Deacon, reminding him that without him, there'd be no Rayna Jaymes. Just when everything seems to be going OK in the world, Nashville needs to bring us back down and allows Juliette's recovering mother take a drink or two of alcohol, sending the night into chaos.
Unfortunately life can't always be a party. Avery walks up to the Blue Bird and is turned away. He realizes he may be climbing his way up to stardom, but he's on the outside of the Nashville scene looking in. That's nothing compared to Gunnar's night. After he was whisked away by law enforcement in the middle of the party I think it was safe to assume we all thought he was getting in trouble for harboring his fugitive brother. However, it was much, much worse. Gunnar is taken to the morgue where he is tasked with identifying his brother's body. He returns home to Scarlett, and the roomies, in a moment of passion, finally connect on a more intimate level.
It may seem like Nashville just wanted to bum us all out this week, but in true primetime soap opera fashion, there are glimmers of hope peeking through.