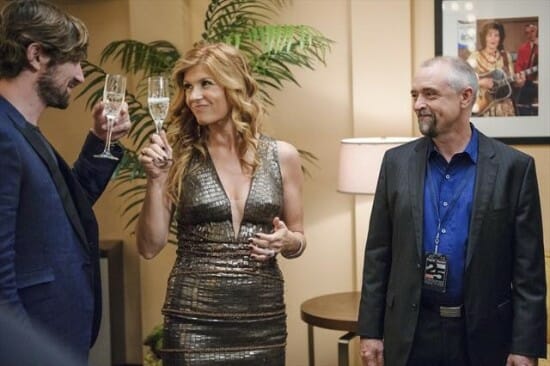 Nashville has been described as a primetime soap opera from time to time, and that's not necessarily a bad thing. The natural intensity oozing from all of the characters has been one of the high points of any freshman series this year, and it's working. With the fall finale, the show turned it up a notch and hit in a lot of the right places. However, I felt it was a little too "ABC Sunday-night drama" for me. You know, Desperate Housewives-y.
"Where He Leads Me" consists of a lot of twists and turns, most of them involving love in some way or another. Now, that's fine, but it's how it's presented. First off, Teddy's extra-marital affair, which doesn't exist, takes centerstage and Rayna turns from the confident women we've grown to love to a, well, a desperate housewife just trying to make sure her man isn't a cheater. Teddy finally admits that he embezzled millions back in the day, but he paid it all back so it's OK. That's when Rayna returns from being mushy to a woman hellbent on making things right. She scolds her husband like he's a child before coming to rescue him and proving she's the rock-solid foundation in their marriage. Hopefully this is the beginning of the end of Teddy's spotlight, because I'm still not a fan of the plot.
While I can't get behind that story, I am a complete fan of Scarlett and love that she's getting the props she deserves. She's invited to try out for a band to be a lead singer, her and Gunnar's song gets an option and she gets a passionate kiss. However, it's from Gunnar, who breaks up with his girlfriend and then reveals to his songwriting partner that he loves her. Everything is complicated for Scarlett, but things are looking up.
Clare Bowen (who plays Scarlett) has been the breakout star for me. We all knew Connie Britton was amazing and that Hayden Panettiere could hold her own, but this somewhat-unknown from Australia is lighting up the screen whenever she's on it. She's definitely an actress to be on the lookout for.
Elsewhere, Scarlett's ex Avery is offered a record deal with a recording studio in Atlanta, but the label only wants him and not his band. This means he'll have to decide to either be loyal, or do the smart thing and break into the business. Hopefully this means we'll be seeing a lot less of him because he's just been holding Scarlett back. As much as I like the prospect of this character going away for a bit, I'm upset that Deacon, who is such a lovable character, is joining a tour with old friends and might have to step away from Nashville for two years. I doubt this will come to fruition, but it might mean a few episodes with an absent Deacon in the future.
Then there's Juliette and her Tim Tebow-wannabe boyfriend. She meets his family and, guess what, they don't like her. The mother threatens her with the "we worked so hard to make our boy a star" speech. It was typical, but what did come from out of left field was Juliette's proposal. It's not genuine and just shows what lengths the starlet will go to just to tick people off.
It was definitely a dramatic outing for Nashville and left a lot up in the air. Some people are still fighting the show's direction, but like I said last week, I think it's coming along quite nicely. Hopefully it continues the trend.