Netflix's Quest to Conquer the World (Subtitles Available)
Leon Galan Marquez/Netflix
TV
Features
Netflix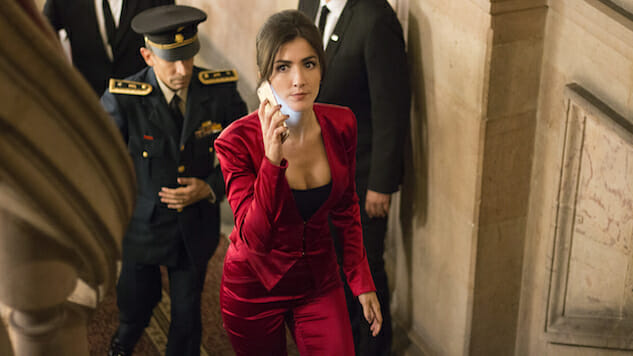 When Netflix released all 13 episodes of its original series House of Cards in February 2013, there was little doubt that the company was, to use start-up lingo, aiming to disrupt television consumption as we know it. And while binge-watching remains the streaming service's most obvious cultural legacy, its global approach to TV production and distribution may be its most lasting one.
Since that David Fincher-produced political series, Netflix has developed hundreds more, including 126 new series in 2016 alone. Considering that staggering statistic, it may seem unwise to try and suss out any mandating principle behind its TV brand. But there's no denying that as Netflix further muddles its status as both a streaming service and a channel, a producer and a distributor, it has in sight a global strategy that challenges our notions of what an American television network looks like. Shows like Sense8, with its globe-trotting ensemble; Orange is the New Black, with its sprawling, immigrant-filled cast of characters; and Narcos, with its bilingual sensibility, gesture toward a model of TV production that aims to break down needless national borders. Now, with series in French, Japanese, Spanish, Portuguese and Norwegian, including both those developed in-house and those acquired from third parties yet branded as "Netflix Originals," the company is openly nurturing a new kind of audience.
Scroll through to the end credits of any episode of Netflix original series and you'll see a long list of translators responsible for allowing viewers around the world to catch BoJack Horseman or Unbreakable Kimmy Schmidt with Italian, Portuguese or even French subtitles. Just last month, in a press release in which Netflix announced it was looking for more translators, the company noted that it was "quickly approaching an inflection point where English won't be the primary viewing experience on Netflix." Considering the service expanded to more 190 countries last summer, that assertion didn't signal a change in strategy as much as a consolidation of it. Netflix is a global enterprise, and while English-language culture may appear to be the norm, especially to many Americans, it is by no means the totality. True to its global aspirations, the California-based company has begun aggressively acquiring and developing series that better reflect and attract its polyglot subscriber base. Netflix's latest UX design tweak—which allows viewers to customize their closed-captions—suggests that it is committed to making reading and embracing subtitles an integral part of its user experience.
At a time when the Toronto Film Festival Primetime lineup makes way for shows made in Kenya (Tuko Macho) and the Czech Republic (Wasteland), SundanceTV makes big bets with its international pickups (including Italy's Gomorrah and France's Les Revenants), and there's an entire streaming service dedicated to finding foreign TV shows worth binge-watching (Walter Presents), it's curious that, at least within North American circles, Netflix's international projects remain all but absent from the critical conversation. Perhaps it's the inherent populist spirit that drives the streaming service's mission. When choosing to develop its first Spanish-language series, Netflix partnered with director Gaz Alazraki, responsible for some of the biggest box-office hits in Mexican cinema history. Its Japanese series, Midnight Diner: Tokyo Stories, is adapted from a best-selling manga. And in wading into Spain's market, Netflix courted Bambú Producciones, the production company behind two of that country's biggest period dramas (Gran Hotel and Velvet).
Netflix's international offerings aren't mentioned in the same breath as crossover dramas like The Killing and Borgen. More often than not, they're treated as mere curiosities in an ever-expanding catalogue, even when they're so clearly produced with the air of prestige that characterizes American-made cable TV, with marquee names attached to ambitious projects—worthy, one would think, of coverage comparable to that which greets any new English-language offering. Last month, for example, Netflix premiered its second Spanish-language series, Ingobernable, starring Mexican actress Kate del Castillo. Better known in the U.S. for brokering the infamous El Chapo/Sean Penn Rolling Stone interview and her bit role in Jane in the Virgin as Rogelio de la Vega's ex-wife, del Castillo is a bona fide star in Latin America; her crossover appeal has made hits out of U.S.-set films (the Weinstein Company-distributed Under the Same Moon) as well as TV shows (Telemundo's La reina del sur). A political thriller following a First Lady on the run after she becomes the prime suspect in her husband's death, Ingobernable's release had splashy premieres both in the U.S. and in Mexico. But, just like the Mexican soccer comedy Club de Cuervos or the Gérard Depardieu vehicle Marseille, Ingobernable went mostly unnoticed by Anglo media, which continues to see these forays into foreign-language entertainment as being aimed solely at the local markets in question, rather than as an extension of the global brand the company has been burnishing for several years.
But Ingobernable also exemplifies the more aggressive multilingual strategy that characterizes the company's most recent output. In addition to offering subtitles in English, Traditional Chinese, Simplified Chinese and French, Netflix subscribers can also watch the drama dubbed in English or Portuguese. This is in line with what they offer for other series that have become global phenomena, including 13 Reasons Why, The Crown and Stranger Things. Viewers around the world who've grown up watching dubbed reruns of Friends and subtitled screenings of Star Wars have long embraced entertainment in translation—almost to the detriment of budding local industries. The inverse, though, has rarely been the case. One of the side effects of pursuing a global strategy for acquisition and development is that, more than ever before, Americans with a Netflix subscription have at their reach a dizzying array of TV series from around the world.
But we're faced here with what's understood as an accepted truism: that American viewers (almost always understood to be English speakers) don't like to read subtitles. This is a common complaint printed in stories that try to make sense of the waning success of foreign-language films in North America. As with any other argument about moviegoing trends, however, this assertion obscures a more complicated context. As Jonathan Rosenbaum notes in his book Movie Wars: How Hollywood and the Media Limit What Films We Can See, concluding that Americans hate subtitles "conveniently neglects such facts as (a) most Americans have never seen a subtitled foreign-language film, and (b) few if any spectators have complained about the extensive use of subtitles in Dances with Wolves or Schindler's List, or stayed away from either of these movies as a consequence."
When it comes to television, foreign-language fare remains an under-explored and unexploited market. In the era of Peak TV, it's no surprise to find that no major American network carries series in languages other than English—barring, of course, the successful Spanish-language series that have inched Telemundo and Univision ever closer in ratings to their English-language competitors. And while '90s kids grew up with a surprisingly healthy dose of Japanese anime flooding their Saturday morning cartoons, there's been little to no attempt to open up American consumption of foreign-made projects when it comes to primetime television.
For those curious and eager, Netflix's ambitious catalogue, which places Dutch supernatural dramas and Japanese foodie dramas next to Marvel properties and Julie Andrews vehicles, offers a chance to imagine what a truly global television channel might look like. Moreover—and to the surprise and horror of many of its users—the system doesn't openly mark foreign-language shows any differently than its English-language counterparts. Netflix's neoliberal quest to conquer the globe need not stand as an antidote for the cultural isolationism that often characterizes American audiences (or its attendant political implications). But it certainly points to as tangible an example of a flattened global village as one can imagine.
---
Manuel Betancourt is a New York-based writer who has contributed to
Film Comment, Los Angeles Review of Books, The Atlantic
and
Esquire.