Spike Lee's She's Gotta Have It Canceled by Netflix after Two Seasons
Photo by David Lee/Netflix
TV
News
Netflix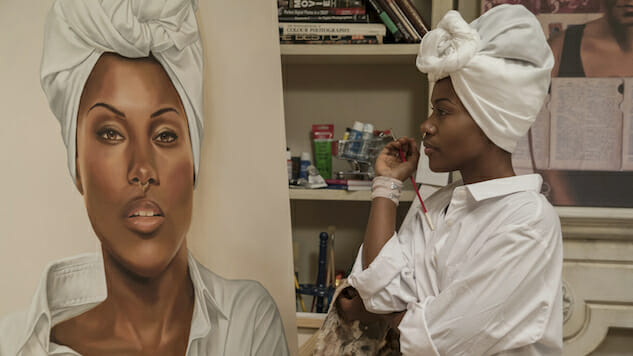 Just a couple of months after the release of its second season, Netflix has pulled the plug on Spike Lee's show She's Gotta Have It, per Variety.
Based on Lee's 1986 film of the same name, the Netflix series ran for two seasons beginning in 2017, with its second season premiering back in May. The series, like Lee's original film, follows artist Nola Darling (DeWanda Wise) as she navigates life and juggles her friends, job and the occasional lover or two.
Other than Wise, the series starred Anthony Ramos, Ilfenesh Hadera, Cleo Anthony, Lyriq Brent, Margot Bingham, Chyna Layne and Fat Joe, as well. The series marked Lee's first venture into series television, and he directed every single episode of the two seasons. Lee also executive produced the show alongside Tonya Lewis Lee.
Lee's other forthcoming Netflix venture, Da 5 Bloods, is a war drama starring Chadwick Boseman, Jean Reno, Delroy Lindo and more as Vietnam War veterans who venture back into the jungle to discover where they lost their innocence.
"Spike Lee is one of the greatest filmmakers of all time and we're thrilled he brought the series She's Gotta Have It (1986, based on his first feature film) to Netflix," Ted Sarandos, chief content officer at Netflix, told Variety. "While this is our last season, we're very proud that it will be on our service for years to come, and excited to be working with Spike on his upcoming Netflix film Da 5 Bloods."
Fans of She's Gotta Have It shouldn't worry too much, though, because Lee's reportedly looking for another outlet for the show. Recently, Netflix's canceled sitcom One Day At a Time got renewed for another season at Pop TV, so hope is possibly alive for She's Gotta Have It on another network.
The canceling of the series comes just after Netflix reported a drop in U.S. subscribers for the first time in eight years. Other than the service's recent price hike, Netflix will soon be losing congregated content, such as Friends and The Office, on their service from the likes of WarnerMedia, NBCUniversal and Disney, as those companies release their own streaming platforms.