Nightcap's Ali Wentworth Talks Backstage Sex, Gwyneth Paltrow and Insulting Cher
Pop
TV
Features
Nightcap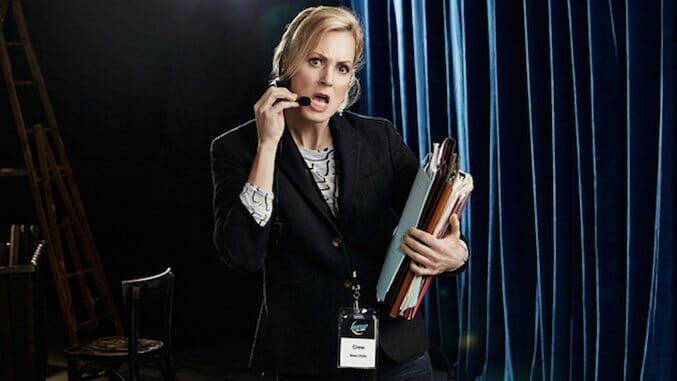 After years of bringing the funny on TV, in movies and on bookshelves, Ali Wentworth is finally keeping it real… well, sort of. In Pop TV's Nightcap, Wentworth (who stars, writes and produces on the show) offers a very exaggerated version of her very real experiences rubbing shoulders with Hollywood's elite behind the scenes of late-night talk shows. We chatted with her about her early days impersonating A-listers, how she determines what is and isn't "mean," and how she deals with the challenges of working with guest stars.
Paste: The original idea behind Nightcap was to spoof the crazy atmosphere that you've personally experienced behind the scenes at various talk shows you've appeared on. How important are the celebrity cameos that you've featured to that mix?
Ali Wentworth: First of all, I think it's just fun. Look, we live in a celebrity-obsessed society. Do you know what I mean? Having the celebrities on is the shiny part of our show. I also have found from doing a season of it that it's fun for them. It's not a typical thing when they're going on a talk show and they're pitching their movie or whatever, they get to make fun of themselves and they have a good time. That makes it even more pleasurable because everybody is laughing. Kelly Ripa and Mark Consuelos came on and they had a ball. It was like they could have stayed all day. I think it's fun for the celebrities, which makes it fun for us.
I will say that, particularly in this second season that I'm starting to write now, I also want the show to stand on its own. What I mean by that is to be like The Office or any office-situated comedy where you invest in the characters themselves. The celebrities weave a little bit in and out, but you're not necessarily tuning in for that.
Paste: Why does this setting—backstage at a talk show—make this the perfect avenue for celebrities to show the craziest sides of themselves?
Wentworth: Because, just from my experience, all the craziness was happening backstage. I would just see crazy wardrobe stuff or a publicist and a rockstar locked in the room having sex and people are like, "You're on in five minutes." Then as soon as I would see everybody go out and sit on the couch and be very poised, I thought, "That's not interesting. What's interesting is the stuff I'm witnessing." I just thought it was very interesting… the realness that happens backstage before everybody puts on their armor. I find that fascinating.
Paste: Is it a delicate process to determine what a celebrity may be willing to do on the show, or how they may be willing to look or how they don't want to be portrayed?
Wentworth: Yeah. That's a case-by-case situation. There's no general rule. For instance, Gwyneth Paltrow, I didn't know how far she would go, how game she would be. You feel it out and you're just very honest. Then they'll let you know. She was really game and had a lot of fun. Sometimes with other people they'll say, "I'm not comfortable doing that." The weird thing is that you're just a doing a show within a show. It's funny asking Michael J. Fox if we can shoot him out of a cannon. It becomes funny about, what's real and what's not real? What's really happening? What's not really happening? My experience the first season is that everybody was game.
Paste: Is there a line that you follow as far as what you should or should not ask them to do, or any lines that you shouldn't cross?
Wentworth: First of all, I wouldn't put them in a position to get in any sort of trouble. They're all very mindful of that. I would never ask them to make fun of a scandal or something that they've dealt with in the past that I know is sensitive. There's just no reason for it. You know what I mean?
It's not usually about what they will or will not do. It's more about their time, to tell you the truth. I was very conscious of time and I didn't ever want people to feel abused that way. I try to make it like two hours with everybody is running on time. That, to me, was the most important part. Of course, my husband [George Stephanopoulos] gave me 45 minutes (laughs).
Paste: You are no stranger to poking fun at celebrities, dating back to your time as part of the cast of In Living Color. Now that you've evolved into a much more well-known star in your own right, has your sensitivity to that type of comedy changed?
Wentworth: Yeah! My first job was on In Living Color. I learned a lot from that show. I learned consequently what's okay comedy and what's mean. There were a few things that were—I thought—mean, but I did them… I was young. I used to do Cher. There was one sketch where basically it was all about her plastic surgery. It wasn't particularly funny. It was mean. She sent a letter to Jim Carrey and I that said, "Kiss my ass," which I thought was very funny.
There's nothing interesting or particularly comedic about making fun of somebody physically. If somebody is fat or thin or tall or short, to me, there's nothing funny about that. I don't particularly like to go in that area. You do get a sense of what people are willing to make fun of. You just do. You instinctually know. That's how I've been playing it. If I had Alec Baldwin on, I'm not going to bring up stuff from his past that obviously he's sensitive about. I'm not going to dress up as Kim Basinger or anything. You're sensitive about it and then you have a good instinct about what is truly funny and what's just trying to be shocking.
Nightcap airs Wednesdays at 8 p.m. on Pop TV.