From Will & Grace to Dynasty, Why TV Networks Are Banking on the Nostalgia Boom
Photo: Chris Haston/NBC
TV
Features
Nostalgia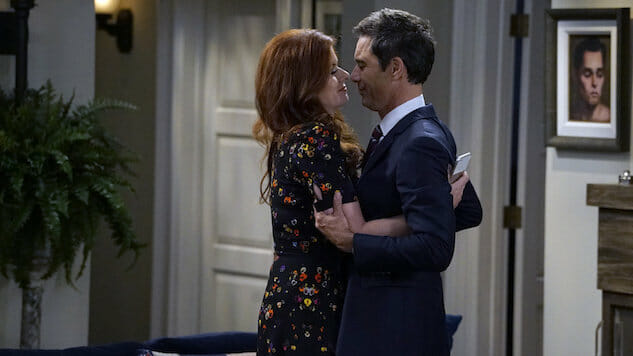 The cliché "everything old is new again" has never been more apt.
This season, viewers will be treated to revivals of Will & Grace, Roseanne and American Idol. They join the reboots of Gilmore Girls, The X-Files and Prison Break. There are also returns-with-a-twist, like Netflix's Fuller House, which is about to begin its third (!) season, and Disney Channel's Raven's Home, which premiered in July. On September 25, CBS's Young Sheldon will be another series, like ABC's The Goldbergs and Fresh Off the Boat, which is set in a bygone decade. Oh, and let's not forget the remakes, including The CW's new take on the iconic Dynasty.
What is going on? What has happened to originality? Why are there so many shows not rooted in a unique idea?
Ellen Gray, television critic for the Philadelphia Daily News and Inquirer, agrees that there are more nostalgic shows now. "But we are seeing more of everything. There's so much more content," Gray says, noting the explosion of streaming platforms and cable channels getting into original programming. "Fuller House isn't on [its original network] ABC. Fuller House is on Netflix."
TV has always looked back, Gray says, whether it was Happy Days, a show set in the 1950s that aired in the 1970s or That '70s Show, which premiered in 1998. "Now we are seeing people who grew up in the '80s and '90s doing shows about the '80s and '90s," Gray says. "Television is their cultural reference. The people who remember it fondly are now in charge of things and also there's an element of desperation. What they really, really miss is the days of many more millions of people watching individual shows on the night they were on. Networks don't want to take a lot of risks. They want to hold on to what they have and they're managing decline."
Korbi Ghosh Biggins, a Los Angeles-based psychotherapist, says viewers crave this kind of programming because of the psychological concept known as "the mere-exposure effect." It's a fancy way of saying that decades of research have proven that people have an affinity for things that are familiar. "Even if those things aren't necessarily that great, even if all their choices are of equal value, even if the unfamiliar choice is of greater value, the familiar choice is likely to be perceived as better," Biggins explains. "I imagine network execs are very well aware of this phenomenon. Because there is so much television on. With cable and broadcast and streaming, it's hard to make a product that stands out. So if you're presenting something that's already familiar to a good number of the viewers whom you're trying to attract, half the battle is already fought."
Accompanying this reboot-a-poolza is a sense of arrested development. Even though Rory Gilmore (Alexis Bledel) was technically in her 30s when the much-anticipated Gilmore Girls: A Year in the Life debuted on Netflix last Thanksgiving, Rory acted like a girl who had just graduated from college. She was still quasi-dating her bad-boy boyfriend and directionless when it came to her career and her future. The daughters have moved back into their childhood home on Fuller House and the now-divorced Raven (Raven-Symoné) and her childhood best friend are living together with their children on Raven's Home.
When Will & Grace returns September 28, it will be as if the original series finale, which found Will (Eric McCormack) and Grace (Debra Messing) growing apart only to be reunited when their respective children become college roommates, never happened. The season premiere has not yet been made available to critics, so Gray is trying to keep an open mind. "I don't think they have been living in that same apartment together since we left them, because that would be really sad," she says.
The final and disastrous season of Roseanne will also be ignored, which means Dan (John Goodman), who was very much dead when the series had its swan song, will be very much alive when the show returns next year. Pretending as if time has not moved on is critical to capitalizing on what makes viewers want to revisit these shows in the first place, Biggins says.
"In real life we constantly have to deal with all sorts of changes and it's emotionally taxing," she says. "Dan and Roseanne still have to be married and living in the same house. Will and Grace have to be in the same apartment. Rory and Lorelai have to play the same family roles they always did, and little Raven may be grown up, but she can't have a husband, too. Too much growth or change could be too emotionally taxing and take away from the viewer's pleasure in returning to something that's well known and comfortable."
Gray thinks maybe the whole idea of a series finale, especially ones that find major characters dying, will become a thing of the past. "I wonder if we should have them anymore, because we keep bringing things back," she says. "Maybe [the Prison Break reboot] would have been better if they hadn't spent so much time explaining why Michael Scofield wasn't dead."
The other piece to this is that in these chaotic political times, nostalgic TV gives us a common ground. "We are in a nation divided and half of us are watching CNN or listening to NPR and then the other half is glued to Fox News. Shows like Roseanne or Gilmore Girls or Dynasty, these are shows that a Trump voter and a Hillary supporter alike could agree on. They could sit down at the dinner table together and have something safe to talk about," Biggins says.
But not all reboots and remakes have been successful. Sure, Hawaii Five-O may be entering its eighth season, but it's unlikely we will be seeing more of Prison Break or 24 anytime soon. "I don't understand why they keep doing it, except that they don't know what else to do," Gray says. "You want that fresh, when it was a big hit feeling and I'm not sure you can recapture that."
Defying all logic is the return of American Idol, which ended its 15-season run on Fox a mere 17 months ago. ABC has already begun auditions for the new version. Ryan Seacrest will return as host and Katy Perry has been tapped as a celebrity judge. "Talk about something that was played out," Gray says. ABC, which recently lost mega-producer Shonda Rhimes to Netflix, paid a lot of money to revive American Idol, a reality show whose heyday already seems to have passed. "It just seems like bad business," Gray says. "The whole thing is not promising."
Promising or not, nostalgic TV is here to stay.
---
Amy Amatangelo, the TV Gal®, is a Boston-based freelance writer, a member of the Television Critics Association and the Assistant TV Editor for
Paste
. She wasn't allowed to watch much TV as a child and now her parents have to live with this as her career. You can follow her on Twitter (@AmyTVGal) or her blog .