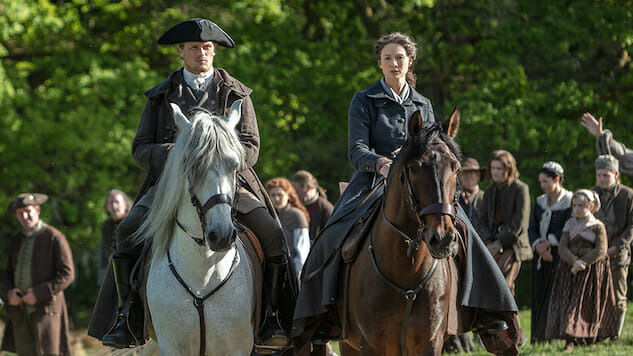 Check out Keri's video review above, or read the transcript below.
First of all, don't worry—I'm going to be recapping all the episodes of Outlander Season 5 each week! But first a little preview before the show actually begins:
Season 5 is still in America and it does start happily, and in many ways the first few episodes I've seen have had that same kind of angst you expect from Outlander. But on the whole, it has felt more like a warm hug of familiarity.
Jamie (Sam Heughan) and Claire (Caitriona Balfe) have love and each other, and Brianna (Sophie Skelton) and Roger (Richard Rankin) officially tie the knot. It is almost as if the romantic relationships are ok, so the struggle comes in the parent / child realms, whether they be through blood or by choice.
Sometimes, a story has a tendency to want to jump the shark, so to speak, and that can be frustrating for fans because we want the story we like. No, there isn't anything completely Earth shattering in these episodes, but while what happens this season is to be expected, and there is comfort in it. There are also some storylines that are not in the book, so purists will have the same issues they had last season when Jocasta (Maria Doyle Kennedy) and Murtaugh (Duncan Lacroix) hooked up. However, this relationship was a happy surprise to me at the end of the fourth season, so I'm glad it continues. (Even though the season also ended with Jamie being tasked with capturing his own godfather!)
One of the wonderful things about Outlander is that it keeps the romantic relationships between older people as a living thing throughout the books and the show. It is why, I suspect, that women of all ages love the books, because Jamie and Claire grow in age just as they do. Do Grandparents have sex? Their kids might not want to think about it, but in Outlander Diana Gabaldon not only thinks about it; she writes about it.
And that is where this season finds its strength—by showing how people continue to evolve and grow. It further proves that a story doesn't end at happily ever after, it's just the beginning.
Outlander Season 5 premieres Sunday, February 16th on Starz.
---
Keri is a professional chatterbox who loves watching TV & movies, reading about pop culture, and gawking at any craziness on the internet. You can follow Keri on Twitter.
For all the latest TV news, reviews, lists and features, follow @Paste_TV.