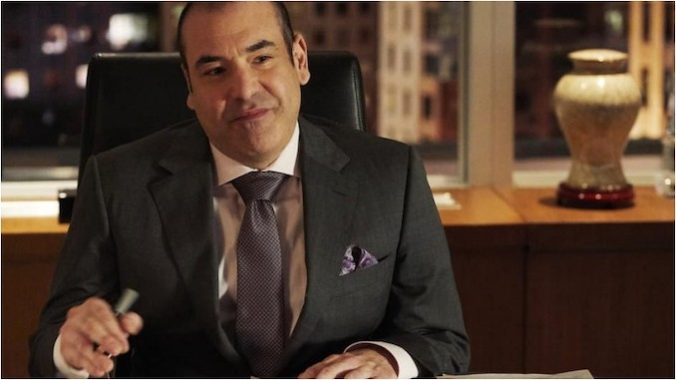 Editor's Note: Welcome to our TV Rewind column! The Paste writers are diving into the streaming catalogue to discuss some of our favorite classic series as well as great shows we're watching for the first time. Come relive your TV past with us, or discover what should be your next binge watch below:

As you've probably heard by now, one of the most popular television shows of 2023 is somehow a series that originally premiered over a decade ago. The legal drama Suits first aired in 2011 and was one of the last installments in USA Network's optimistic "blue sky" era of dramas alongside such shows as Burn Notice, Royal Pains, and Psych. It ran for nine seasons and over a hundred and thirty episodes before concluding in 2019, but—thanks to the magic of Netflix—has somehow stumbled into miraculous new popularity, breaking all manner of streaming records and introducing a whole new audience to the story of a fake lawyer, his unexpected BFF, and the seemingly hoity-toity firm that ultimately becomes his family. 
Largely memorable for the fact that it starred Meghan Markle back before she married a prince and became the Duchess of Sussex, Suits follows the story of Mike Ross (Patrick J. Adams), a hyper-intelligent college dropout with a photographic memory who manages to fake his way into a job at the law firm of Pearson and Hardman. Working alongside a talented attorney named Harvey Specter (Gabriel Macht), the fast-talking, pop culture-referencing pair tenaciously fight to win cases via any means necessary, be it a heartfelt closing argument or a surprising legal loophole, all while trying to keep Mike's secret from the rest of the firm.
Highlights from the series' long run include the wonderfully easy chemistry between Macht and Adams, whose partnership clicks from their first scene together; the slick, entertaining dialogue that made even the most mundane of court activities feel exciting; and the array of intriguing supporting characters, including fiercely polished senior partner Jessica Pearson (Gina Torres), dedicated paralegal Rachel Zane (Markle), and the formidable Donna Paulsen (Sarah Rafferty), Harvey's uber-capable secretary with whom he shares an on-again/off-again flirtation through much of the show. But Suits's best character was always the one the show initially seemed to consider something of an antagonist to Harvey and Mike: Louis Litt (Rick Hoffman). And while viewers likely hated, loved, and respected Louis by turns at various points in the series, he still remains its most compelling and occasionally controversial figure.
When we first meet Louis, he's a junior partner at Pearson Hardman—jealous of his longtime rival Harvey's promotion above him, deeply insecure, and often paranoid, particularly when it comes to Mike's addition to the firm. But behind all of Louis's rudeness and bluster lies a soft and surprisingly caring heart, and his arc over the course of Suits's nine seasons is one of the series' most satisfying, as he grows from a petty, frequently obnoxious weasel to a genuine friend and leader who more than earns his spot as a named partner in the firm's title. 
In the world of Suits, Louis can often come off as kind of a weirdo, particularly next to more traditionally hero-coded characters like Harvey and Mike. He's deeply insecure, a man who desperately wants to be liked and seen as an equal by those he respects most, which often means he comes off as a try-hard at best and an outright suck-up at worst. He often punches down at those whose jobs he considers beneath his and he's willing to use everything from blackmail and emotional coercion to outright bullying to get what he wants, rather than trusting that he can ultimately earn those things on his own merits. But Suits thankfully doesn't shy away from depicting the anxiety and fear that drive many of Louis's choices, and it is because of that extreme vulnerability that it's so easy to sympathize with and root for him.
The firm's hardest worker, Louis' billable hours top even Harvey's, for all that the latter is generally treated as the firm's golden boy. Though the show often plays his obsession with work for laughs, Louis is actually an amazing lawyer, and, more than that, he genuinely loves the legal profession and the law itself in a way that often feels strangely pure for a show that involves this much professional strong-arming and near blackmail. Plus, he's a cat person with a banging skincare routing thanks to his love of going "mudding," and gets many of the best lines on the show. (I assume NBC Universal still sells those "Litt Up" mugs somewhere, just saying.)
Deeply loyal and unexpectedly sentimental, all Louis wants is a place to belong and Rick Hoffman's (excellent) performance repeatedly leans into the character's offbeat quirks even as he allows us to see the insecurity and self-doubt underneath. But it's his fierce heart that makes the character so easy to care about and that ultimately infuses all of his interactions with a complex emotional weight. (Remember when he made Mike a whole "Welcome to Team Litt" cake when he thought he was going to come work for him? My heart. Just let the man have a real friend!) 
But what really makes Louis stand out is his passion. He's not always the easiest character to like, but his motivations are remarkably straightforward. He just cares so much about everything—from cats to the company interns—and he's willing to fight for the things (and people) that matter to him. Granted, that passion often causes him to lash out and/or make the sort of rash choices that often result in someone going to jail, getting fired, or at least being publicly berated by a colleague, but his heart's almost always in the right place. (And goodness knows he is harder on himself than he is on anyone around him.) 
Louis is a character who is incredibly flawed, but who wants so badly—and tries so hard—to overcome his worst instincts and be a better person that it's easy to forgive him when he fails. And when he finally comes into his own, it's not because of his constant scheming or strategizing, but because he finally manages to let go of his need to find validation in others and make something like real peace with himself.
By the end of Suits, Louis is the first name on the wall at the firm, married to the woman he's loved for the bulk of the series' run, and a new proud dad to an infant daughter. He's struggled, fought, fallen, and triumphed by turns, embraced his worst tendencies, heeded his better angels, and learned from his mistakes. And by the time the final credits roll, it is his story that has come to the fullest and most satisfying conclusion of any character's—because Louis is the one who ultimately worked the hardest to earn it. And that is, in fact, pretty darn littastic. 
---
Lacy Baugher Milas is the Books Editor at Paste Magazine, but loves nerding out about all sorts of pop culture. You can find her on Twitter @LacyMB.
For all the latest TV news, reviews, lists and features, follow @Paste_TV