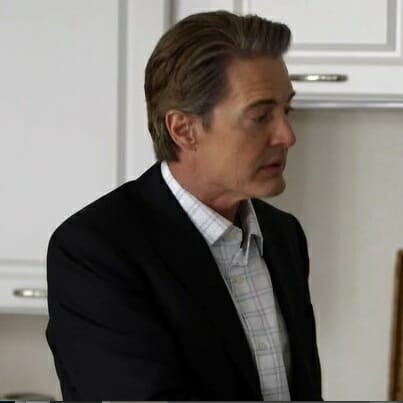 Kyle Maclachlan is back on this week's Portlandia as a mayor in crisis. In "Off the Grid," Portland's biggest cheerleader and environmentally conscious do-gooder is under investigation by the Portland Tribune for being the biggest "energy hog" in the city. He's upset and angry, having just helped get a city-wide plastic bag ban passed. (The opening animated vignette shows that everyone is ecstatic about the ban—except for the fish. One in particular laments a now-scuttled art project: "There goes my bag castle! Bullshit.")
Carrie and Fred (doppelgangers of co-creators Carrie Brownstein and Fred Armisen)—are the mayor's biggest fans and offer to go to his home to find the source of the power drain. They discover a laser printer printing off pages. The mayor innocently tells them that the machine, which he named "Prince," has been running continuously for 10 years. He saw a message not to interrupt the printing queue, so he didn't.
The mayor calls a press conference and tells the crowd that "This printer, formerly known as Prince, is no longer going to be in my employ." The mayor is so disgusted with himself that he chucks the printer off a bridge and into the river. The press corps and the citizens of Portland become even more angry, so he steps down from office. A few weeks later Fred and Carrie track him down at a farm, where he's now sporting an Amish beard and speaking with a countrified accent. (It's like the opposite of Rumspringa.) Maclachlan is terrific as an earnest yet naive politician, giving Armisen and Brownstein a chance to rein in the usual zaniness and allow the skit to speak for itself.
There were two other standout sketches in this week's episode. "The Battle of the Gentle Bands" featured three acoustic acts, each one quieter than the next, making Bon Iver more like the Megadeth on the gentle scale. Featherwash with Armisen and Dirty Projectors' David Longstreth is outdone (or under-done?) by Brownstein's Bless the Barns, which boasts a supergroup lineup of J Mascis of Dinosaur Jr. on unplugged electric guitar and Dirty Projectors' Amber Coffman and Haley Dekle, who sound a bell with kisses. Brownstein tells Mascis that he needs to play in the back—on the field behind the stage—because his guitar is still too loud.
Both bands have met their match, however, in the uber-minimalist trappings of Franny Wisp, who wows the crowd by playing a set of feathers. Her grand prize? A trip to the monster truck races. Not exactly her cup of tea.
Even though this episode was chock-full of recognizable faces, it didn't feel gimmicky. In addition to the aforementioned roster, George Wendt plays an editor for the now online-only Portland Tribune, which was just bought out by LinxPDX. The owners (Armisen and Brownstein) give the veteran journalists a primer on how the web works: "People don't read articles anymore…They probably read every fifth word…so just make it those five words."
Wendt's character is commended by his new bosses for writing a story that earned 70 million hits. They ask him to read the short story aloud. He says, "Charlize Theron NSFW." We peek at the screen and the tags include: side boobs, Kardashian, puppies, Kate Middleton, Obama, K-stew. It's a very funny moment—but in a really depressing kind of way.
"Off the Grid" was an entertaining adventure in Portlandia, one of our favorites of this season so far. It still skewered superficiality in American culture—just in a gentler kind of way (no "Fart Patios" this time). The end of the episode provides a great set-up for next week, in which Portland's new temp mayor—Roseanne Barr—is called up for duty.