Paste's Power Rankings: The 10 Best Shows on TV Right Now
Illustration by Christine Fernando
TV
Lists
Power List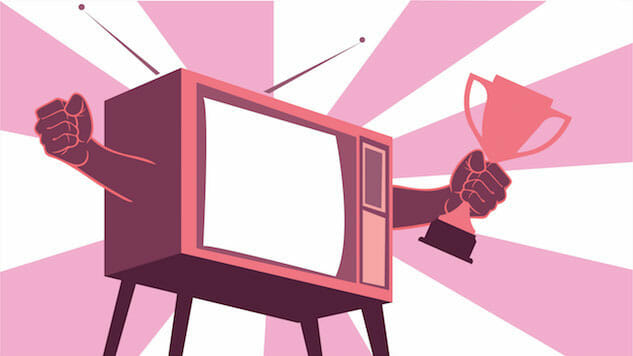 It's an interesting time of year to be a TV fan.
The crisp fall air means the cavalcade of new and returning network shows is about to begin. You are excited. But everyone around you seems much more interested in football. We aren't against the gridiron sport per say, but we do sometimes wish it didn't take up so much prime time TV real estate.
The rules for the Power List are simple: Any series on TV qualifies, whether it's a comedy, drama, news program, animated series, variety show or sports event. It can be on a network, basic cable, premium channel, Netflix, Amazon, Hulu, YouTube or whatever you can stream on your smart TV, as long as a new episode was made available the previous week—or, in the case of shows released all at once, it has to have been released within the previous four weeks.
The voting panel is composed of Paste editors and TV writers with a pretty broad range of tastes. We're merciless: a bad episode can knock you right off this list. So much good TV is available right now. And if you want to see our Power List ranked in video form, check out our new weekly segment above hosted by TV Editor Allison Keene and Editor-in-Chief Josh Jackson.
Honorable Mentions: Chasing the Cure (TNT), Diagnosis (Netflix), A Very Brady Renovation(HGTV), The Terror (AMC), and BH90210 (Fox).
10. Lodge 49
Network: AMC
Last Week's Ranking: Honorable Mention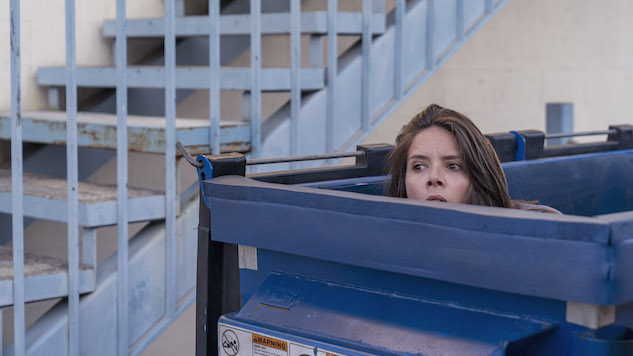 In a sea of Puzzle Box Television, Jim Gavin's chilled-out, languid respite Lodge 49 offers something different. There is a mystery, about the potential existence of magical scrolls that belong to the fraternal order's True Lodge (ones that may hold alchemical keys), and while it does drive some of the narrative, it's all so esoteric and blissed-out that whether or not they exist is never the point. Back on Earth, Dud (Wyatt Russell), his sister Liz (Sonya Cassidy), and his lodge friend Ernie (Brent Jennings)—really everyone at the lodge—are just trying to figure their own lives out.
As such, Lodge 49 is still primarily a show about discovery: of the self, of history, of arcane knowledge. Everyone is haunted by friendly ghosts from their pasts, often in ways that make these spirit guides feel very real and tangible. They are meant, like the Knights of the Lynx Lodge, to both fought against and learned from. The show is an unhurried meditation and a quirky delight. There is something quiet and nice about a show that is, well, quiet and nice.
When Liz tells her placement counsellor at TempJoy that she feels like her life isn't heading anywhere, nothing has been accomplished, and she has no idea what she wants or where she's going, he replies, "from what I've seen, your feelings are in line with the larger work force." That's part of the show's sly, winking tone that never feels at odds with its sincerity. In both cases it's heartfelt and real. "LIFE IS GOOD!" Now get off your laurels and live it. Right after a dreamy afternoon at the beach, maybe. —Allison Keene
9. The Righteous Gemstones
Network: HBO
Last Week's Ranking: 7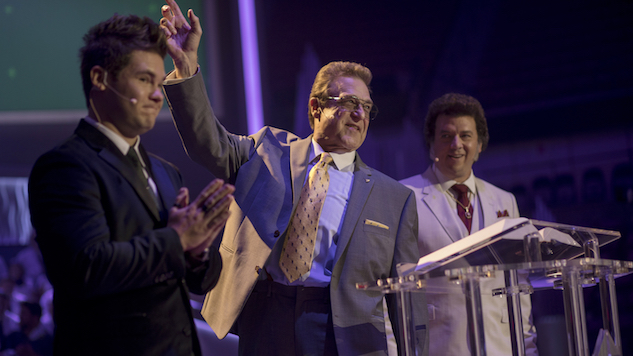 In HBO's new comedy The Righteous Gemstones, Danny McBride plays Jesse, the oldest son of the Gemstone clan of showbiz preachers, the flamboyant heir apparent to his legendary father Eli, who's played with equal parts solemnity and menace by John Goodman. Eli turned the gospel into a chain store, opening up churches throughout the Southeast, and bringing his whole family into the business. In addition to the permed Jesse, there's Adam DeVine's Kelvin, who has the fauxhawk and designer jeans of a Christian pop star, and daughter Judy, who chafes at her family's unwillingness to treat her as an equal, and who's played by Vice Principals' breakout star Edi Patterson. Jennifer Nettles of the band Sugarland cameos in flashbacks as the family's now-dead (and very Tammy Faye-esque) matriarch, whose passing weighs especially heavy on Eli.
It's not saying much to call a TV family dysfunctional, but the Gemstone children are immediately introduced as being uniquely fractious. They present a united front on TV or in front of their parishioners, who they openly treat as marks behind the scenes, but don't try to hide their contempt for and disappointment with one another when the cameras are off. Much of what makes the show so enjoyable is the way these three gifted comic actors play off one another as their entire world threatens to unravel. As with McBride's previous HBO shows, Gemstones delicately balances the ridiculous and extreme with surprisingly subtle character moments that keeps the show from drifting too far away from legitimate emotion and humanity. Even McBride's Jesse, who is largely a hateful blowhard who deserves every bad thing that happens to him, has moments of levity and regret that humanize him; his relationship with his children might be terrible, but he earnestly seems to want their love and respect, even as he blows everything up again. It's a worthy addition to McBride's HBO oeuvre—another messy, honest, exaggerated and realistic look at Southern charlatans desperate for fame, power, and success in a modern South that can too easily fall prey to their schemes. Praise the Lord and pass the loot, indeed. —Garrett Martin
8. Mindhunter
Network: Netflix
Last Week's Ranking: 6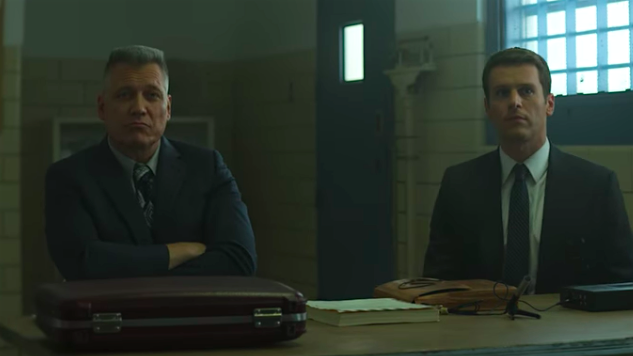 This season of Mindhunter picks up almost exactly where Season One left off—with FBI Agent Holden Ford (Jonathan Groff) mid panic attack at the hospital where he was getting hugged by multiple murderer Ed Kemper (Cameron Britton).
When his partner, Agent Bill Tench (Holt McCallany), picks him up from the hospital, he tells Holden to keep it to himself because the FBI may not trust him to go speak with serial killers if they know he might break down in the middle of an interview. But panic seems like the only appropriate response to what the behavioral science unit faces this season. The first three episodes of the season, directed by David Fincher, even feel like a panic attack, with darkness, fear, and paranoia coming in from every direction.
Meanwhile, the most vulnerable in society are getting hurt: children. In Atlanta, black children are disappearing, and their mothers and families are doing their best to get law enforcement to take their disappearances seriously. But the mayor doesn't want it publicized that there may be a predator in Atlanta. And local police don't like that the FBI is suggesting the deaths may all be connected. Powerful men open and then cut off the investigation at their own discretion, and wreck lives in the process.
Tench, Wendy and Holden are fascinated by the extremes of serial killers, and Mindhunter asks who benefits from that fascination. The perception is that it's safe for us to consider them in a removed or academic setting, and yet, the show presents these very real crimes in gruesome detail to remind us of the humanity at stake. Holden had to relearn this lesson himself, when he tried to study Kemper on his own. He thought he could keep an intellectual distance from Kemper's horrors, but he ended up in the arms of a man who has taken lives, viscerally reminding him of the flesh and blood that Kemper has damaged. Like Holden, the show is intentionally trying to shake viewers up instead of letting us be casual voyeurs. —Rae Nudson
7. The Great British Baking Show
Network:Netflix
Last Week's Ranking: 5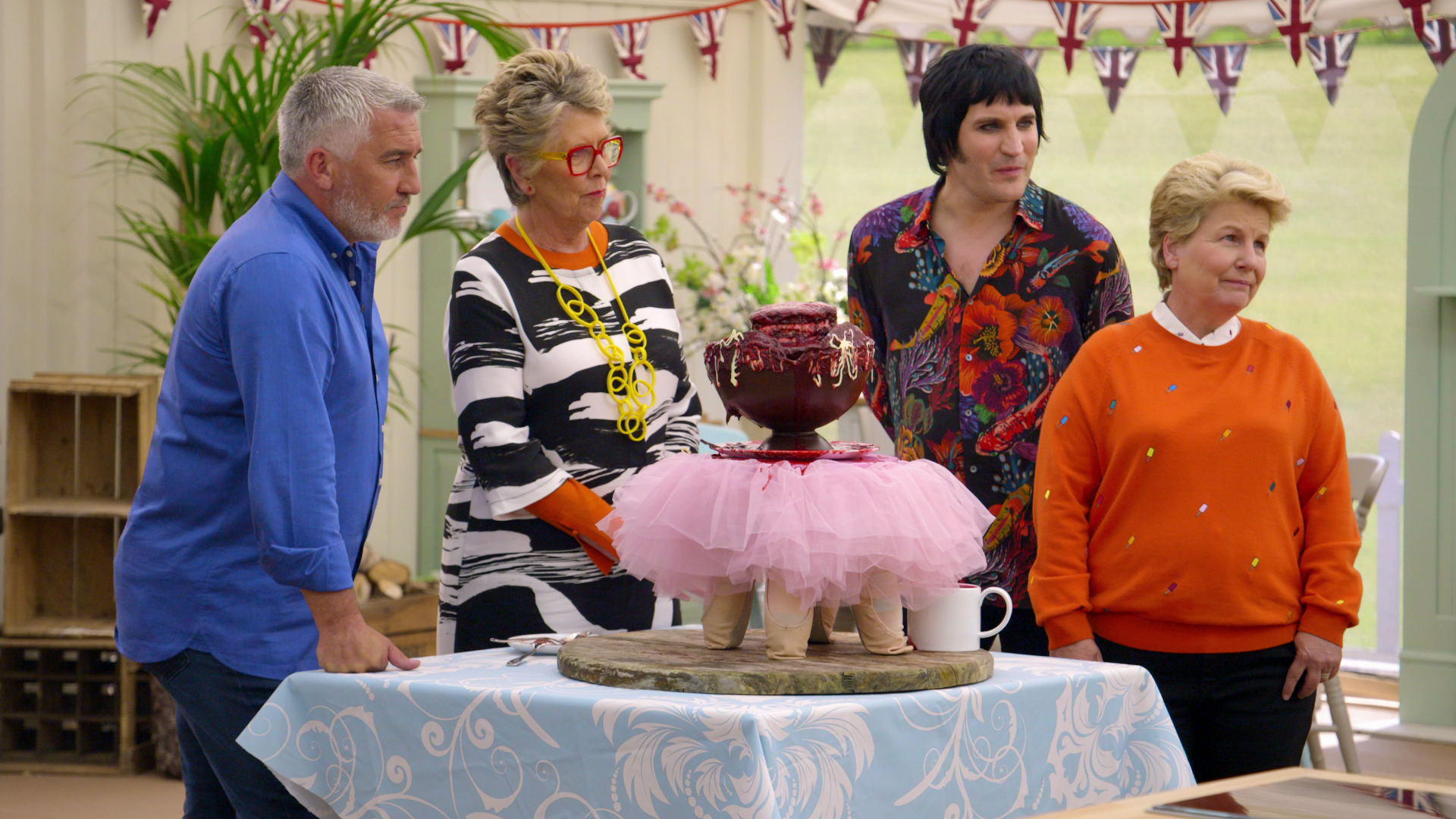 The U.K.'s super-soothing low-key competition series has returned, and for once, U.S. audiences are getting to see it only a few days after our English counterparts. Netflix is releasing the new episodes, known as Collection Seven, weekly on Fridays. It's a great change for fans who are tired of avoiding spoilers and also want to be able to talk about the show with others who don't have time to binge it all at once. As for the new season itself, it's as charming as ever, as hosts Noel Fielding and Sandi Toksvig both gently and wryly encourage the amateur bakers as they prepare their stunning creations for judges Paul Hollywood and Prue Leith. The vibe remains the same (though the cast is especially young this year)—it all remains incredibly fun and wholesome to watch. —Allison Keene
6. Sherman's Showcase
Network: IFC
Last Week's Ranking: Not Ranked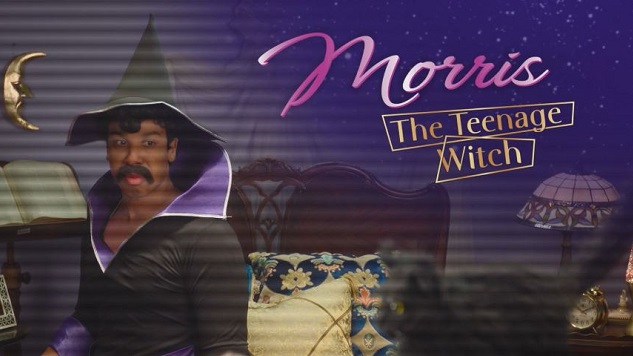 IFC's latest comedic offering, Sherman's Showcase, may seem familiar, but it's not because of the familiar source material. It's a send-up of both era-spanning music-dance variety television programs like Soul Train (the show-within-a-show even takes credit for that show's success) and Solid Gold, and of the kind of compilation infomercials that regularly pop up on TV in the middle of the night (the less talked about aspect of the series' structure, but no less of an integral part). Sherman's Showcase is a sketch show that's truly impressive in terms of its structure, in a way where calling it just "a sketch show" in the first place feels like an understatement for the series and its breadth and range of coverage
It is also a dense show, the perfect kind of comedy to re-watch, whether it's for all the jokes and clues you missed before, the musical numbers (both for enjoyment and trying to figure out all the specific artist proxies/comparisons), or just for the performances (whether they're of real-life people or obvious amalgamations).
Without spoiling the season, the series rewards paying attention to details, no matter how strange they are or seemingly inconsequential they seem. It's a weird show, but a lot of that comes from it simply stating the absurdity of the eras in which it covers, even the modern era. Even John Legend.—LaToya Ferguson
5. The Dark Crystal: Age of Resistance
Network: Netflix
Last Week's Ranking: 2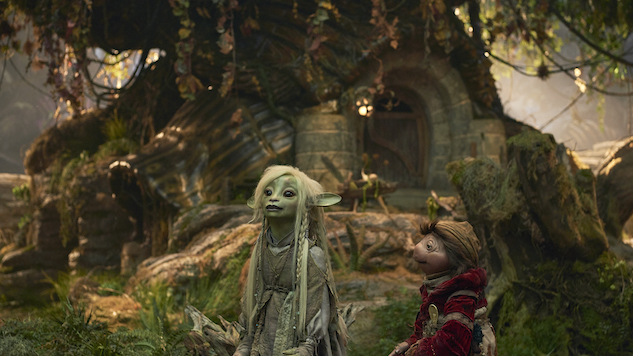 There is a moment in Netflix's The Dark Crystal: Age of Resistance—a prequel to Jim Henson's beloved Dark Crystal movie (which is great but you do not need to have seen it before this)—where two ancient characters are recounting an important tale to our heroes. It's about the beautiful land of Thra, and an event many years past that caused an imbalance and blight within the crystal that stands at the center of their world. All of the answers they seek will be "brought to life by that most ancient and sacred of arts…" they're told, with a dramatic pause as the character looks right at the camera and breathes out: "Puppetry!"
"Oh nooo!" our heroes groan, and one immediately falls asleep.
That is the bias that Age of Resistance acknowledges it's up against—but folks, get over it. Allow this incredible production to sweep you away in an epic fantasy journey, one that is able to so much more deeply and fully explore the world Henson and Frank Oz imagined with the original film. You can liken it to Lord of the Rings or Game of Thrones or any high fantasy series you like, but after ten magical hours it truly stands on its own as a gorgeous, innovative, emotional, joyous, and exceptional wonder. If that sounds hyperbolic, it's only because that's exactly the kind of sincere enthusiasm the show engenders. Get past any hesitance over the puppets (which are actually outstanding), turn subtitles on to help you remember all of the character names, and immerse yourself in this incredible world.—Allison Keene
4. On Becoming a God in Central Florida
Network: Showtime
Last Week's Ranking: 3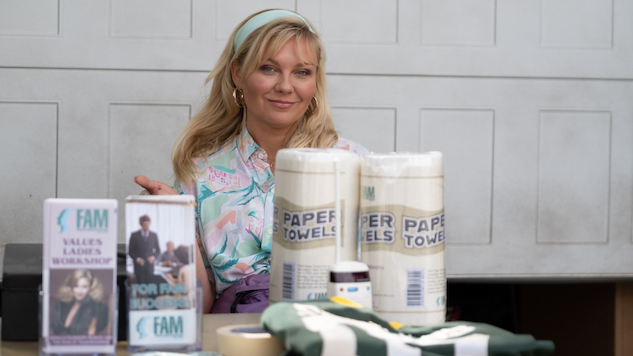 On Becoming a God in Central Florida is the next bold career choice for Kirsten Dunst, one that only confirms that there is arguably a Kirsten Dunst role for every day of the week or emotional state. The series is set in an "Orlando adjacent" town in 1992 where Dunst's Krystal Stubbs, a water park employee and former beauty pageant queen, sets out to take down FAM (Founders American Merchandise), the multi-billion dollar multi-level marketing scam that brainwashed her husband Travis (Alexander Skarsgård) and ultimately ended up ruining her family and home life. Specifically, the Garbeau System of FAM, created by a Colonel Sanders-doppelganger in the form of Obie Garbeau II (Ted Levine).
Created by newcomers Robert Funke and Matt Lutsky—in their first major project and especially first-ever television show— and bounced around from ABC to AMC to YouTube Premium to Showtime, On Becoming a God in Central Florida is a series that caused me to, numerous times as I watched the first season, write in my notes, "What is this show?" But it was always in a good way, as I found myself in awe of what I was watching. With every hard left turn and 180 the series takes, the tone somehow manages to remain consistent. In fact, even through its trippier moments—like Krystal's bird disease-driven "odyssey" in the fourth episode or in the introduction of Louise Garbeau's (Sharon Lawrence) therapy method—the series continues to play them straight (or at least on the same level) as everything else in the show; no character ever addresses those bizarre moments. That's a point that can make it easy to miss certain jokes and gags at first, but On Becoming a God in Central Florida excels because of how subtle it is—despite being a show whose very premise of Florida, the '90s, and pyramid schemes (and really, cults in general) suggests that "subtlety" is a concept that's out the window altogether. This is not a series that is in a rush, even if the "get-rich-quick" component would make it seem so.
While On Becoming a God in Central Florida could easily work as a limited series—with a final scene that could easily be answered by the series co-creators in postmortems if it doesn't make it past the first season—it also creates a perfect concept for a second, with an unexpected potential for the future from a show that took a while to even find the right home.—LaToya Ferguson
3. Succession
Network: HBO
Last Week's Ranking: 1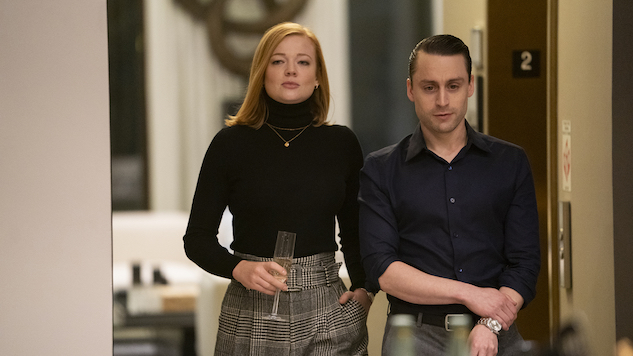 HBO's Succession, from creator Jesse Armstrong (Peep Show, The Thick of It) is dressed up as a prestige drama, but it's actually one of TV's most acid comedies. Once you embrace that, Succession unlocks as a never-ending battle of power and prestige with medieval royal overtones that is also wonderfully aware of how absurd that kind of story is. As one observer of the Roy family comments, "watching you people melt down is the most deeply satisfying activity on planet Earth."
In Season Two, Logan (Brian Cox) is back in full health and full power, having survived and subverted Kendall's (Jeremy Strong) late-season attempts at a coup—incidentally, one of TV's most horrifically sad sequences of events. It left Kendall completely broken, a dead-eyed robot who now lives in service to his father's wishes. But all of the spoiled siblings are cowed (except for Connor (Alan Ruck), still deludedly considering a Presidential bid) with Logan's return. He's a bully, frightening even his oldest friends, yet knows exactly how to emotionally manipulate everyone back into his thrall. They may complain and privately plot against him, but no one dares speak a word to disfavor them in his presence.
Succession is not made to be binge watched. It's engrossing, as a world that's easy to immerse oneself in, but there is a kind of shadowy, icky feeling that follows you when you've consumed too much. That's not the show's fault; it's easy to laugh at Tom (Matthew Macfayden) getting upset that he's "not in the right panic room!" when he discovers Shiv (Sarah Snook) is in a more posh stronghold, but seeing Waystar encourage a dotcom to not unionize before gutting them, or how even a supposedly ethical organization might well sell out to partisan interests when there's enough money is just depressingly real. Succession is a combination of Tom's exclamation "what a weird family!" and Logan's "Money wins. Here's to us." And it has us fully in its thrall.—Allison Keene
2.The Deuce
Network: HBO
Last Week's Ranking: Not Eligible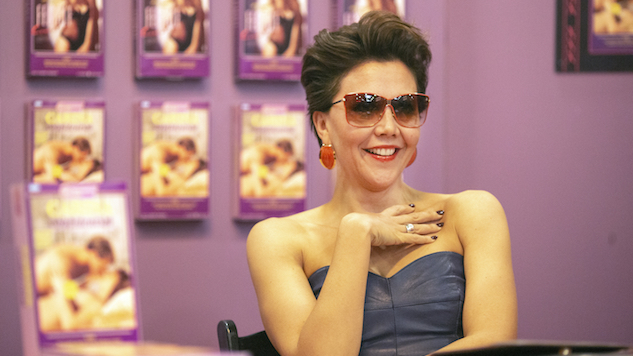 If Stranger Things is pure uncritical nostalgia that wants to transport audiences back to the '80s with its neon-tinted glasses, The Deuce's '80s-set final season is brutal anthropology. Half-decade jumps have become the norm for HBO's adult industry deep-dive drama, allowing its story to become a scarlet-collared examination of America at its most basic and honest intersection of sex, capitalism, and the art in between it all. A history of a country (through the evolution of its politics, technology, and culture) can also be found in how it deals with sex—and HBO's The Deuce has been baring it all since Episode One. Three seasons in and creators David Simon and George Pelecanos continue to illuminate the big stuff by flicking the switches of a thousand small moments.
Eileen (Maggie Gyllenhaal)'s continued search for creative and romantic fulfillment—not to mention her endearing and enduring friendship with Harvey (David Krumholtz)—is still the show's backbone. The '80s have brought Gyllenhaal's performance, fashion game, and hair to unprecedented heights. It helps to have scene partners like Krumholtz and series newcomer Corey Stoll (who plays her sexy love interest), but most of all it helps to have writers crafting such compelling and consistent characters.
As The Deuce and its inhabitants see the chaotic ladder of the Golden Age of Porn end—as will any unregulated era, as supply and demand catches up to it (drug decriminalization, the actual Wild West)—its often grim struggles still boast the boons of industrial people. This final, lovely season won't gloss over the nasty, cruel, and devastating parts of the sex industry, but it does let us soak in the finely-aged relationships between its note-perfect characters as they're paved over for new hotels. These workers, forged in hardship like wartime comrades, gnawed termite art into the gentrified construction's bones. History mostly leaves people behind in favor of progress and paperwork, but Simon and Pelecanos' affecting work on The Deuce shows what we regain when we remember.—Jacob Oller
1. David Makes Man
Network: OWN
Last Week's Ranking: 4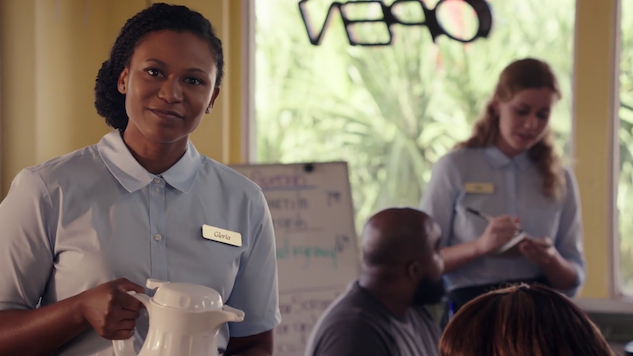 OWN's wonderfully lyrical series David Makes Man, from Moonlight screenwriter Tarell Alvin McCraney, changed perspectives in this week's affecting "Gloria." Instead of continuing to show us the trials and tribulations of its title character (played by the excellent Akili McDowell), as he tries to hold on to his academic ambitions despite the pushy drug culture of his neighborhood, we focused on how his mother Gloria (played with outstanding charisma by Alana Arenas) struggles between her own ambitions and a system designed to keep her down.
In "Gloria," you can see the constant pull of her dual natures. She works so incredibly hard to make the right choices all of the time that you can feel her fatigue. And it's not just the demons in her mind that plague her; a pharmacist (again, white) profiles her and encourages her to pay him a little extra to get some stronger painkillers. "No ID required," he says with a slimy smile. She imagines screaming at him, "I said NO!" but instead just wearily takes his card and, the next day, returns her son's newly-bought toys to have enough cash to procure those pills. Thwarted by a kind cashier, she buys another icy-hot patch instead. Similarly, after she's fired at work, she reaches for a knife and a kind cook grabs her hand to steady her to drop it. It's not the right choice to react with violence, but you can feel the enormity of her anger and desperation as she cries out to her boss, "I have kids!"
In a parallel, we see, briefly, a scene in "Gloria" where David is confronted by Raynan (Ade Chike Torbert) about the package he transported for him. David thought it was a one-off, but Raynan tells him "well today I'm saying something different." He damns him by continuing, "you're in the game now." It's the last thing the smart and sensitive David wants, but as his mother struggles to find money and David looks to shelter his younger brother by taking the heat when it comes to drug running, he doesn't have much of a choice, either. He leaves to go look after his family in the moment, but more generally what will that come to mean? He wants to go to a good school and start a path out, one that will eventually help his mother and brother. But that takes a long time and a lot of resources; there's money to be made here and now for today's problems. He's in the game now, and so is Gloria. And in its devastatingly real way, Dave Makes Man isn't yet showing either of them a way out. —Allison Keene