Paste's Power Rankings: The 10 Best Shows on TV Right Now
Week of 12/3/2018
Header photo: Jonathan Hession/Syfy
TV
Lists
power rankings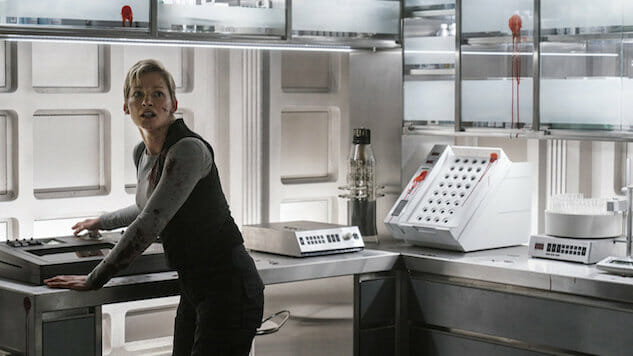 The start of December always brings with it the spirt of the season: roaring fires, feasts, cozy sweaters. But the glut of holiday-themed programming and the start of the midseason hiatus means that an exceedingly busy autumn is finally starting to wind down. Not to worry, though! Paste still has plenty of TV to recommend, so pour some hot cocoa, get under a blanket, and grab that remote.
The rules for this list are simple: Any series on TV qualifies, whether it's a comedy, drama, news program, animated series, variety show or sports event. It can be on a network, basic cable, premium channel, Netflix, Amazon, Hulu, YouTube or whatever you can stream on your smart TV, as long as a new episode was made available the previous week—or, in the case of shows released all at once, it has to have been released within the previous six weeks.
The voting panel is comprised of Paste editors and TV writers with a pretty broad range of tastes. We're merciless: a bad episode can knock you right off this list, as much good TV is available right now.
10. This Is Us
Network: NBC
Last Week's Ranking: Honorable mention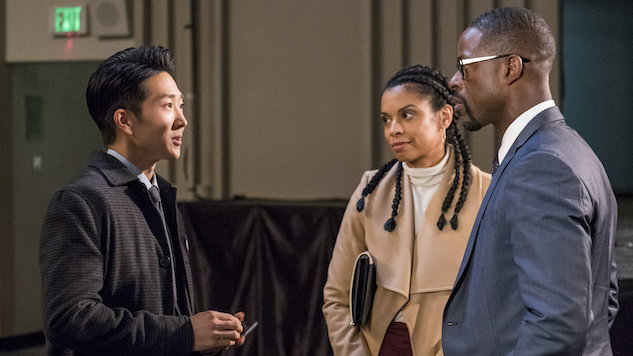 I'm not here to sing the praises of This Is Us' winter finale because of the big surprise that Jack's (Milo Ventimiglia) brother, Nicky, staged his own death and is alive and well and looking like Griffin Dunne just a hop, skip and a jump away from where The Big Three were raised. That storyline has been well-covered by my colleague, Amy Amatangelo, who has much kinder observations about it than I. I'm also not here for Kate (Chrissy Metz) and Toby's (Chris Sullivan) gender reveal moment; although, mazel tov, y'all. The kid's going to be named Jack, right?
Rather, what makes this episode great is the storyline between Sterling K. Brown's Randall and Susan Kelechi Watson's Beth. She (and the rest of the world) see he's running a fool's errand with his bid for a Philly city council seat, but he is too stubborn to concede. The made-up couch coupled with the flash forward at the end of the episode suggests this could be the straw that finally breaks their marriage. Beth Pearson: Partners everywhere who have struggled, and failed, to get people to choose practicality over pride salute you. —Whitney Friedlander (Photo: Ron Batzdorff/NBC)
9. Homecoming
Network: Amazon Prime Video
Last Week's Ranking: 7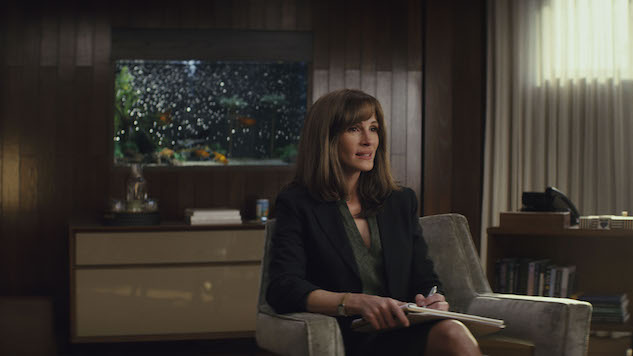 Walter Cruz (Stephan James) is a young veteran who, along with his friend Shrier (Jeremy Allen White) and a few dozen more, has checked into the Homecoming facility to help adjust to civilian life. And it's weird. Things are off, but we can't really put our fingers on why. We also meet Julia Roberts' Heidi Bergman, Walter's caseworker, who immediately appeals to our need for stability—until we realize, thanks to a multi-year flash forward where she's working as a waitress with only fuzzy memories of Homecoming, that she's not stable at all. What the hell happened between now and then? And, wait, what exactly was going on then, anyways? Directed by Mr. Robot's Sam Esmail, Amazon Prime's Homecoming is a blessed 10 half-hour episodes. That alone should be enough to get you in the door. What will keep you there is a stunning story of purpose, justice, and the work ethic that powers both the evil of America and the forces trying to save it. You will be sucked into one of the year's most compelling mysteries. —Jacob Oller (Photo: Tod Campbell/Amazon Prime Video)
8. Sally4Ever
Network: HBO
Last Week's Ranking: 6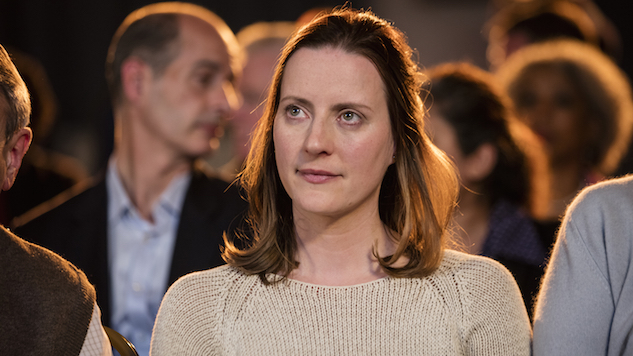 Sally4Ever might be the funniest TV series of 2018. I realize that's a bold statement to make for any series, especially this early into its existence, but when it comes to the work of comedy writer/director/actress Julia Davis, it's best not to bet against her. From Human Remains to Nighty Night to the original version of Camping, Davis' approach to comedy—through the lens of humanity's much less flattering sides—is always dreadfully funny. Just as It's Always Sunny in Philadelphia's 13th season somehow ended with one of the most poignant, emotionally affecting sitcom moments of all time, Sally4Ever is a comedy that says nothing can ever truly be poignant, because all people are terrible. Every single one of them. (It's a sentiment that means her comedy isn't exactly for everyone.) Basically, it's the opposite of The Good Place: Nothing's sacred to Julia Davis, even when the characters she writes—especially the ones she plays, like Emma here—somehow think every dumb thing they say and do is. —LaToya Ferguson (Photo: Courtesy of Sky)
7. Nightflyers
Network: Syfy
Last Week's Ranking: Ineligible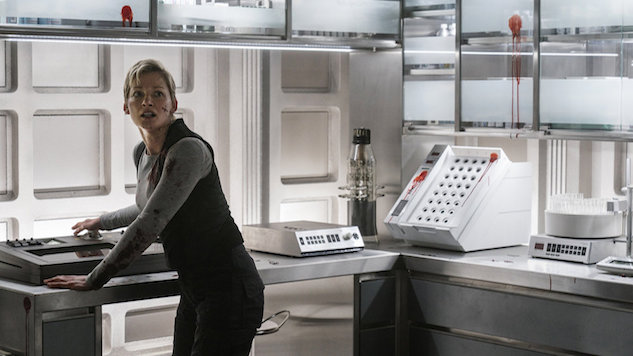 George R.R. Martin's latest screen adaptation may not have all the incestuous complexity (or dragons) of Game of Thrones, but it's certainly got his penchant for ruthless bloodshed. The first episode of Syfy's Nightflyers opens with a vignette that asks, "What if The Shining went according to plan for Jack Nicholson and was also in space?" then flashes the mouth-agape audience back in time to the moment that everything begins to go wrong for the Nightflyer crew. With psychics, advanced AI and more threatening to tear the minds and bodies of the adventurers apart, making contact with alien life is the least of their problems. The show is stuffed with homages to famous horror and sci-fi, only stopping the Where's Waldo reference game to shock and strangle your good time. It might not be the most elegant beginning to a show, but the adaptation's certainly brutal and ballsy enough to keep an eye on. —Jacob Oller (Photo: Jonathan Hession/Syfy)
6. Adam Ruins Everything
Network: truTV
Last Week's Ranking: Ineligible

It's one thing to make your brand Adam Ruins Everything. It's a whole other thing to be confident enough in that brand to kick off your newest season—in America, in 2018, within spitting distance of Thanksgiving—with an episode ruining guns. And yet, that's what truTV's hit educational comedy series did for its Season Three premiere. "The conversation we always have with the network is, 'What is going to grab the most attention?' What is going to announce, 'Hey, Adam Ruins Everything is back and it's better than ever?'" EP Jon Wolf told Paste in our oral history of how the team builds each ruin. "Guns" was an episode, series star and creator Adam Conover explained, that they never thought they'd be able to do, as inherently divisive as it is in this country. "But this year we said, 'We've been writing this show for four years, we really have the ability to make an argument that everybody in America can watch, but that still dispels common misconceptions and still does some good in the discussion." And readers: They pulled it off, not just hitting the biggest bugaboos for the right and the left, but devoting an entire, carefully constructed act to the disproportionate care white people's feelings have been given historically, from both sides of the divide, and the deadly disadvantage that has put Black Americans at for centuries. There are jokes, sure, but "Adam Ruins Guns" is an example of ARE at its LEARNING IS FUCKING FUN best. —Alexis Gunderson
5. Crazy Ex-Girlfriend
Network: The CW
Last Week's Ranking: Honorable mention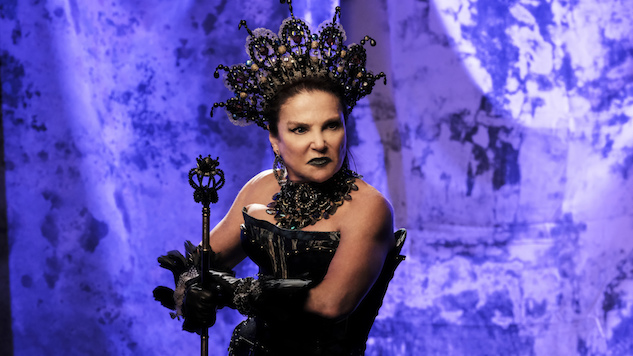 Unless you include Darryl's (Pete Gardner) very brief self-help ditty or an unexpected duet with Elayne Boosler, "I Will Help You" has only one musical number—and boy, does Crazy Ex-Girlfriend make it count. With her mother set to receive an award, Rebecca (Rachel Bloom) flies home to offer her support, and reveal the truth about her attempt on her life, subsequent recovery, and recent decision to leave the law. Naomi Bunch (the terrific Tovah Feldshuh) isn't having it: First she unleashes a hyper-critical monologue so full of Yiddish it'd impress Isaac Bashevis Singer, and later delivers the anti-honesty anthem "Forget It." The hour is as full of sly gags as any Crazy Ex-Girlfriend episode I can remember, from a Murphy bed tucked behind a refrigerator and "Camp Kvetcha" to the fact that Rebecca's Wi-Fi password is "525,600 Minutes," but it's also a key step in our heroine's effort to set (and maintain) boundaries. It's Common's sense: "I Will Help You" is a total gas. —Matt Brennan (Photo: Eddy Chen/The CW)
4. My Brilliant Friend
Network: HBO
Last Week's Ranking: 3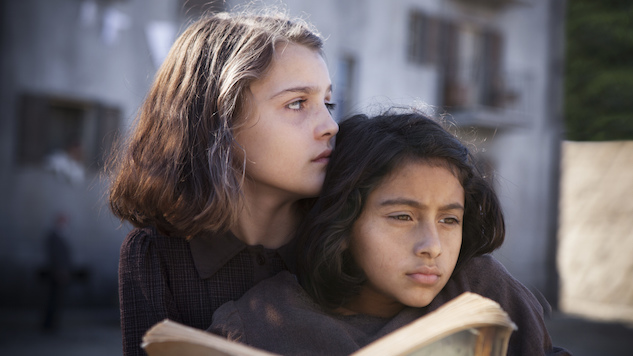 Arguably, the full sense of a novel like Elena Ferrante's My Brilliant Friend cannot fully be translated to the screen, but HBO's new series certainly nails its sensibility. A wise, tense, layered anatomy of an influential friendship, it follows Elena Greco (Margherita Mazzucco in childhood; Elisa Del Genio as a teenager) and Lila Cerullo (Ludovica Nasti and Gaia Girace) through working-class 1950s Naples, exploring education and class mobility, sexual coming of age, violence and oppression, competition and jealousy, admiration and love. Lingering pacing and beautifully rendered period detail will interest fans of the book as well as those unfamiliar with it. And if you happened not to spend part of your childhood bewitched by a weird, precocious, possibly slightly dangerous friend, this is a pretty strong example of what it feels like. —Amy Glynn (Photo: Eduardo Castaldo/HBO)
3. Escape at Dannemora
Network: Showtime
Last Week's Ranking: 2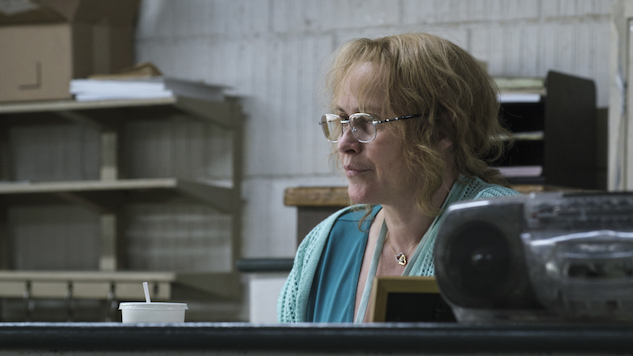 In the summer of 2015, two inmates escaped a prison in upstate New York, aided by an employee they were both sleeping with. The story was instantly tantalizing and captivating. After all, lust and deceit are the foundation of many a TV series, and a prison ménage à trois is a story begging to be told. Imagine what the Hallmark Channel or Lifetime would do with this story. Thankfully, executive producer and director Ben Stiller took it on instead. His version of Richard Matt (Benicio del Toro) and David Sweat (Paul Dano) tunneling their way out of Clinton Correctional Facility with the help of tailor shop supervisor Tilly Mitchell (the transfixing Patricia Arquette) is harrowing, realistic, bleak and depressing. This prison break isn't Prison Break. —Amy Amatangelo (Photo: Chris Saunders/SHOWTIME)
2. Dirty John
Network: Bravo
Last Week's Ranking: Ineligible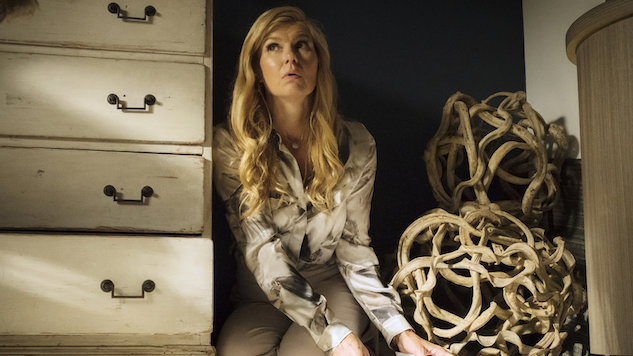 One of the best things about this deliciously pulpy series is how quickly things are moving. It's only the second episode, but already the cracks in the seemingly perfect John (a terrific Eric Bana) are showing and Debra's (Connie Britton) world is crumbling. By the time John says to Debra's beloved nephew, "You should be glad your dad killed your mom," the series has moved into straight-up horror thriller territory. Britton (and her fabulous hair) make every project better, but Dirty John benefits from a strong cast all around. I'm fascinated by Debra's mother, Arlane (Jean Smart), who seems so willing to accept the new man in her daughter's life. "I love him because he loves you," she tells her daughter. She might be the key to why Debra, a successful and smart business woman, is so gullible when it comes to love. This holiday season, Dirty John is extra TV calories you might not need, but should devour anyway. — Amy Amatangelo (Photo: Nicole Wilder/Bravo)
1. Say Her Name: The Life and Death of Sandra Bland
Network: HBO
Last Week's Ranking: Ineligible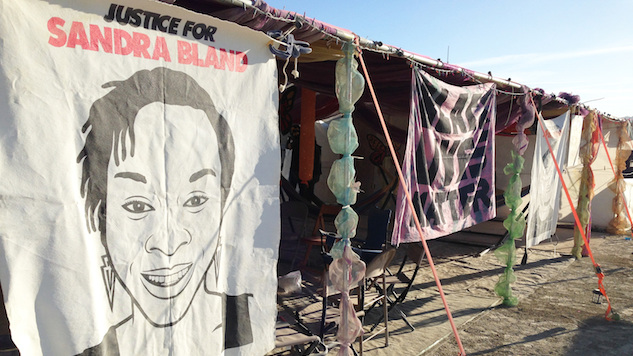 Near the end of Say Her Name: The Life and Death of Sandra Bland, Bland's sisters, Sharon Cooper and Shante Needham, trudge through a heavy Chicago snow, meticulously clean her grave marker until it's pristine, place a fresh bouquet of yellow roses, and tell her they love her. Then they blast "Uptown Funk" from a smartphone and have a mini dance party. This, like so many other scenes in directors Kate Davis and David Heilbroner's new documentary, is as tearful as it is fun and loving. By all rights, Bland should have been bumping to Mark Ronson and Bruno Mars' chart-topper with the rest of her family in some cozy kitchen that winter, laughing and happy. Instead, to the shock of those who knew her, Bland was found hanged in a Texas jail cell in July 2015. She'd been pulled over for a routine traffic stop, which quickly escalated—as evidenced by both the footage caught on the officer's dashboard camera and a bystander's video. As Bland's sister Sharon Cooper tells Paste, one of the film's guiding principle is "to never forget the owner of the story." In other words: Say her name. —Whitney Friedlander (Photo: Kate Davis/courtesy of HBO)