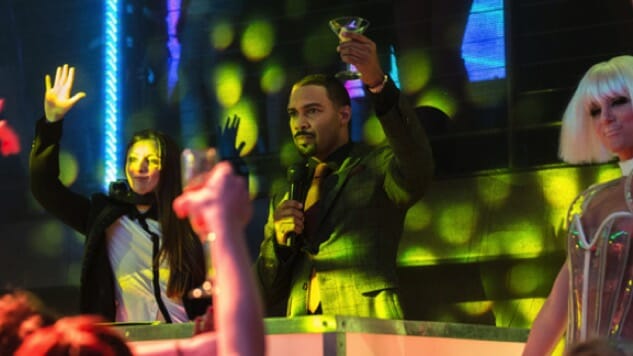 The latest episode of Power was taut with tension, as stakes were raised for most of the characters. The story moved quickly, but far too many balls were thrown in the air. It will be interesting to see how and where some of those balls land next week.
Of course, we also had moments of predictability. When James saves Tommy from a drive-by, his private security discovers some of James' former lifestyle choices. Eventually, someone had to dig in to Ghost's life. The irony of this is that Tommy wasn't made aware of Ghost's presence, which, thanks to Holly, will affect Ghost directly. Angela feels the happiness bubble burst over her head, as her work and home life are ready to collide once more. It's glorious to watch the lovey-dovey couple face some serious consequences. Real love is messy.
Here are the top five most insane moments from Power, "Don't Worry, Baby":
5. Kanan: Mr. Steal Yo' Girl
Kanan is back, everybody, and what was the first thing he did when he found use of his hands? Well, he followed Candy's finger exercises to her satisfaction. Candy is the confidence booster to Kanan's former self. Because after his new regimen, he was ready to partake in Jukebox's jewelry store heist. Feeling sentimental after killing one of Jukebox's boys, Kanan made sure to pick out a piece of jewelry for Candy… and then they had sex. It's hard to believe Jukebox is fine with sharing anything with Kanan, but she's the one pulling the strings behind the curtains. Eventually there has to be something to drive a wedge between the two.
4. Greg Finds Ruiz
Greg is determined to save the day. But since he's still stuck on Angela, this singular goal makes him tiresome. I wish it wasn't so, because there are so many ways the writers could have made Greg a more compelling character. Not only is it creepy, but the fact that he wants to save his former girlfriend from Ghost is just… blah. Maybe one day he'll realize that Angela doesn't want him. However, we have Ruiz building the suspense to see who he's going to squeal on. Methinks that Ghost will have a problem, and perhaps he can do us all a favor by getting rid of Greg.
3. Paz is Back
Okay, I'll admit it: I haven't always been a staunch supporter of James and Angela's love fest, but as soon as they hit the curve to face real problems, I was in! Especially now that things are literally a matter of life and death between the two. Lobos wants Ghost's head on a stick. Angela could face a serious career setback (AKA jail time) and Tasha refuses to allow her kids over. But if there is anyone who can makes things delightfully worse it's Angela's sister, Paz, and she does it in the best way. She keeps it strictly one-hundred with James/Jamie by stating that her son will never work for James, then scoffs the moment she realizes his divorce isn't final. She's the older sister who won't offer a mea culpa until she sees more action, but Paz did offer a small thanks when she saw James' check for the rent. Angela left, but James suffered immensely at the dining table. I hope we have more Paz to look forward to. Maybe some of her common sense can reach Angela.
2. Ghost Returns the Favor
We knew there was going to be a drive-by scene of epic portions, but we didn't know Tommy was going to be the direct target. After spending time with his crooked priest (look at the religious subtext seeping through Power!), Tommy has a moment to reflect on what he's going to do about the Ghost situation. But Ghost still has some ties to the past and comes just in the nick of time to save Tommy. What a shame that he didn't make himself known at the end and Tommy doesn't know who saved him. Because this is the catalyst that forces Holly to make the next move. Which is…
1. Holly Calls in a Hit
In a move that shouldn't surprise anyone, Holly decides to take matters in her own hands to protect Tommy. Call it her newfound motherly instincts. No matter how demented they are, she has a family. Holly visits an assassin to hire the hit on Ghost; it's almost Shakespearean. Ghost saves Tommy (despite that nasty arm wound) and Holly thanks him by putting a hit on his life. All the roads are leading to this moment, and I wonder when Holly will realize she's made a huge mistake. Because surely, this is monumental.
---
Iris A. Barreto is a writer for
Fangirlish
, freelance writer for
Paste
and social media intern for
Pink is the New Blog
. Heavily caffeinated. Forever lost in Westchester, NY & NYC; all GPS apps hate her. You can follow on Twitter.