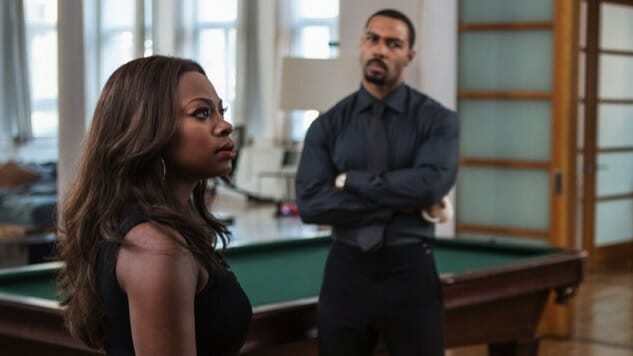 Last week's episode of Power was so intense, we thought things would slow down a bit, and perhaps some loose ends would be tied up. I'm happy to say we were wrong, because "The Right Decision" came to knock us out of our seats. And with all the drama that unfolded, it's beginning to finally dawn on Ghost that he may never leave his past behind.
1. The Kidnapping and Death of Lobos
After two-and-a-half seasons of the drug kingpin causing some serious headaches, Lobos' storyline was finally neutralized in the form of two bullets to the chest. It wasn't easy. Since Tommy and Ghost have quite the fractured relationship, it was a rough go working together, and Lobos made sure to add some friction. First, Tommy and Lobos' men intercepted the drug lord from the FBI, before he could be transferred to the Washington DC Headquarters. Tommy knew enough that he would be killed after Lobos' freedom, but Ghost appears after they hide under a bridge. While the two argue together, he escapes.
In the end, Ghost kills him, but not before Lobos says a few things that get well under his skin. He reminds Tommy of Ghost's loyalty and reminds Ghost that his past will catch up. It's only a matter of time.

2. Tasha's Scenes: All of Them
This season of Power has given us new reasons to love Tasha. Naturi Naughton dominates the screen with great timing for zingers, as her character take shots against her husband. And it's glorious, really, since Ghost keeps putting her in compromising positions that force her to play along. Pretending to be a husband-and-wife team so Ghost's plan of killing Lobos protects her family? Sure it makes sense, but it's also great seeing that Tasha is making sure to sign those divorce papers, because she's tired of his games. What will happen when Tasha is finally free of Ghost?
What havoc will she wreak, since she knows him better than he knows himself? I'm here waiting for her to reign supreme.
Sidenote—Her "Seriously, bitch, ain't you got a job?" texts to Angela left me on the floor. Priceless.

3. Two Lovers on Opposite Sides of a Door
Rooting for Angela and James/Ghost is extremely hard to do. They live in their own dream-world (where they can fly around the world together), and everyone has been waiting for the foolish lovers hit back to reality. But for the first time, Tommy's words on the danger of Angela rang true and Ghost was able to push aside his selfishness to focus on Angela's safety. Tommy'd rather kill her, in a humane matter of course, but Ghost did the only thing he could do—break Angie's heart. Because being with him, could get her fired, imprisoned or killed—or all of the above.
And it was the breakup to end all breakups. It was the first time we really saw an emotional side break the façade of Ghost, as he silently cries in front of her door, while Angela wall-slides towards heartbreak. Yeah, I might have shed a tear or two.

4. Don't Forget About Milan
Now, for the most amazing turn around in Power's history: Milan, the Serbian drug lord who eats people, visits Ghost right after Lobos is killed. And he was there the entire time as Ghost's personal security guard, Dean, following all of his steps. With this much access, Ghost is cornered back in to the drug game, because Milan wants repayment for what Ghost destroyed. And it comes at the precise moment when Ghost believes he can breathe freely. Foolish man, didn't you listen to Lobos' last words to you? "Killing me doesn't save you… God doesn't take men like us peacefully while we sleep."

5. Sorry Tasha, but Tommy still wins for Best Zingers:
"I did hear you say Milan, right? The mothafucker who eats people? For sure?"
"I'm not emotionally prepared to work for another psychopath."
That last one is my official motto. Forever. Thank you.