The 10 Best Quotes on TV This Month
November 2018
Header photo: NBC
TV
Lists
Quotations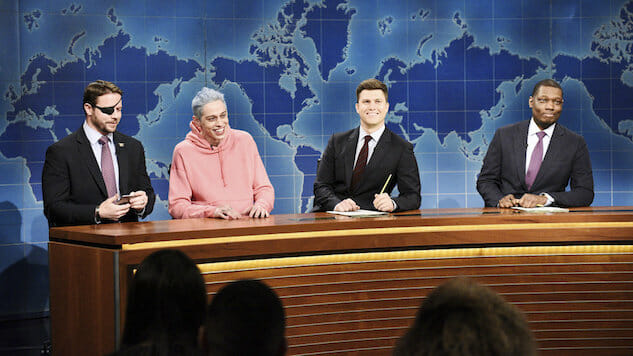 Did you spend Thanksgiving with relatives who declared they don't watch TV?
I'm so sorry. Nothing annoys me more than people who claim some sort of superiority by denying themselves the sheer joy television offers.
Come here to the safe space at Paste, where we celebrate all things TV. Each month, our trusty cadre of staff and contributors scour the TV landscape, leaving no network, cable or streaming show unturned. Here are our picks for the best TV quotes from November. And remember, if you hear a great TV quote, write me at [email protected] or tweet me at @AmyTVGal and you just might see your favorite quote here next month.
Fresh Off the Boat
"We're so in sync, like that music group Backstreet Boys." Jessica (Constance Wu) talking about her new friend in "Mo' Chinese Mo' Problems" (Episode 5.05).
The Conners
"Does he remind you of anyone?" Jackie (Laurie Metcalf) to Darlene (Sara Gilbert) about Darlene's new boyfriend.
"Not really."
"Here's a clue, because I want you to figure it out: DAVID." Jackie's response in "Miracles" (Episode 5.05).
Saturday Night Live
"Pete looks like if the meth from Breaking Bad was a person. Pete looks like a Troll Doll with a tapeworm. Pete looks like Martin Short in The Santa Clause 3. By the way, one of these three is actually good on SNL." Former Navy Seal and Congressman-elect Dan Crenshaw, coming on Weekend Update after Davidson had made fun of him the week before in, "Liev Schreiber/Li'l Wayne" (Episode 44.05).
American Housewife
"Richard has a healthy fear of diseases. Thank God for all those herpes commercials during NCIS." Doris (Ali Wong) discussing why her husband won't cheat on her in "Trophy Wife" (Episode 3.08).
Murphy Brown
"That did not happen to my turkey. My turkey grew up on a beautiful farm in Vermont. Its own bed turndown service every night. Free cable. And then one bad day." Murphy (Candice Bergen) explaining the origins of the $350 turkey she is about to cook for Thanksgiving dinner in "Thanksgiving and Taking" (Episode 11.09).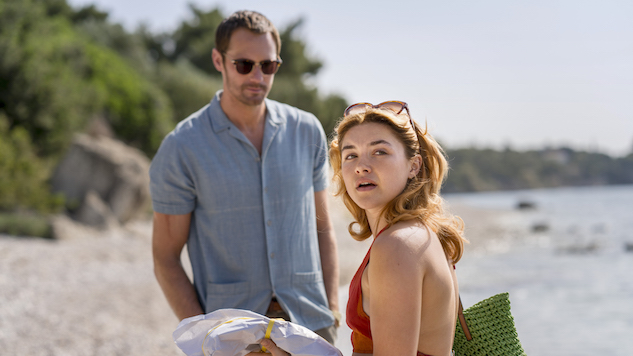 The Little Drummer Girl
"The good news is that I have lied to you as little as possible." Gadi Becker (Alexander Skarsgard) to Charlie (Florence Pugh) before he brings her into an insanely dangerous operation at the end of "Episode 1" (Episode 1.01).
black-ish
"That's worse than Kanye saying slavery was a choice." Grandma Ruby (Jenifer Lewis) upon learning her grandchildren don't know who Prince is in "Purple Rain" (Episode 5.04).
Crazy Ex-Girlfriend
"I wanna be a pre-teen Hollywood train wreck / A cautionary tale / I want the kind of fame that'll warp my brain / And eventually land me in jail." Tucker Bunch (Luca Padovan) singing "I Want to Be a Child Star" in "I'm Making Up for Lost Time" (Episode 4.04).
Homecoming
"I'll be in my car, or right when I wake up, and it's like I just appeared out of nowhere. I can just see my whole life, phony, fake, and every word that I say, every second—if that's the lie, where's the other one, the real one?" Heidi (Julia Roberts) to Colin Belfast (Bobby Cannavale) in "Toys" (Episode 1.06).
The Good Place
"Dude! We can get mythical animals? Maybe I'll get a penguin." Jason (Manny Jacinto)
"Penguins are real." Eleanor (Kristen Bell)
"That's the spirit, Eleanor." They're real to me too." Jason in "The Worst Possible Use of Free Will" (Episode 3.07).
---
Amy Amatangelo, the TV Gal®, is a Boston-based freelance writer, a member of the Television Critics Association and the Assistant TV Editor for
Paste
. She wasn't allowed to watch much TV as a child and now her parents have to live with this as her career. You can follow her on Twitter (@AmyTVGal) or her blog .