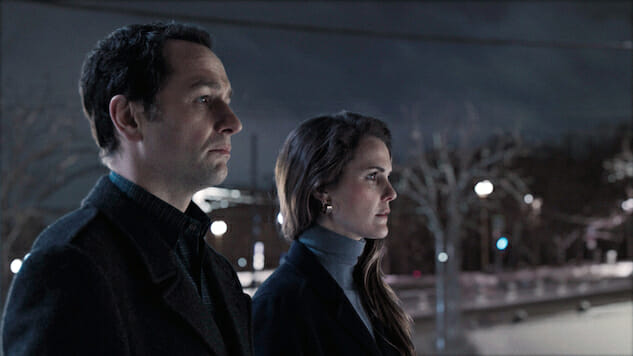 Let's be honest: We could do a year-end round up of the year's best television quotes and just use bon mots from The Good Place. But how to choose between Tahani's (Jameela Jamil) many digs at Ben Affleck or Jason's (Manny Jacinto) unique perspective (sure, Jason, penguins are mythical creatures) or the show's ongoing mocking of our culture ("I found it on Etsy!"). We decided to go with The Good Place quote that was, as the saying goes, most relevant to our interests.
It wasn't easy, but we stuck to the "one quote per show" rule—except for the beloved drama about Russian spies that ended its run this year. Because we are still devastated by The Americans' exquisite finale, we allowed them two quotes, comrades.
Here are our picks for the 30 best TV quotes this year!
Barry
"Starting… now." Barry's final words in the first season finale "Know Your Truth" (Episode 1.08).
Better Call Saul
"S'all good, man." Jimmy McGill (Bob Odenkirk) officially breaking bad at the end of the season finale, "Winner" (Episode 4.10).
The Good Place
"No, this is the journalism department." Janet (D'Arcy Carden) explaining to Michael (Ted Danson) that the abandoned floor they're on is not just for storage in "The Snowplow" (Episode 3.03).
Champions
"Please. I love difficult women. The theme for my tenth birthday was Kim Cattrall." Michael (J.J. Totah) before he meets a problematic gym client Denise (Kether Donohue) in "Grandma Dearest" (Episode 1.6).
BoJack Horseman
"Are you the umlaut in Chloë Sevigny's name right now? Because I don't know why you're here, but I'm glad you are." Pickles Aplenty (Hong Chau) in "Planned Obsolescence" (5.03).
The Last Man on Earth
"It hasn't been this hard to say goodbye to a house since Hugh Laurie died." Tandy (Will Forte) in "Cancun, Baby" (Episode 4.18).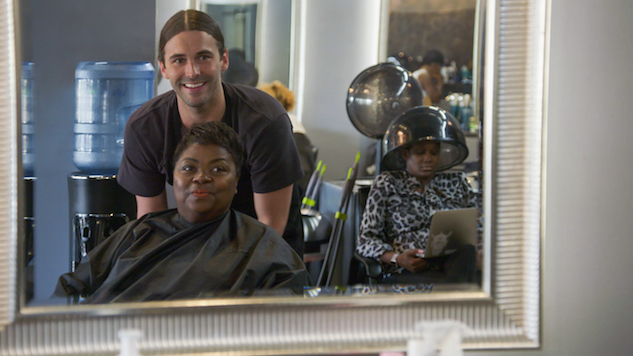 Queer Eye
"You're strong, you're a Kelly Clarkson song, you got this." Jonathan, straight to camera, in "Big Little Lies" (Episode 2.6).
Fresh Off the Boat
"We're so in sync, like that music group Backstreet Boys." Jessica (Constance Wu) talking about her new friend in "Mo' Chinese Mo' Problems" (Episode 5.05).
9-1-1
"The day that every woman realizes how strong she really is, is the day that will bring peace on Earth." Athena (Angela Bassett) in "Awful People" (Episode 2.05).
Hannah Gadsby: Nanette
"There is nothing stronger than a broken woman who has rebuilt herself."
ESPY Awards
"If we choose to listen and we choose to act with empathy, we can draw strength from each other. We may suffer alone, but we survive together." Aly Raisman accepting the Arthur Ashe Award for Courage with 140 fellow survivors.
New Girl
"It's not that strong. It's so weak they call it 'Gun Control in America.'" Joan (Jamie Lee Curtis) to Jess (Zooey Deschanel), describing the marijuana she wants her daughter to try in "The Curse of the Pirate Bride" (Episode 7.7).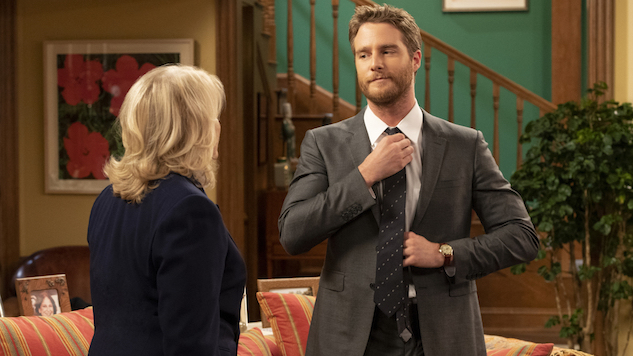 The Royal Wedding
"You look amazing. I'm so lucky." Prince Harry to Meghan Markle as she arrived at the altar.
Speechless
"I didn't even set an alarm for Harry's wedding. My body just knew." Dylan (Kyla Kenedy) confessing her love of the royal family to Kenneth (Cedric Yarbrough) in "L-O-N—LONDON: Part 1" (Episode 3.01).
Crazy Ex-Girlfriend
"There are so many other professions / that don't turn you into Jeff Sessions." Jim (Burl Moseley), from the musical number "Don't Be a Lawyer," in "I'm on My Own Path" (Episode 4.03).
Murphy Brown
"Think before you tweet mom. Shows have been cancelled for less." Avery (Jake McDorman) to Murphy (Candice Bergen) in "Fake News" (Episode 11.01).
Insecure
"All my sex ghosts in this graveyard!" Kelli (Natasha Rothwell) at a cemetery film screening in "Ghost-Like" (Episode 3.08).
The Americans
"I was hoping to make it home for dinner, but things are very topsy-turvy at the office." Philip (Matthew Rhys) giving the code red signal to Elizabeth (Keri Russell) in "Jennings, Elizabeth" (Episode 6.09).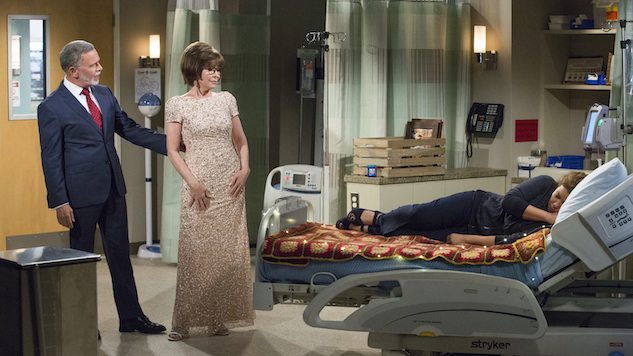 One Day at a Time
"Not yet." Lydia (Rita Moreno) to her beloved, deceased husband, Berto (Tony Plana), in the second season finale, "Not Yet" (Episode 2.13).
The Good Fight
"I realized it's alright that the world is crazy, as long as I make my little corner of the world sane." Diane (Christine Baranski) in "Day 471" (Episode 2.10).
Cobra Kai
"My whole life went downhill with that kick." Johnny (William Zabka) in "Ace Degenerate" (Episode 1.1).
Killing Eve
"I have lost two jobs, a husband, and a best friend because of you." Eve (Sandra Oh) to Villanelle (Jodie Comer).
"Yeah, but you got some really nice clothes out of it." Villanelle's response in "God, I'm Tired" (Episode 8.08).
The Handmaid's Tale
"Now, a tune to remind everyone who's listening—American patriot or Gilead traitor—that we are still here. Stars and stripes forever, baby." Oprah in a radio cameo in "Holly" (Episode 2.11).
The Bold Type
"That double standard is like the classic rock hits of patriarchy." Sutton (Meghann Fahy) to Jane (Katie Stevens) about how dating a male co-worker will affect her reputation but not his in "Feminist Army" (Episode 2.1).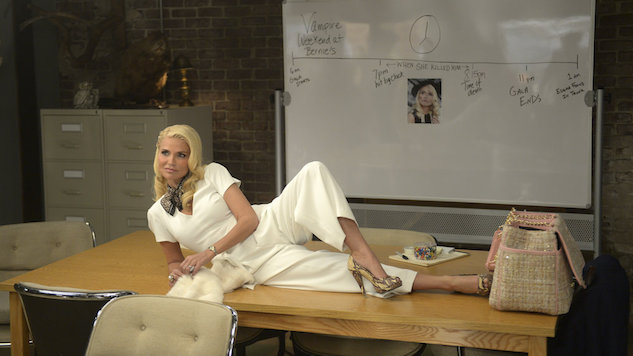 GLOW
"I've never seen Cheers." Reggie (Marianna Palka) to the group.
"It's great. It's about an invisible woman named Vera." Sheila's (Gayle Rankin) response in "Viking Funeral" (Episode 2.1).
Trial and Error: Lady, Killer
"I had to give everyone a take home. I'm not on trial for murdering etiquette." Lavinia Peck-Foster (Kristen Chenoweth) in "The Timeline" (Episode 2.2).
Pose
"How lucky are we? We create ourselves." Lulu (Hallie Sahar) in "Fever" (Episode 1.04).
The Tony Awards
"We are all sacred, and we all belong. So let's just bake a cake for everyone who wants a cake to be baked." Andrew Garfield in his in his acceptance speech for his performance as Prior Walter in Angels in America.
Sharp Objects
"Don't tell mama." Amma (Eliza Scanlen) to Camille (Amy Adams) in the final moments of the season finale, "Milk" (Episode 1.08).
The Americans
"It feels strange." Philip (Matthew Rhys) to Elizabeth (Keri Russell)
"Me privyknem." Elizabeth's response, in Russian ("We'll get used to it").
---
Amy Amatangelo, the TV Gal®, is a Boston-based freelance writer, a member of the Television Critics Association and the Assistant TV Editor for
Paste
. She wasn't allowed to watch much TV as a child and now her parents have to live with this as her career. You can follow her on Twitter (@AmyTVGal) or her blog .