If Rel Can Keep It Weird, Fox Might Have a Multi-Cam Success on Its Hands
Photo: Ray Mickshaw/FOX
TV
Reviews
Rel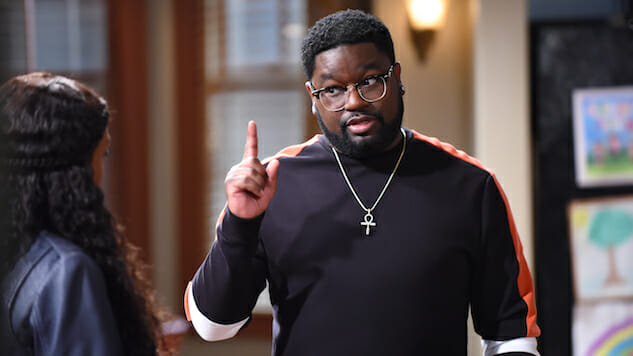 With FOX's recent decision to feature more multi-camera sitcoms on its 2018-2019 schedule (and possibly beyond), it's only natural that it picked up a series from a stand-up comedian. It worked for Martin, and while it didn't quite work for Mulaney, you could understand why they tried it and wanted it to work. So this season's attempt—one that's getting a strong promotional push, set to premiere right after the first Sunday of the NFL's regular season—is Rel, starring actor/comedian Lil Rel Howery in a role based on both his real life and his stand-up.
Rel is a somewhat by-the-numbers sitcom grown from the ashes of a socially conscious one: Howery starred alongside Jerrod Carmichael on NBC's The Carmichael Show as Jerrod's clueless-but-trying brother, Bobby, and Carmichael serves as an executive producer on Rel. Created by Howery, alongside former Carmichael Show writers Josh Rabinowitz and Kevin Barnett, the new series' fictionalized version of its star is also, obviously, trying. But while he's the butt of jokes—excluding the series' kick-him-while-he's-down set-up, in which Rel's wife's cheats on him with his barber and takes their two kids away in the divorce—he's essentially got his life together in other realms. He's got a good career as a nurse, a best friend who tries to keep him grounded (Jessica "Jess Hilarious" Moore), a clueless-but-trying brother of his own (Jordan L. Jones), and a father who he looks up to (Sinbad).
There's a modern stigma against multi-camera sitcoms because of the live studio audience—which is rarely a "laugh track," but is often erroneously criticized as such—and while that may it more difficult for new sitcoms to find their footing—multi-camera comedic timing and single-camera comedic timing are two very different beasts—it's not an impossible feat. There's also an assumption that multi-cameras are, by default, generic—and Rel does feel like that at first. Opening the series with a monologue that feels straight out of a stand-up set doesn't necessarily bode well: While both are comedy, the delivery and rhythm of stand-up comedy and situational comedy are completely different. Nor does the live audience awkwardly laughing to fill the silence during pauses for punch lines that aren't all that funny. As the episode continues, though, it becomes clear that Rel's comfort zone turns out to be weirder than its promotion and presentation would have you believe. Set on the West Side of Chicago, the series takes that feeling of everyone in a neighborhood knowing everybody else's business and magnifies it for the audience until the funniness overtakes the sadness. That includes Rel's entire broken heart/broken family storyline, as well as his attempt to fix it by dating a girl known as "Loose Boots" Monica (based on a premise from Howery's stand-up).
There's a scene in the pilot set on a bus where it's literally just Rel getting roasted by this random guy (D.C. Young Fly), which feels odd on first viewing—especially because it just takes over the episode—but makes more sense when you consider that it happens after a scene in which every character (including one also played by Howery, if you want to circle back to a Martin comparison) takes a long moment to point out his big embarrassment. Rel's pilot intentionally cranks up the volume on the surreal feeling that everyone's laughing at you, or out to get you, and while that can be some pretty broad comedy, it's also incredibly relatable. Even if you've never had your significant other cheat on you with your barber.
FOX calls Rel "a new comedy about starting over," and despite the series' distinct setting, sense of humor, and perspective, it's reminiscent of another sitcom about a newly-single long-distance father: Frasier. Only Rel is not the one who moves to a new city, and you'll probably never see him or his brother Nat drinking sherry. Rel may not feature the same refined tastes—read "snobbery"—of a Niles or Frasier Crane, but when it comes to Frasier's almost impressive optimism in a world that makes it hard to maintain such a quality, Rel might as well be a twist on the idea of Black Frasier. After all, Rel is described as "a prideful, self-made success who lives by the code to 'always believe in yourself and great things will come.'" That's literally the character of Frasier, just with a new name (well, among other differences).
In fact, a key to series like Rel, which can often come across as vanity projects, is not to be afraid to make the lead, who's technically the center of the show's universe, the butt of the joke—the one who gets clowned on. While The Carmichael Show was all about the entire family taking different sides of the argument, it wasn't afraid to make Jerrod take the unpopular or least-evolved side just because it was his show. Rel certainly isn't perfect, either, but the show balances the line between that imperfection (like his rebound with "Loose Boots" Monica, which leads to one of the funniest, broadest moments from prolific sitcom director Gerry Cohen) and his attempt to handle his divorce and new status as a long-distance father maturely. It's always difficult to see exactly where a show will go after its pilot—especially when it comes to sitcoms, whose comedic sensibilities can evolve (or devolve) significantly over a short period of time. Rel isn't necessarily a one-of-a-kind sitcom, but it has all the tools and potential to tell a funny, interesting story.
Rel premieres at 8 p.m. ET/5 p.m. PT, immediately following NFL football, on Sunday, Sept. 9 on FOX.
---
Despite her mother's wishes, LaToya Ferguson is a writer living in Los Angeles. If you want to talk The WB's image campaigns circa 1999-2003, LaToya's your girl. Her writing has been featured in
The A.V. Club
,
Indiewire
,
Entertainment Weekly
,
Complex
,
Consequence of Sound
,
and Flavorwire
, among other publications. You can find her tweets about TV shows, movies, and music you completely forgot about @lafergs.