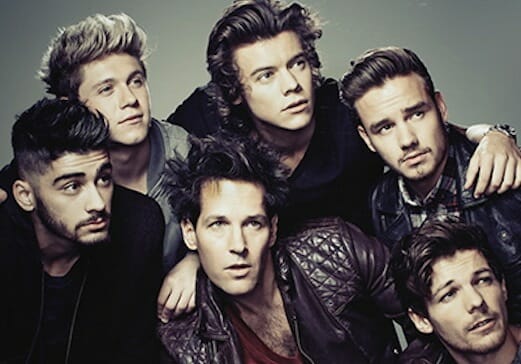 With Anchorman 2 on the way and with Ron Burgundy freaking everywhere these days, I assumed when Saturday Night Live announced their December hosts, Will Ferrell would have to be in there. I mean, Ferrell would've been a perfect choice for the holiday episode. But, instead, representing the Anchorman cast was Paul Rudd, who returned to host for the third time. Rudd is always a fun host and always seems comfortable with the cast, but he doesn't really stand out the way a host like Ferrell or Carell even would have. Yet the best parts of "Paul Rudd/One Direction" relied on the non-Rudd cast members of Anchorman and its sequel.
For once the cold open wasn't a current news topic, but instead a condensed version of NBC's live The Sound of Music. However this was all just a cover for the return of the great Kristen Wiig character Dooneese as one of the Von Trapp children. Then as a nice conclusion, Fred Armisen as Lawrence Welk to start the show. As much as I enjoy the newer cast, man, it's great to see some of the greats come back.
The opening monologue had even more surprise guests, as Rudd explained that he always gets overshadowed by the musical guests when he hosts. First, it was Beyonce, then Paul McCartney and now it's One Direction. But to add to that, Ferrell, Carell and David Koechner joined Rudd on stage as the "man band" to go against One Direction's boy band. The man band started singing "Afternoon Delight," which then One Direction joined in on, causing the creation of the supergroup Nine Direction.
After this great beginning to the show, we immediately get the worst sketch of the night in the return of Politics Nation, with Kenan Thompson as Al Sharpton discussing Obamacare. It felt like a piece that would have served as the cold open any other night. (Thankfully it wasn't, since it really doesn't go anywhere, except when Thompson mispronounces some words.)
The majority of the show from here featured enjoyable skits, but only a few that were truly hilarious. A digital short with Paul Rudd playing One Direction's biggest fan was fun thanks to him shaming little girls for not knowing 1D as well as he does. Then a divorce settlement skit had some great one liners and wordplay but was just okay as a whole.
It was pretty clear from the very beginning that most of the audience was there to see One Direction. During several of the skits, it was awkwardly quiet, yet during their performances, the audience was incredibly vocal. They first performed "I Don't Want to Know," then "Here To Stay," which are both fine songs and there's quite a change in the band since their first time on the show where they seemed incredibly nervous.
"Weekend Update" was probably the highlight of the night that didn't feature cameos. Both Seth Meyers and Cecily Strong had some fantastic lines, and I'm glad Strong seems more comfortable with the upcoming departure of Meyers. Update even saw the return of two of its best recurring characters. First Jaco the Bar Mitzvah Boy, who finally responded to Meyers that he would miss him when he leaves. Then the return of the recent favorite Jebidiah Atkinson, the 1860s newspaper critic, which hasn't been on in only three weeks, leaving Atkinson to reply, "run things into the ground much?" Oh Atkinson, if only you could have critiqued The Californians. This time Atkinson reviews Christmas specials, where he thinks that the story of Jesus' birth is derivative of National Lampoon's Vacation and that Family Guy should have killed Snoopy instead of Brian.
Then it was back to mediocre sketches! There was a bit where Rudd plays the male model that Michelangelo based the David on, who is embarrassed at how his penis looks. Once again, it's fine, and saved by a few wonderful lines, such as Jay Pharaoh, making his only live appearances of the night here, popping up to tell Rudd he should probably just kill himself.
We got a commercial for White Christmas, a Christmas film that takes all the elements of black holiday films and makes it for white people. Sure it's funny to see Mike O'Brien as the guy who wears a gold chain over his turtleneck or Rudd as the white Madea, but I don't see how SNL can do this parody when they only have two black cast members.
Another clunker was set at Santa's Workshop, where Santa has gotten skinny and has a new girlfriend and his elves don't like it. The audience was especially silent on this one and for good reason.
Then was another good moment for Strong of the night, where she remembers her past lovers, which includes Rudd as Victor, a Papa John's employee she once banged in an airport. Rudd gets some great little parts in here, and Bobby Moynihan shows up as his now-dead coworker. (It's a rare episode that lacks Moynihan appearances.
I'm fine with all the mediocrity if every episode can end as strongly as it does here, with the return of Bill Brasky. Here to salute Brasky this time is Ferrell, Koechner, Rudd and Killam, with Thompson showing up later. Bill Brasky has always been amazing and it is wonderful to see it return. By the way, someone needs to gather all the information on Brasky and both create an entire list of his accomplishments and what exactly he should look like at this point. (Get on it, Internet!)
Rudd was good, as always, but all the cameos do make me wonder if the episode could've been better had it been hosted by one of the other guests instead, or at least a bit more memorable. Rudd is always fun to watch, but hey, he's no Brasky.
TO BILL BRASKY!