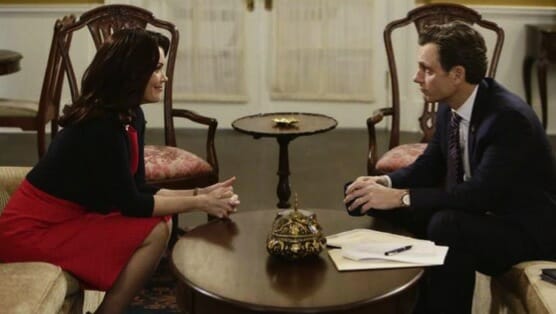 There's a lot to discuss, concerning "First Lady Sings the Blues." We had many great moments (Cy vs. Sally, "Foxtail") and we now know that Jake lives, but the consistency felt off to me. This wasn't my favorite episode of Scandal, by a longshot and I'm torn, because I really wanted to love it.
First thing first—Jake! While many social media users recoiled in shock last night due to the death of a major character on another Shonda Rhimes show, Scandal fans fervently waited for news about Jake: did Russell kill Liv's partner in the sun, or nah? With a swift and heavy punch delivered to the chest by Huck, Jake gasps for air—and we know he's alive.
But it's a little more complicated than all that. OPA has to keep him hidden so Rowan can't finish axing him off. Charlie arrives with a medical friend who would like a favor from Olivia Pope, in exchange for operating on Jake. With roots and connections to Russia and the KGB, he has a friend with a codename—Black Sable—who needs her assistance. Olivia isn't ready for a case of the week, but the doctor insists that this must be his payment, or he's leaving. Olivia relents and vows to help, but Charlie and Huck forewarn Olivia about the hit woman's record.
This episode could have packed a lot more punch if the writers had dropped this KGB-agent spin and focused more on B613, OPA's survival and Mellie's campaign.
Instead, we follow along as Olivia and Huck find out that Black Sable is a grandmother who bakes Russian cookies. The duo sits down and "Mary" rehashes her past with a tiring monologue. Mary, with her grandchildren upstairs, tells Olivia that someone left information for a drop. They find the man and try to convince him to a pay-off to no avail.
Back at the White House, shockingly, no one thought it would be a good idea to confirm whether or not Mellie's senate campaign is legal under the constitution, before Sally Langston could try and roast The First Lady on The Liberty Report. Per David Rosen, it's not illegal—especially since the forefathers of the country didn't think they would ever have this problem. Abby is annoyed in every direction. She believes that, due to misogyny of lawmakers, Mellie can run for Senate and battling Sally will only work if a man can speak up for feminism. Cyrus's quiet chuckling over all this inspires Fitz to choose him to represent Mellie.
In what is one of the best verbal matches of the show, Cyrus appears on Sally's television show; it is beautiful. As much as I would love to focus on the play-by-play and relish every moment, that scene represents an unfortunate fact: people ignore women's rights when a woman speaks on it, while a man who defends women is considered to be some sort of hero. Sigh. Regardless, Cyrus's work doesn't seem to be enough for voters. Abby and Elizabeth suggest that they leak the "separation" of the President and Mellie, but Mellie refuses. The Grants are now a team, and Fitz is trying to be a good man to his wife, so he calls Liv for her advice.
Perhaps the biggest disappointment of this episode was Rowan and his errand boy, Russell. Last episode, Russell gave a meh-speech about being underwhelmed by Jake's fighting skills, however, there's a huge difference between the two. When Jake attacks, he leaves nothing to chance, but Russell is arrogant enough to leave before Jake can bleed to death. Russell makes a few more mistakes; he can't track Liv through GPS and he tells Rowan about Liv's KGB mission to kill Command. It seems clunky that the great Command would allow a so-called novice to flop so many times.
It was a big error on Rowan's part to kill the Russians, because when Liv pulled that gun out on Russell and said this was going to hurt, I believed her!
Stray Observations:
Another dumb mistake on Russell's part—calling Rowan in Liv's bathroom. I sincerely hope she pistol whips him—at least!
When Liv said "FOXtail"—the shivers. THE SHIVERS! I thought she let out an f-bomb, and I was soo excited.
It's true that Cyrus should have his own talk show. Asking Sally if she was paid by the network in fried chicken was enough to make me fall out of my chair.
Best Quotes of the Episode:
"No, no! I'm saying something less controversial and less likely to get me stoned to death by my feminist sisters." (David Rosen)
"It's Olivia! AND this is definitely going to hurt." (Olivia Pope)
---
Iris A. Barreto is a writer for Fangirlish, freelance writer for Paste and social media intern for Pink is the New Blog. She is heavily caffeinated, forever lost in Westchester, NY & NYC; all GPS apps hate her. You can follow her on Twitter.