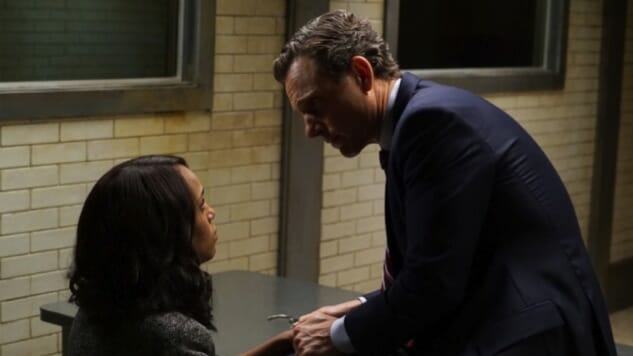 Things are looking bleak for Olivia Pope. After sidestepping from the truth longer than necessary, she finds herself exactly where she didn't want to be—trapped in the White House, with Fitz's promise of protection. And frankly, she is somewhat deserving of this perfect storm she created. Even so, the look on Olivia's face screams defeat, and it's reminiscent of the time she was kidnapped; she is lost and incomplete. And it was an uncomfortable to watch as Fitz, who was angry just a few scenes ago, discussed her protection as her clothes were being hung under Mellie's former spotlights; the white coat, white suit and plaid jacket. Her outfits hang like they're in a museum—a sad memorial of what she once stood far.
In "Rasputin" we hear talk of the fictional sons that Eli Pope has taken under his wings—Lazarus 1. And they are hunting him. From Eli's point of view, Jake Ballard cannot compare to him, so he gives a warning to Olivia in one of his usual monologues—this time, stating that a new devil will soon take his place. The only change is that instead of berating Liv for her life choices, he claims he's proud. Of course, it's enough for Liv to feel in her "gut" that something is definitely wrong. The whole conversation places her in a more precarious position. Does she, try to remember that her father finds a way to best his situations, or does she try to act the dutiful daughter compared to these "sons," and show she is the best bet for his salvation? I mean, it was a deep scene for the dad and daughter, but we're kind of passed that… right?
OPA and Jake Ballard aren't here for the salvation of this man, so they're going to keep their white hats in their back pockets. Jake continues to be exasperated by Liv's actions and they face off in the Oval Office. It's a twist to their dynamic—he refuses to shield and protect her from the consequences of her actions. Yet there's still that slight contradiction, since Jake doesn't tell Fitz the truth about everything. At least we're privy to his thoughts; Jake's former ideal of Olivia is dismantled, Eli is still a mass murderer and that's all he needs to work with, thank you very much.
The case of the week gives OPA something to occupy their time, but the plot is already jam-packed, so it mostly feels like filler. Navid is a translator from a Middle East nation and has secret information, but will only divulge it for asylum. OPA tries to confirm the story, and perhaps due to Quinn rushing Marcus, they miss vital evidence that proves his claims are true. Olivia saves Navid, he receives asylum and America gets to blow up a factory geared for computer warfare. If Huck hadn't shown up in time, they might not have ever found it.
Now here is one thing I thought I would never say—Cyrus Beene is now a tiring, underwhelming ghost of what he once was. His latest undertaking in shoveling shit was meh, and of course, lands right back at him. It all stems from his obsession with becoming the second most important man next to Fitz (which means Liv has got to go), but Jeff Perry deserves more. He's better than this. David Rosen starts the FBI investigation that lands Liv in jail, but the tables turned on him when Fitz demanded that Liv be moved completely to the White House. At this point, the only way to recover Cyrus is to allow him to completely hit the rails and go overboard. He's halfway there, he just needs the commitment.
And Olitz, well, there were two monumental scenes between the couple. Fitz listening to Liv's truth in a bunkered cell, with their voices dialed down to allow Roberta Flack's "Will You Still Love Me Tomorrow?" to score the scene, is one emotional punch. However, the final scene that lands her in the White House full time is what brought the creeps; Watching Liv in a bathrobe being told that she will live with him for "protection" didn't feel right. It felt like she was going to be held against her will. Yikes.
Stray Observations:
For all that talk of Huck keeping his guy locked and caged, it looks like he's ready to release him. We're not sure if it was him who kidnapped Eli and killed Tom, but if this means the end of that Pope, please, do it.
Abby and Olivia having their own BFF time is sorely needed. I almost cackled when Liv Abigail'd her.
David Rosen and Liz North—why the hell do the writers like to creep us out with weird couplings? Why is this a thing? Can we stop now?
VP Susan is used to putting her foot in her mouth… sighs. She's another one that deserves better storylines.
Iris A. Barreto is a writer for Fangirlish, freelance writer for Paste and social media intern for Pink is the New Blog. Heavily caffeinated. Forever lost in Westchester, NY & NYC; all GPS apps hate her. You can follow on Twitter.