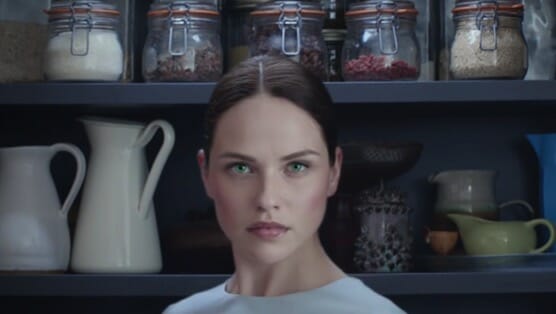 Ever wanted your own personal robot? Well now, thanks to Persona Synthetics, you can have one! Except not really.
Premiering later this month from AMC is a new eight-part drama series called HUMANS, co-produced by AMC and British broadcaster Channel 4. To help promote the series, they've created a promo that takes place in the world of the show, marketing androids to homeowners.
According AMC's website, HUMANS "is set in a parallel present where the latest must-have gadget for any busy family is a "Synth"—a highly-developed robotic servant eerily similar to its live counterpart."
AMC's spot brings to mind Prometheus' David 8 promo, which was similar looking like a legitimate commercial promoting a sentient robot and also contained that underlying creepiness. And just like with David in the film, one wonders what this robot really up to (just look at her face after she stops the boy from touching the hot stove).
AMC has yet to fully reveal what the series is about, but from looking at the teasers it'll most likely contain some sort of robot uprising (because what else would it be?).
HUMANS premieres June 28 at 9/8c on AMC.