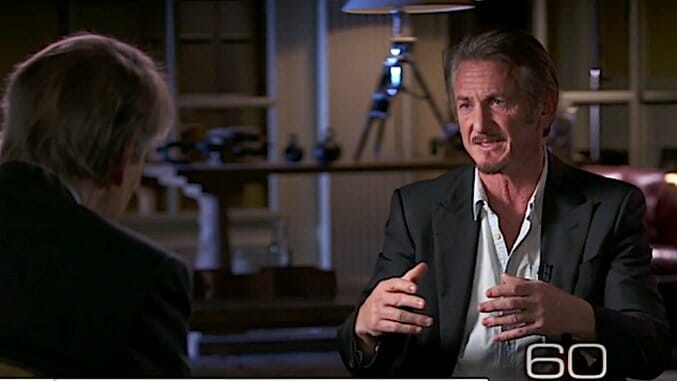 In an interview with Charlie Rose for 60 Minutes that will air this Sunday night, Sean Penn is finally breaking silence on his infamous El Chapo story that ran on Rolling Stone. Penn visited the Mexican cartel leader—a fugitive from the law—in order to discuss his life within the context of Mexico's thriving drug trade, and to start a larger conversation on the hypocrisy of America's war on drugs. In doing so, he earned the scorn of many in the journalism world—particularly when a source in the Mexican attorney general's office claimed that Penn's visit was critical to El Chapo's eventual capture.
In a portion of the clip that was shown earlier today on CBS This Morning, Penn disputes that claim, and goes so far as to say that by making these dubious claims, the humiliated Mexican government is attempting to have him assassinated by the cartel. Penn also talks about his motivations for writing the story, his regrets on the aftermath, and America's complicity in the violence and terror that exist in Mexico.
Watch that clip above, and a briefer clip below where Penn goes into more depth on his seven hours with El Chapo, and the jealousy of other journalists ("green-eyed monsters who are gonna come give you a kiss").
Again, watch the full story on CBS' 60 Minutes this Sunday, and an extended interview on Charlie Rose's PBS show Monday night.