Exclusive: Seven Worlds, One Planet BTS Footage Reveals Both the Beauty and Pitfalls of Filming Wildlife
Photo Courtesy of BBC America
TV
Features
Seven Worlds, One Planet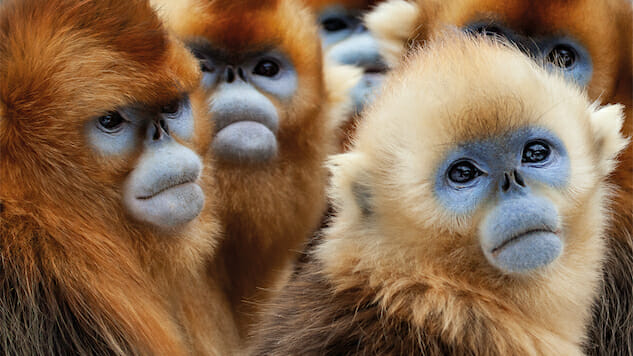 Every time I watch a gorgeous nature documentary I lament that I didn't choose wildlife documentarian as my career. Venturing to some of the most beautiful places on Earth and getting to track and celebrate the most fascinating and, yes, absolute cutest species imaginable? But as a behind-the-scenes video from BBC America's excellent Seven Worlds, One Planet shows us, it's not always glamorous.
In this short reel, we get to see some of the camera operators out in the wild and what they have to face: flooding rain, spiders, snakes, mosquitoes, and more. But through it all, they (mostly) have a smile—especially when interacting with some very sweet monkeys (apes?) as well as other critters that are curious of both the cameras and operators themselves (and occasionally steal their bags).
Check out the video below for our exclusive behind-the-scenes look at the making of the series; the fascinating Seven Worlds, One Planet (which is featured in our list of the 10 Best Shows on TV Right Now) airs Saturday nights on BBC America:
Following Emmy®-winning series Planet Earth II and Blue Planet II, Seven Worlds, One Planet tells the story of earth's seven spectacular continents and how they shape the extraordinary animal behavior and biodiversity we see today. Narrated by Sir David Attenborough, and featuring a theme co-composed by Hans Zimmer and Jacob Shea, and series score by Jacob Shea for Bleeding Fingers Music, Seven Worlds, One Planet reveals how each distinct continent has shaped the unique animal life found there.
Seven Worlds, One Planet features filming firsts including polar bears jumping from rocks to catch adult beluga whales and a firefly spectacle in North America captured with a motion control tracking time-lapse camera, puma successfully hunting adult guanaco in South America, spidaboo mating dance in Australia, grave robbing hamsters in Europe, the largest aggregation of great whales ever filmed in Antarctica and Sir David Attenborough with the last two northern white rhinos on Earth in Africa. In addition, the filmmakers have employed new technology, including 8K cameras and boundary-defining drone techniques, to capture unique perspectives, new species, and animal behavior filming firsts.
---
Allison Keene is the TV Editor of
 Paste Magazine.
For more television talk, pop culture chat and general japery, you can follow her @keeneTV
For all the latest TV news, reviews, lists and features, follow @Paste_TV.