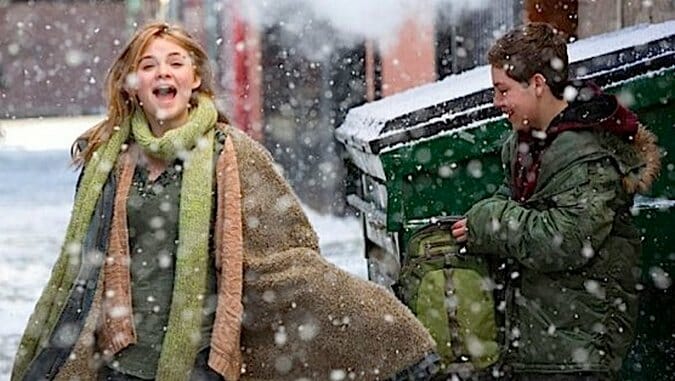 Week after week now, I keep expecting Shameless to take the foot off of the gas a bit. The first couple episodes of season four started slowly, but as things started to pick up, the momentum has continued and Shameless has delivered yet another outstanding episode.
I'm starting to wonder how long we'll have to watch Fiona suffer for the mistakes she has made. This isn't a complaint with the show; in fact, it makes sense that she should suffer in this way, but that doesn't make it any easier to watch. Her descent from responsible guardian and likable co-worker into convicted felon unable to gain any respect has been difficult to watch, and this episode added to that. Nobody will take a chance on Fiona. Even her old workplace (or at least Mike and Robbie's sister) was not only unwilling to help her out, but also more than willing to chew her out in front of all her past co-workers. One tough scene after another, all played to perfection by Emmy Rossum.
Meanwhile, Lip gets chased by Mandy's boyfriend because he thinks she's with Lip. I loved the moment when Lip told the guards Mandy's boyfriend was trying to sell him crack. Not sure how I feel about the plot with Lip's roommate, Amanda. I can't see it lasting long. She claims she doesn't want a boyfriend but comes off way more intense than just a girl to fool around with, as she plans his daily schedules.
Later, we see Mandy cleaning up her bloody face, presumably after her boyfriend took out his anger on her. We see Mickey's brief reaction to Mandy's appearance, but it comes near the end of the episode. I'm interested to see how both Mickey and Lip will react next week.
Speaking of Mickey, he continues to play a large role this season. His wife, Svetlana, threatens to tell Mickey's dad about Ian if he doesn't start helping pay for child support. Mickey clearly doesn't care about the baby, and I have a feeling there will be a DNA test later to prove it's not his, but until then, he and Ian will need to come up with more ways to get money to keep Svetlana quiet.
Debbie, whose storyline has been hit or miss most of the season, shows her crazy side again by trying to scare Matty's new, older girlfriend. I understand the point of showing that Debbie now makes poor decisions because of the disconnect in her relationship with Fiona, as she gets most of her advice from Mandy, but I still feel Debbie's storyline has been the overall weakest of all the Gallagher arcs this season. Emma Kenney can't be faulted. She has played the role well, but ultimately, this Debbie/Matty storyline feels like it has been given more time than necessary. Is Matty even going to stick around on the show?
Bonnie and Carl, however, make a great pair. Carl hasn't really had any friends on Shameless, especially since Frank started ignoring him and having Sammi take care of him instead. Normally Carl is all alone, causing mischief. It pains me to watch Carl fall in love with a girl who could be his girlfriend and his best friend at the same time, because she's obviously trouble. Somehow, more trouble than Carl, which we see when he reacts to her "fake" gun actually being real during the robbery. I can't imagine this ending well for Carl, but he did get his first kiss, so he'll take it and won't complain.
In other news, Sheila's back! And, surprisingly, she proposes to Frank in order to try and adopt the kids of Roger Running Tree's sister. Frank, with nowhere else to go, accepts Sheila's offer, knowing he'd likely be out on the street if he said no. William H. Macy doesn't get enough credit for his work as Frank on Shameless, presumably because his character didn't change much over the first few seasons. This season, though, he has given Frank a lot more depth, especially through his realization that he might actually be near his final days. For the show's sake, I still don't expect to see him go, but Macy's reaction was fantastic when Sammi got Kev and the other guys from The Alibi to set up the mini bar downstairs. For a character who commits so many reprehensible acts, Frank still manages to make you care about him and hope he prevails.
Shameless keeps delivering the goods, and with only three episodes left in the season, we can expect things to only get better.
Carlo Sobral is a Winnipeg-based freelance writer and frequent contributor to Paste.