Fans Sue Showtime for Poor Stream Quality During Mayweather-McGregor Fight
Photo by Sean M. Haffey/Getty
TV
News
Showtime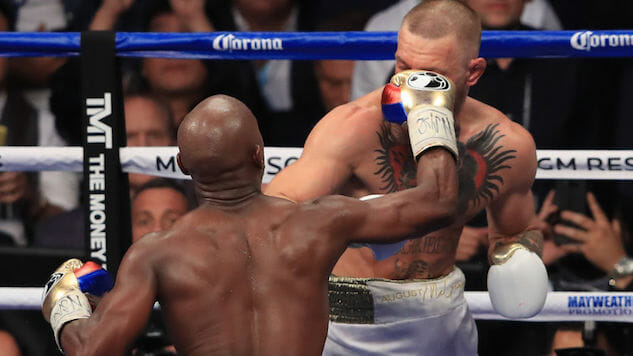 Boxing and UFC fans paid $99.99 to see Floyd Mayweather fight Conor McGregor, and they want their money back and more.
After promising their fans 1080p, 60fps quality streams, Showtime has been hit with a class-action lawsuit for "unlawful trade practices and unjust enrichment," according to THR. Citing "grainy video, error screens, buffer events, and stalls," fans disgruntled by their viewing experience put together the class-action complaint, saying this:
Defendant intentionally misrepresented the quality and grade of video consumers would see using its app, and knowingly failed to disclose that its system was defective with respect to the amount of bandwidth available, and that defendant's service would materially fail to conform to the quality of HD video defendant promised.
The fight faced some controversy for even taking place, since it not only was a bout between an undefeated boxing champion and someone who had never boxed professionally before, but it was also a bout between a domestic abuser and an accused racist. Perhaps fueled by this controversy, sales numbers for the fight weren't quite as monumental as the fight Mayweather had with Manny Pacquiao, as a StubHub spokesperson told CNN: "To date, ticket sales figures show that sales for Mayweather vs. Pacquiao outsell Mayweather vs. McGregor by over 10%."
This doesn't mean that the fight didn't generate plenty of revenue, or that there aren't plenty of unhappy customers after the lackluster streaming quality. The total amount for the class-action lawsuit is still unclear, but the complaint asks for (at minimum) $200 per person. Although this may end up being a sizable portion of money lost for Showtime, it still will only be a small dent in their overall profits.