Frankie Shaw Tackles Single Motherhood in Showtime's SMILF—Warts and All
Photo: Lacey Terrell/SHOWTIME
TV
Features
SMILF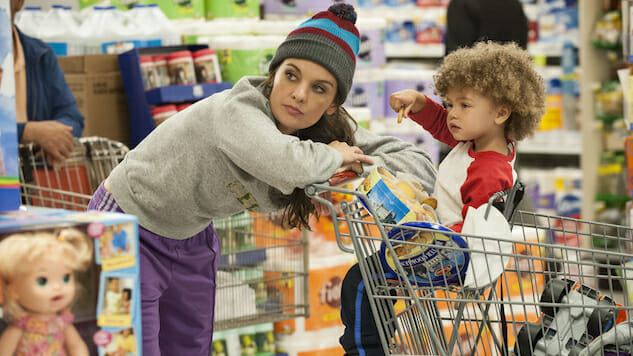 There's a grittiness to motherhood that's rarely seen on TV. The dirty laundry that piles up. The children in mismatched clothes. The empty refrigerator. The lack of sex.
Frankie Shaw wants to bring all of that to light in her new Showtime series, SMILF, which premieres Sunday at 10 p.m. The actress, who recently co-starred in the movie Stronger and had a recurring role in Good Girls Revolt, wants to color all the episodes with glimpses of real motherhood. "It's moments that you don't necessarily want to talk about," she said in a recent interview with Paste.
Shaw's Bridgette Bird is a single mother raising her child in South Boston. Her toddler son, Larry (played by twins Alexandra Reimer and Anna Reimer), lives with her in a small studio apartment. Her mother, Tutu (Rosie O'Donnell), loves her daughter, but has issues of her own, and Larry's dad, Rafi (Miguel Gomez), is around for bedtime every night but little else.
The half-hour dramedy is loosely inspired by Shaw's life, something she first captured in the short film of the same name which won the Short Film Jury Prize for Fiction at the 2015 Sundance Film Festival. In addition to creating and executive producing the series, Shaw wrote all eight episodes in the first season and is also directing a handful. She's committed to ensuring her series has an authentic female perspective. Leslye Headland and Amy York Rubin are directing the remaining episodes of the inaugural season.
From The Departed to The Town, the movies are in love with Boston, but their focus is mostly on male characters—who are usually trying to escape a life of crime—while the secondary female characters just can't help loving the man that causes them so much pain. Shaw is delighted to show women who inhabit the city and who are living regular, crime-free lives. "What's a woman's life there? What's a blue-collar life there?" are the questions she wants to explore. "I don't know about you, but my family is all about the women. We run it. Every day." she says.
The changing face of South Boston, known to natives as Southie, will serve as a perfect backdrop for Bridgette's arc. "Boston is such a singular city. The gentrification of Southie is allowing us to grow this character. She's really resisting change."
One thing you won't hear are the stereotypical Boston accents Hollywood is so in love with. "For those who aren't from there, it's a hard thing to get. And I'm really sensitive to it, and we're trying to stay away from it," she says.
Rosie O'Donnell was cast in the series after she met with Shaw over Facetime. "I was just absolutely shocked by her talent and the kind of feminist perspective that she had in a very universal way," O'Donnell told TV critics over the summer. "It was like a dream come true. I said, 'I'll do anything that she needs or wants if she'll have me.'"
O'Donnell met with Shaw's real mother and even spent last Thanksgiving with her family. "I don't have a mom. My mom died when I was 10, so to see what would have been my mother's life in Frankie's mother was kind of a beautiful and healing thing for me. You know, it's working class Irish people, and that's who I was growing up, and that's who you remain, I think. And it felt familiar, loving and really authentic."
As the first season progresses, the series will delve into both Tutu's struggles with mental health and Bridgette's food addiction. "We will explore the complexities of mental illness moving forward and having uncontrolled rage occasionally, and yet, at the same, wanting to deeply connect with your family member, and just the dichotomy that that creates among the mother and the daughter," Shaw says.
O'Donnell, who has been very open about her own mental health issues, welcomes the opportunity to portray a character who is clearly struggling. "It's thrilling to be able to play somebody with mental illness, as I have. I suffer from major depressive disorder and PTSD, so when I was talking to Frankie initially on that first Facetime call, I said that was an issue that I really would love to explore in an accurate and realistic way. There are so many millions of people in the United States who don't get the help that I was lucky enough to get and don't medicate themselves in a manner that's going to be beneficial to their long-term health, and I think that Tutu never really had the ability or the support in her community and because of her age to go talk to someone and to get the kind of help that she needs."
SMILF premieres Sunday, Nov. 5 at 10 p.m. on Showtime. The pilot episode is now available On Demand and is also streaming on Sho.com, Facebook and YouTube.
---
Amy Amatangelo, the TV Gal®, is a Boston-based freelance writer, a member of the Television Critics Association and the Assistant TV Editor for
Paste
. She wasn't allowed to watch much TV as a child and now her parents have to live with this as her career. You can follow her on Twitter (@AmyTVGal) or her blog .