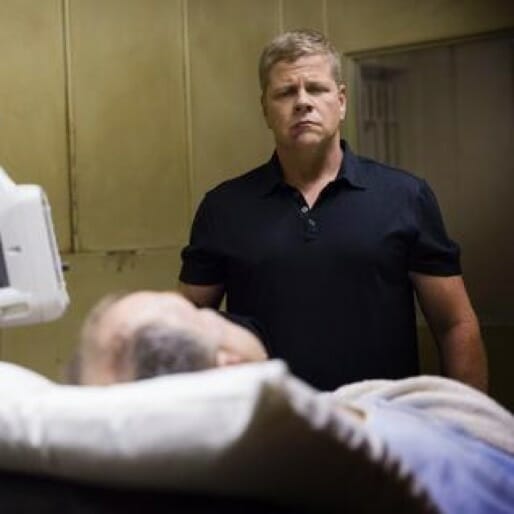 You know those last few weeks before college graduation when you realize this phase of your life is coming to an end and everything has an extra poignancy? That maybe you've taken this extraordinary experience for granted?
That's kind of how I'm feeling about Southland. The series wrapped production on its fifth season this week. Three of its stars—Regina King, Shawn Hatosy and Ben McKenzie—have signed on to new pilots. They are all in second position, which means they can only do their new shows if Southland isn't picked up for a sixth season. But it certainly seems like the writing's on the wall (actors don't make contingency plans unless they think they need a contingency plan) and that these final few episodes of the fifth season (the season finale airs April 17) will be the show's last.
After being abruptly canceled by NBC, Southland lasted longer than most expected it too. And I guess we should be grateful we have had this wonderful show for this long. But I'm going to miss Southland so much if it doesn't come back. It is one of the best dramas on television. Even the Peabody Awards thinks so—yesterday it bestowed the series with an award and called it "as convincing as a cop drama gets."
And it doesn't get any better than "Heroes," which served as a wonderful showcase for the brilliant Michael Cudlitz. I've said it before, but it's worth saying again—Officer John Cooper is one of the best television characters ever, and Cudlitz gave a tour-de-force performance last night.
Southland is unrelenting emotionally. It has never been a necessarily easy show to watch. But "Heroes" was brutal. John's incarcerated father is dying. We're reminded that he's in jail because he raped and murdered John's girlfriend. John is finally convinced by a priest to go see his dad. Other shows may have turned this into a cathartic moment where the father apologizes for all he's done and the son forgives him and gets some closure on their troubled relationship. But not Southland. John's father wanted to tell him that he raped his girlfriend because John never gave her what she deserved. Then he told John he prayed that his son would die because he would rather have a dead son than a gay son. Like I said, brutal. John leans over and whispers something to his father that we cannot hear. What was most amazing about this scene is that Cudltiz said nothing, yet the years of pain, anguish and anger were evident on his face—as was the realization that this encounter had gone exactly as John had expected it to. It was an amazing scene, and one that should be shown to Emmy voters immediately and in acting classes for years to come.
Cudlitz's final scene with his former training officer Hicks (guest star Gerald McRaney) is one of the best scenes Southland has ever done. There are no easy answers on Southland, so I don't expect Hicks to be on the mend anytime soon.
While Cudlitz is giving the performance that should get him an Emmy nomination, Lydia is letting Christopher's father Terrell (Michael Jace) into both of their lives. While discussing visitation, Lydia witnesses two cab drivers fighting. Terrell tries to convince her to not get involved, that she's off duty and he'll call 911. That brief exchange showed how little he truly understands Lydia. There is no way she is going to let a fight happen while she stands idly by.
Sammy gets the great news that the charges Tammy lodged against him will be dismissed, but he's still grappling with the fact that he lied about not having the video camera. He tells Ben he can't destroy it because he can't stop watching it. Ben reminds him that if he tells the truth, they'll both suffer the consequences: "I lied for you. We're both going to lose our jobs and you're going to lose your kid." But Sammy is wrestling with what kind of man and father he is if he lets this lie stand.
Other thoughts on "Heroes":
• Love learning more about Dewey and his family. The series has added such depth to his character this season while still letting Dewey be Dewey.
• Leave it to Southland to take what started off as a joke—a prostitute's retirement party—and turn it into a devastating and heartbreaking moment.
• I really don't see Ben's relationship with Elena ending well. Do you?