Watch Joyce Meet Joan Didion in Our Exclusive Clip from Minx Season 2
Photo Courtesy of Starz
TV
Features
minx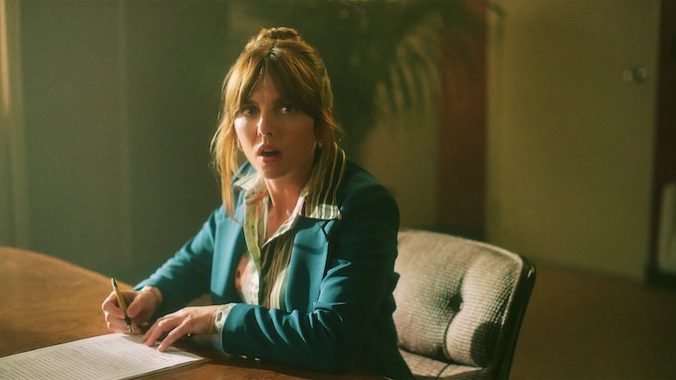 After being canceled, nearly deleted, and then saved by Starz, Minx is back and better than ever. The series, which began as an HBO Max original, follows feminist journalist Joyce Prigger (Ophelia Lovibond) as she teams up with publisher Doug (Jake Johnson) to create the first erotic magazine for a female audience.
In its second season, which our own review called "a glorious celebration," Joyce returns, now at the helm of her wildly successful magazine Minx. Still partners with the ever-charming Doug, Joyce continues to navigate the strikingly familiar (and delightfully horny) landscape of the '70s magazine scene—elevated by the series' seemingly endless Rolodex of '70s icons.
Episode 2, titled "I thought the bed was gonna fly," features one such cameo: famed writer Joan Didion, as portrayed by Samantha Sloyan. Didion was a pioneer of the New Journalism era, writing analyses about culture, lifestyle, and politics throughout the '60s and '70s. She passed in 2021, but her writing persists as some of the most influential of the era.
In our exclusive clip, Joyce speaks with Joan about the controversial (and illegal) adult film "Deep Throat," and Joan turns Joyce down on her offer to write about the film for Minx. However, in speaking with Joan, it becomes clear that Joyce herself might have something to say on the subject.
Check out the sneak peek below; Minx Season 2 airs Fridays on Starz.
---
Anna Govert is the TV Editor of Paste Magazine. For any and all thoughts about TV, film, and the wonderful insanity of Riverdale, you can follow her @annagovert.
For all the latest TV news, reviews, lists and features, follow @Paste_TV.