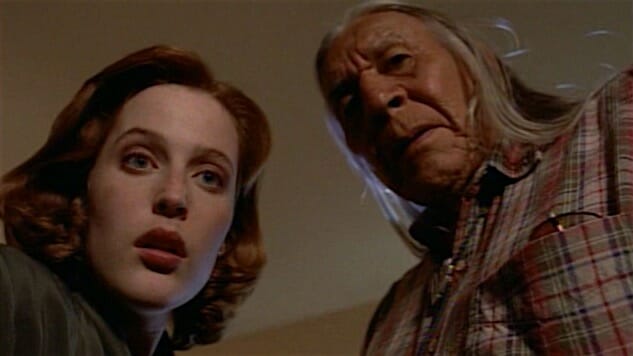 The six-episode 10th season of The X-Files has come and gone, but the debate over whether this was a welcome return for Mulder and Scully, or a creative bust that should have never made it to the air, continues on. For this writer, the mini-series was a wildly mixed bag… but then, it was always ever thus with this series: not only because of its structure—alternating between monster-of-the-week mysteries and serialized mythology episodes—but because of the plurality of voices creator Chris Carter encouraged within his wider framework. Season 10 simply brought this into sharper relief within its compressed parameters; even if you ended up not caring a whit for the apocalyptic paranoia in the mythology bookends "My Struggle" and "My Struggle II," at least you had four different standalone episodes in between to latch onto, and maybe even enjoy.
Still, in the belief that these new episodes deserve to be taken seriously and not be considered mere also-rans, Dom Sinacola—who contributed sterling recaps of the latest mini-series for this publication—and I will be choosing our favorite episodes from each season, with Dom tackling the monster-of-the-week episodes and I taking on the choicest mythology installments. And yes, it is my own personal belief that, however unwieldy the alien-invasion and government-conspiracy plots became as the series went on, there were still some terrific moments later on in the broader storyline—even in Season 10.
1. "The Erlenmeyer Flask," Season 1
The X-Files's first season didn't have the epic two/three-part arcs of subsequent seasons; it was more an anthology series, some of the installments featuring recurring characters and themes, all of them still relatively self-contained. This game-changing season finale, however, introduced many of the elements—chief among them, alien-human hybrids and their toxic green blood—that would malevolently bloom forth later on. Perhaps most of all, though, "The Erlenmeyer Flask" includes one of the series' all-time iconic moments in Deep Throat's (Jerry Hardin) dying words: "Trust no one," the mantra that would come to define the series and its impact on pop culture.
2. "Colony" & "Endgame," Season 2
Yes, this thrilling two-parter introduced the craggy-faced and ruthless Alien Bounty Hunter (Brian Thompson) into the mythological mix. But these episodes also harrowingly exposed the depth of Fox Mulder's (David Duchovny) obsessive personal quest for the truth. An encounter with a woman he believes to be his long-lost sister, Samantha (Megan Leitch), takes him, in "Endgame"'s searing climax, to the brink of death in Alaska. Season 2's earlier two-parter, "Duane Barry"/"Ascension," may have been more crucial to the larger storyline—centering as it eventually does around Dana Scully's (Gillian Anderson) own abduction, an act with serious ramifications later on—but "Colony"/"Endgame" is one of the most emotionally searing episodes, not only of mytharcs, but of the show as a whole.
3. "Anasazi," Season 2/"The Blessing Way" & "Paper Clip," Season 3
This monumental three-parter basically established the full global, historical and emotional scope of the mythological intrigue that would follow in subsequent years. The revelations of a long-running secret government program to create a race of alien-human hybrids; the personal losses that would add further fuel to Mulder and Scully's truth-discovering fire; the introduction of a whole shadowy cabal led by Cigarette Smoking Man (William B. Davis)—all were introduced here to set up the stakes of the series' later developments. Also, "Anasazi" features arguably the mother of all X-Files season-ending cliffhangers.
4. "Memento Mori," Season 4
Though not technically a multi-episode arc, this fourth-season episode did help further the mythology in its own ways, revisiting not only the clones Mulder first encountered in Season 2's "Colony"/"Endgame," but also the band of female abduction survivors Scully encountered in Season 3's "Nisei"/"731." More than that, though, "Memento Mori"—which largely dealt with the fallout from Scully's devastating discovery of her own terminal cancer in the climax of "Leonard Betts"—was the most operatic of the season's mythology episodes, the emotional linchpin of a generally gloomy season. This is the episode that finally won Gillian Anderson an Emmy, and it's easy to see why, with her heartrending display of vulnerability and inner strength as she tries to face, as bravely as possible, the threat of her own mortality. You are made of sterner stuff than I am, if Scully's final scene with Mulder in this episode—in which she vows to carry on in spite of her death sentence—doesn't bring you to tears.
5. "Gethsemane," Season 4/"Redux" & "Redux II," Season 5
Here are the first mythology episodes to throw a mighty wrench into Mulder's core belief in the existence of extraterrestrial life. We get the suggestion of an all-too-earthly government conspiracy so bent on maintaining its own military-industrial complex that they'd fabricate evidence of alien life as bones, in order to deflect the public from its dastardly real motives. For those who, in the Season 10 opener "My Struggle," found Mulder's leap to a conclusion of a conspiracy of men secretly experimenting with alien technology somehow hard to swallow, all you really need to do is watch these episodes to see the thematic seeds planted.
6. "Two Fathers" & "One Son," Season 6
This Season 6 two-parter—even more than the 1998 feature film that preceded the season—finally offered a resolution to the various threads Chris Carter & co. had dangled in front of us: the threat of alien colonization of earth; and a war between alien forces, with the aforementioned Syndicate acting as a go-between to ensure their own survival. Lest that suggest grand heroics on the part of our two intrepid agents—well, this is Chris Carter's world; one in which our heroes, despite their best efforts, usually end up falling short of achieving their goals of discovering the truths they so desperately seek. Fitting, then, that they end up ultimately being incidental to the Syndicate's own destruction at the hands of faceless alien rebels; even this fiery resolution is left just beyond their grasp.
7. "Requiem," Season 7/"Within" & "Without," Season 8
The seventh season of The X-Files was mostly devoted to tying up loose ends, most notably "Sein und Zeit" and "Closure" finally bringing Mulder's lifelong search for Samantha to a close. Season 7's finale, "Requiem," pointed the way for new mythological developments, while also acting as an end of an era of sorts, with Mulder and Scully's return to the site of their first-ever case serving as a full-circle bookend to the Mulder & Scully era. Thus, the path was paved for the introduction of new series regular John Doggett (Robert Patrick) in the opening two Season 8 episodes "Within" and "Without," establishing a fresh new character dynamic for the show as he and Scully searched for Mulder in the wake of his own abduction.
8. "Vienen," Season 8
Amid all the super-soldier intrigue in The X-Files's last two seasons, this suspenseful Season 8 episode reintroduced the black oil—an ooze with alien intelligence that had the capacity to body-jump, and was first introduced back in Season 3's "Piper Maru"/"Apocrypha." Furthermore, it finally paired Doggett and a recently returned Mulder together, forcing Mulder to work through his distrust of the new agent as they both try to destroy the insidious black oil once and for all on an oil rig.
9. "William," Season 9
Though David Duchovny didn't appear on-screen in The X-Files's ninth season until its final episode, "The Truth," he did in fact return to the series earlier—as co-scenarist and director of this episode. It's a heartbreaking resolution to the mythological thread revolving around Scully's new baby, William, who, it turns out, has alien DNA that makes him valuable to aliens still bent on trying to take over the world. William's salvation comes in the form of a figure from the series' past: Jeffrey Spender (Chris Owens), son of the Cigarette Smoking Man and Mulder's half-brother, who survived being shot by his father at the end of Season 6's "One Son." Alas, even Spender's efforts aren't enough to completely save William, leaving Scully to give her precious child up for adoption—an action that became a mournful undercurrent throughout the 10th season.
10. "My Struggle II," Season 10
My Paste X-Files compatriot wasn't terribly enamored of this Season 10 finale, finding the episode enough of a mess for him to admit that "I wanted to believe—and now I can hardly give a shit." He's speaking for the consensus. I, however, found this episode not only thrilling in Chris Carter's audacity in finally going apocalyptic in ways he didn't even do in the preceding nine seasons, but thematically fascinating in the way it taps more directly than ever before into some of the mythology's Christian underpinnings. Revelations 7 and 14 speak of "the 144,000 from all the tribes of Israel" being protected from God's impending destruction of the current world order; in "My Struggle II," Chris Carter evokes this forecast in the form of a scarred-beyond-belief Cigarette Smoking Man's offer to save Mulder and a handful of chosen others from the plague decimating the earth—a biological Armageddon that Smoking Man justifies as the inevitable product of man's own misdeeds ("I just sped up the timetable," he gleefully reasons). It's an intriguing religious thread in a fast-moving episode chock full of such tantalizing ideas, all culminating in a very X-Files-like image, as Scully eyes a massive UFO hovering above her, the threat of humanity's safety left hanging in the balance, the truth remaining as elusive as ever.
---
Kenji Fujishima is a freelance film critic, contributing to Slant Magazine, Brooklyn Magazine, The Playlist, and the Village Voice in addition to Paste. He is also Deputy Editor of Movie Mezzanine and former editor-in-chief of In Review Online. When he's not watching movies and writing and editing film criticism, he's trying to absorb as much music, art, and literature as possible. He has not infrequently been called a "culture vulture" for that reason.