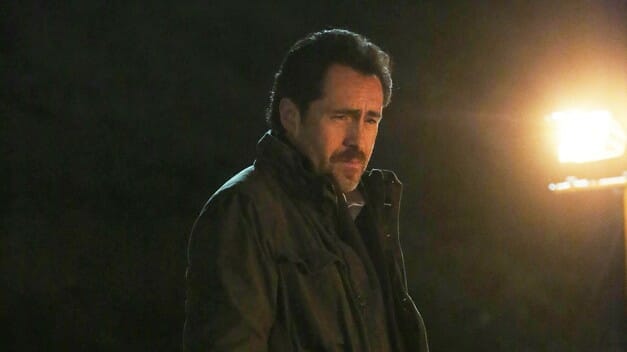 After last week's premiere, I was a little concerned that The Bridge would take a lackadaisical approach to finding the killer (a la The Killing). The second episode didn't necessarily assuage those fears, but it did expand the world Detective Sonya Cross and Detective Marco Ruiz live in while providing the viewer with interesting peeks into their personal lives. Sonya, for instance, has a habit of picking up one-night stands in a very matter-of-fact way. "Wanna have sex? Yes or no?" she asks a man she meets at a bar who is more than happy to comply.
Despite his vasectomy, Marco's wife is pregnant again and, after the initial shock, he appears to be genuinely happy with this news. We also learn that the Chihuahua State Police regularly bury cases without solving them. Sonya wants to know why, but her curiosity is not well received by Marco's boss. "You can't come in here and ask those kinds of questions," Marco tells her. It is still kind of hard to believe that Sonya would have survived in her job this long with not only such terrible interpersonal skills but also such a lack of common sense. I mean, even I knew she shouldn't ask Marco's boss why the deaths weren't investigated. (By the way, Sonya uses her iPad to look at crime scene photos. The El Paso Police Department is much better funded than the Seattle Police Department on The Killing.)
As suspected, Charlotte's now-deceased husband Carl was involved in what appears to be human trafficking—a tunnel on his property goes all the way to Mexico. Lyle Lovett made a guest appearance as Monty, a lawyer who represents a man Carl had made certain promises to. He brings Charlotte money dressed up a like a three-bean casserole. Lovett's presence is a little distracting. He is having almost too much fun with the role. But Monty did provide some insight into Charlotte. She was a struggling hostess in Tampa until Carl came along. She tells Monty she doesn't want his money, but I don't see that working out too well for her. Monty seems like a man who gets what he wants.
Steven Linder, the scuzzy guy who took Eva the prostitute over the border in last week's premiere, lights a trashcan with her belongings on fire. Turns out he's a social worker at Our Lady of Peace shelter. Is the series showing us the actions of the serial killer while simultaneously showing us the efforts to solve the crime? Probably not. Steven is connected somehow, but I don't see him as the big bad of the season. He doesn't seem clever enough. The killer has been planning this for at least three years (according to the actor he hired to voice his messages) and is extremely technically advanced (remember he was able to make all the lights on the bridge go out). Plus, how long will Steven be with us since Eva's pimp is now after him?
Daniel Frye takes his questioning by the police and turns it into a story—one he's excited about—and we get the sense that he hasn't been excited about his job in a long, long time. Daniel gets a call from the killer giving him GPS coordinates that lead him and Adriana to the poisoned bodies at the border. The actor told Sonya and Marco he thought his recordings would be used in some sort of performance art. Maybe this is really one big production to the killer?