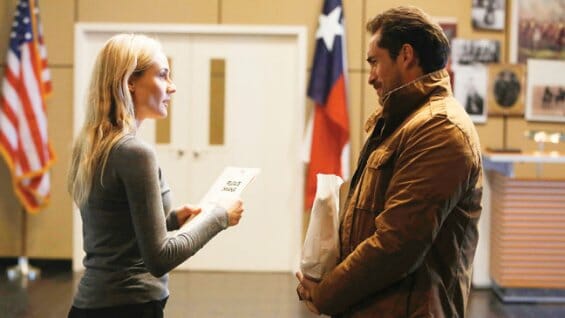 TV is currently in the midst of a full-fledged love affair with serial killers.
Detectives are searching for one on AMC's The Killing. Dr. Lecter is whipping up some very questionable meals on NBC's Hannibal. Kevin Bacon is laughably tortured by a serial killer on FOX's The Following. And Showtime has gotten eight seasons out of vigilante serial killer Dexter.
Into this fray, enters the new FX series The Bridge, which once again has detectives in pursuit of a serial killer. But the drama features an intriguing twist. When a body is found on the bridge that connects El Paso, Texas and Juarez, Mexico, both El Paso Detective Sonya Cross (Diane Kruger) and Chihuahua State Police Detective Marco Ruiz (Demian Bichir) are called to the scene. Sonya believes the case is theirs until they try to move the body and it splits in two—half in Mexico, half in the United States.
Things become even more interesting when it's discovered that the victim isn't one body but two. The top half belongs to an American judge with a strong anti-immigration stance. The bottom is an unidentified Latina woman. A serial killer with an agenda isn't anything new. But a serial killer with a socio-economic, political agenda is.
Sonya has Asperger's syndrome, something that is easy to figure out even if the press notes hadn't told me so. She is more the TV definition of Asperger's (I'm thinking someone this stunted in communication wouldn't make the best detective in the real world). Sonya is unable to connect with people and unmoved by human emotion. Everything to her must be orderly and by the rules. When Charlotte (Annabeth Gish) begs her to let them cross the bridge so her husband can get to a hospital, she won't allow it. In her just-the-facts world, the bridge is a crime scene and the crime scene is closed. When she's dispatched to tell the judge's husband about his wife, she is cold and accusing. "I'm sorry if I didn't exercise empathy," she tells him.
I like Kruger's quirky performance. It is off-kilter and surprising and she wholly owns it. Kruger is a beautiful woman, and she looks downright average on The Bridge, so kudos to the make-up department on that one. I also totally believed Kruger as a detective. But it is the kind of performance that could become gimmicky. We don't want her to turn into a character solely defined by her idiosyncrasies.
Bichir is equally compelling as one of the last good detectives in his department. Unlike his co-workers and his boss, he actually wants to solve this crime. Cross and Ruiz's unlikely pairing make them one of the more interesting crime solving duos on TV. Plus, it's a nice change of pace that it's unlikely any sexual tension will develop between the two.
Right before he dies, Charlotte's husband tells her he doesn't love her and he wants a divorce. But he doesn't just leave her with a broken heart. He leaves her with a mystery. In Charlotte's final scene of the premiere, she's using a key her husband hid from her to open a door which leads to an unknown destination. My guess is that her husband was dealing in some sort of human trafficking because Gish is a series regular and she has to fit into the story somehow.
Matthew Lillard was great as washed-up, alcoholic newspaper reporter Daniel Frye. Daniel has written for the New York Post and the Houston Chronicle, but now he's stuck writing for the El Paso Times. Daniel also fits into this story in some big way since it was his car that was used to dump the bodies on the bridge. I always kind of think of Lillard as the goofy kid from Scream and the Scooby Doo movies, so I'm a huge fan of this potentially game-changing performance.
The series is an adaptation of the popular Scandinavian series Bron/Broen, which was set on the border of Denmark and Sweden. In the show's final minutes, the voice on the recording menacingly asks Cross and Ruiz, "Why is one dead white woman more important than so many dead just across the bridge? How long can El Paso look away? We've got some interesting times ahead. This is only the beginning."
A pilot has to set up the players and the show's central thrust while leaving viewers wanting more. The complex opening 91 minutes, while dense, achieved all of that. This is only the beginning, indeed.