The Deuce Finds Resolution to Its Messy Puzzle in a Strong Season Two Finale
(Episode 2.09)
Photo: Paul Schiraldi/HBO
TV
Reviews
The Deuce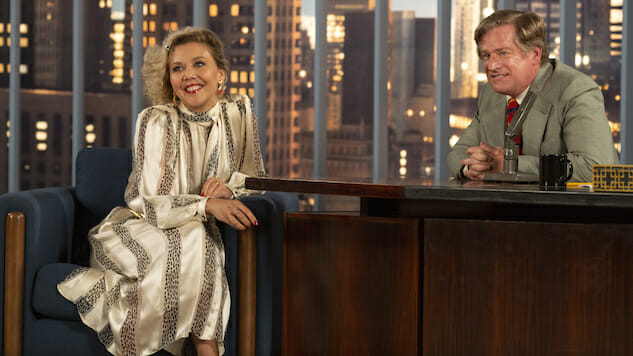 Porn is mainstream, and what was illicit is now aired on late night. So why not give into the cultural inversion? Season Two of The Deuce opens its finale with the conclusion of its primary arc: a premiere. (Nothing less confusing would suffice.) And, since it coincides with the advent of home video, porn is entering the second wave of its Golden Age. Hot damn: Everything's coming up Eileen (Maggie Gyllenhaal).
Red Hot even made the trades, achieving reviews similar to that of The Devil in Miss Jones (though Roger Ebert's star rating isn't mentioned). It's as stellar a reception as the friendship of Eileen and Harvey (David Krumholtz) deserve. The pair have the best bromance on TV—one complicated by financial and artistic aims, perhaps, but one that always ends up in a place of respect, often with a hug or a firm handshake.
That's not to say "Inside the Pretend" is warm or fuzzy, though. After "Nobody Has to Get Hurt" went ahead and hurt C.C. to death, the finale ties off a few loose ends of its own. Black Frankie (Thaddeus Street) shoots Carlos, the alcoholic driver, to please the mob, while Dorothy (Jamie Neumann), the social worker, turns up behind a dumpster. Both deaths add punctuation to the season's examination of the Deuce's Rube Goldberg machine of sex and violence.
Bobby (Chris Bauer) emerges as Vincent's (James Franco) worst impulses made human, a selfish thrill-seeker always a little too late to spot the writing on the wall (or the blood on the floor), while Chris (Lawrence Gilliard Jr.) agrees to team up with Gene (Luke Kirby) after seeing just one too many familiar faces fall. Both are catalyzed now, instead of after much closer deaths, with Bobby just having stabbed the absolute hell out of a pimp and burying one of his parlor girls, while Chris's ex-partner committed a murder-suicide. They were too close, too easy to block out with denial or justification. These new deaths are just far away enough to be seen clearly, like a Magic Eye poster for one's morality, or fear.
Abby (Margarita Levieva), dealing with news of Dorothy's death—and growing jaded before our eyes—to the warm-up of a punk drum kit, is intercut with a laughing Vincent, whose faith in friendship is heartbreakingly misplaced. And what better score to set an old world conflict, like financing your porno through two competing mob capos, than the decidedly new world sounds of noisy punk? Nothing sounds like a shaky hand covered in booze like angry, uptempo discord.
As The Deuce ends its season with "Inside the Pretend," its characters seek comfort from these horrors after running themselves ragged by pushing, clawing, and struggling in the sex trade. Vincent runs home to his wife, Andrea (Zoe Kazan, who I totally forgot was in this show), smothering himself in nostalgia to try to suffocate the burning guilt and fear inside him. Watching the movies of your childhood won't change how wrong you did those girls, Vince, nor how you're intimidated by Abby now that she's not your weird sex-daughter to which you get to mansplain the world.
But Bobby's weird sex-son, Joey (Michael Gandolfini, sticking out like a sore thumb among the otherwise excellent cast), and Darlene (Dominique Fishback, excellent) are living their truths. The former keeps falling for sex workers, while the latter finally tells Larry (Gbenga Akinnagbe) and her friend from night school about what's going on in her life. She's gone too straight for Larry—who, let's be honest, has been out of the pimping game for a while—and leaves for something that she's built herself. There's a lot of emotional heft in these few scenes, all with endlessly screenshot-able framing by director Minkie Spiro. One shot later in episode, outside a building, with two people facing opposite ways, will break your heart. And with a script by series co-creator David Simon? Even a puzzle as messy as The Deuce resolves like second nature.
Eileen kicks her editor/boyfriend to the curb after he treats her the exact wrong way—like a porn star. At the apex of her career, she's not about to make compromises for anything that reminds her of the past. When she's thrust onto her biggest stage, where she's pushed into the spotlight that answer the questions "What do I tell the family?" for her, the Queen of Not Taking Shit is still not taking your shit. Even if everyone else is for her.
The poor shit-takers don't end there. Rodney (Method Man) loses his battle with drug addiction as he commits perhaps the worst robbery of all time and is gunned down by a drunk cop. Lori (Emily Meade), psychologically fucked-up by C.C.'s rape and a cocaine addiction, learns the truth and melts into a puddle of emotions as complex as they are inseparable. A slow zoom on her excellent reaction starkly cuts to what was once her potential future: Dorothy's funeral. The arbitrary results of who wins and who loses, who ends up a hero or behind a dumpster, can't be made clearer.
Even those trying desperately to control their fate, like Paul (Chris Coy), are often at its whims, and those of the malignant organizations that create it. Paul, whose sexual orbit always seems to come back to actor Tod (Aaron Dean Eisenberg), is becoming a patron of the arts as a sort of penance for driving away the partner that helped him achieve his dream. And he goes to the mob for help. It's a candy-coated bit of stupidity for the fulfillment-seeking character, capped with a killer Shakespeare pun: "You know me, always grabbing at the wrong Dick."
What other shows would make cutesy, The Deuce makes so compelling that whole shows could spin off of them. It's what makes its chaotic community so enthralling yet tempestuous—everyone's competing with each other for attention, especially since they're only tangentially linked. It's as cutthroat as any business depicted on the show, and one that the creatives have yet to convincingly solve. Bricolage may have a semi-unifying throughline and a thematic purpose, but these pieces need to be shoved far closer together. It's the difference between a Dadaist and a shredder.
And yet, it's hard to complain when every scrap is eminently watchable. At the end of a season designed to show the cruelty not purely of the sex business, but of business, period, people plug away at whatever they think will help them move forward: their careers, their moral quests, their relationships, their investments. The inescapable final montage, a Simon classic if ever there was one, show a sequence of work—both the newly-inspired, like Larry hitting non-porn auditions, and those realizing their own futility, like a stunned Vince sucking on a cigarette in his club as his face is sucked up by the crowd, moving like the tides of time.
---
Jacob Oller is a writer and film critic whose writing has appeared in
The Guardian, Playboy, Roger Ebert, Film School Rejects, Chicagoist, Vague Visages,
and other publications. He lives in Chicago, plays Dungeons and Dragons, and struggles not to kill his two cats daily. You can follow him on Twitter here: @jacoboller.