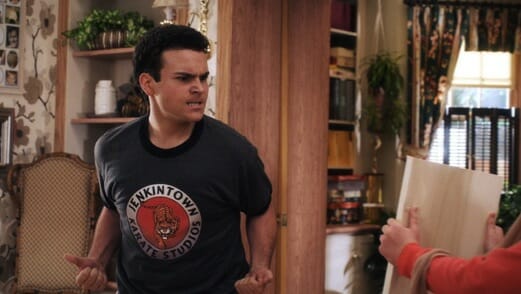 After last week's spectacular "Shopping," "Kara-Te" presents The Goldbergs in fine form once again. Per its title (and, yes, I will argue that a character pronouncing karate as "kara-te" is never not funny), the episode explores Barry's obsession with the seminal '80s movie The Karate Kid and, by extension, the ancient art of "kara-te" (remember young 'uns, this was before that Jaden Smith movie). I place emphasis on "kara-te" because what Barry does—a series of uncoordinated punching and kicking with some jumping thrown in for good measure—is not exactly any form of martial arts in the traditional sense.
Nevertheless, he believes himself to be a karate master. It certainly doesn't help that Beverly refuses to look past her Mom goggles and sees his embarrassing routine with the same reverence that a martial arts fan would have for the films of Bruce Lee. Thus, when Barry announces that he'll be performing at the talent show, Beverly supports the decision full-force.
Less enthusiastic about this is Murray, who fully recognizes his son's shortcomings. ("Accept our children's mediocrity! It's freeing!" he yells to Beverly at one point.) Realizing his son will be the laughingstock of the school if he gets on stage, Murray attempts to sabotage Barry's entry into the show. When Beverly hears about it, she proceeds to reverse Murray's sabotage. And so on until everything eventually culminates with an outrageous performance that perfectly captures the show's mix of broad comedy and penchant for feel-good, if unorthodox, personal triumphs.
"Kara-Te" easily marks one of the show's funniest episodes. Even while the ending veers into the overly contrived, it does so with so much gusto and full-hearted sincerity that it's hard not to love it regardless.
Much of the episode's highlights once again come from Troy Gentile's Barry. Originally, Barry struck me as a character who merely existed as an amalgamation of different quirks. He seemed less like a human being and more like a vehicle for jokes. Now, whether it's Gentile's spirited delivery or the snappy quality of the writing or a bit of both, Barry has quickly become my favorite character.
Besides the regular cast of characters, the episode gets great help from guest star Tim Meadows as a teacher put in charge of the talent show. From his days on Saturday Night Live to supporting roles in gems like Mean Girls and Walk Hard: The Dewey Cox Story, Meadows has mastered that rare ability to be funny without ever once looking like he's reaching for a laugh. What's more, his unique vocal cadences lend themselves well to humorous rants like the kind he delivers near the show's midpoint.
On the B-plot front, we see yet another dynamic shake-up. After weeks of interacting exclusively with either Beverly or the young Goldberg boys, Albert finally shares a scene with his granddaughter Erica. Albert wonders why Erica, after a foray into playing guitar and singing, decided to give up her musical pursuits. After admitting she was afraid of putting herself out there, believing people would laugh at her, Erica decides to conquer her fear and perform at the talent show. Then again, it's much easier to fight your fear when you have the kind of singing chops that actress Haley Orrantia demonstrates here with her take on Pat Benatar's "Hit Me With Your Best Shot." It certainly helps inspire Barry, who quickly overcomes his stage fright and begins performing his routine in the background. It's a funny, if slightly cheesy, conclusion that helps the show leave on an uplifting note as we move into the Christmas holidays. Furthermore, I can't think of a better way to close out the show's mid-year than by seeing Murray, a character defined by his stiffness and pragmatism, put on the Mom goggles and scream out "I have the most talented children in the world!"
In writing about the show over the past few months, I'm not ashamed to admit I've become a fan. In a television landscape where even half-hour comedies maintain a certain level of serialization, it's almost refreshing to witness a show that not only embraces its episodic nature but doesn't even concern itself with sticking to a specific year (Mad Men, this is not). There's something unquestionably pure and simple about The Goldbergs in that way. While the show may not always hit paydirt each and every time, it consistently makes me feel happy for having tuned in.