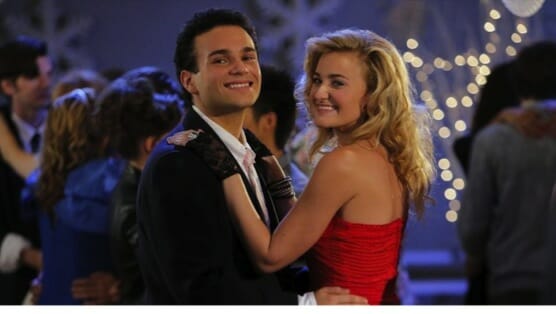 This week's Goldbergs installment represents a complex issue for me. Is it a funny, charming and altogether enjoyable half hour of television? Absolutely. Does it unearth a long-dormant childhood fury over seeing a certain band of transforming robots brutally massacred as part of an ill-advised franchise rebranding? Oh God, yes.
Yes, as with most boys of a certain age, I—like Adam—was enamored of the Transformers TV show and was confused/furious to learn that the feature length movie began with the entire Autobot crew being decimated to make room for new characters I could care less about. True to the Goldbergs formula, however, this trauma ends up unlocking something much deeper in Adam. He suddenly recognizes the fact that Albert, his grandfather and all-around best friend, will not be around forever. This neurosis comes to the forefront when, during an attempt to make a homemade Transformers movie with Albert that retcons the film's events, he ends up becoming protective of Albert's health (i.e. he refuses to nudge him with the car for a shot).
The plotline concluded in about the way you'd expect, with Albert reassuring Adam that, while he will not be here forever, the end's not coming anytime soon. He further notes that it's hanging out with his "best friend" that keeps him young. On paper, it definitely risks being a sappy and pat resolution, but George Segal's genuine, warm presence really sells the moment. Also, his final line, "Now, whattya say you run your grandpa over with a car?" helps keep the scene from feeling too overtly earnest.
Much like last week's "New Kids on the Block" tribute, the infamous Transformers movie serves as an excellent, pop-culture-based Trojan Horse for a more character-driven dilemma. In this case, it's the idea of facing the hard truth about your loved one's mortality. I imagine The Goldbergs will never delve into anything too somber, but this proved to be a nice, sitcom-friendly approach to what is a very real fear in many people's lives. Plus, any excuse to get Oscar-nominated actor George Segal into a cardboard Optimus Prime outfit is fine by me.
Moving past the Transformers story (figuratively and emotionally), we also have the titular story, which shows Barry attempting to convince his new, secret girlfriend Lainey to invite him to the "Darryl Dawkins Dance" (he mishears "Sadie Hawkins"). Lainey, aware of the ramifications that come with being tied to someone like Barry, refuses to demonstrate their affections in public, despite her strong feelings for him. Rooting against this union is Erica who (understandably) would prefer not to have her brother linked with her best friend. And so, she enlists Beverly's matchmaking services to help Barry find another date for the dance.
The creep factor promptly hits 11 when Beverly introduces Barry to Evelyn, a high school girl who is basically a mini-version of Beverly herself. Because he has no sense of self-awareness, Barry finds the girl's appearance and high-maintenance attitude to be "comforting." Suburgatory (RIP) alum Allie Grant plays Beverly's young doppelganger and does amazing work appropriating Wendi McLendon-Covey's various mannerisms and speaking patterns. Though her role is limited to one major scene, I am desperately hoping this won't be the last we see of her.
Inevitably, Erica realizes her mistake and proceeds to encourage Barry to pursue Lainey and hooks up Beverly with an exact high school replica of Murray (played by Jeff Garlin's real-life son James). After an encounter on the football field where Barry says he's perfectly happy to be her "secret shame," Lainey decides to go ahead and risk her reputation by stepping out on the public dance floor with him.
After nearly half a season of Barry pining for Laney, it's great to see them finally getting together. Moreover, I greatly look forward to seeing how actually having a girlfriend affects Barry and his already unearned bravado. Granted, I would have loved to have seen the moment where the two actually got together, but the episode does an amazing job in delving into the inescapable and hilarious effects that such a relationship would entail. "The Darryl Dawkins Dance" yields yet another solid entry in what has proven to be a remarkably strong sophomore year for the show. Like the best sitcoms, it has retained a remarkable consistency of quality while still attempting to incrementally develop the character's status quo (i.e. the Barry/Lainey relationship).
Now, if you don't mind, I have to see a psychiatrist about these Transformer flashbacks.
---
Mark Rozeman is a Los Angeles-based freelance writer and regular contributor to Paste. You can follow him on Twitter.