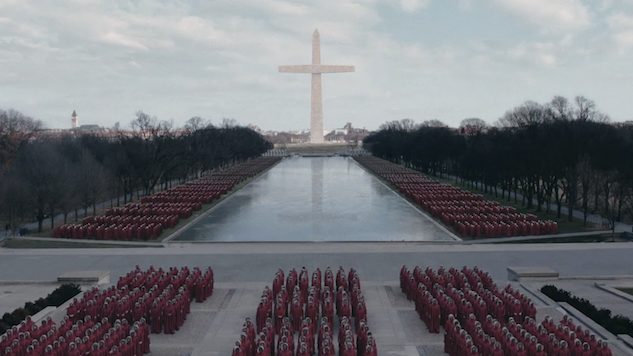 "It's morning again in America," ad man Hal Riney once famously narrated over footage of steadfast fathers headed to work, nuclear families getting along and beautiful young couples getting married. This "Prouder, Better, Stronger" ad campaign ran in 1984 as part of Ronald Reagan's re-election campaign. Those same words were repeated again during Sunday night's Super Bowl LIII, signaling a new dawn for Hulu's The Handmaid's Tale. The adaptation's season three teaser makes use of the Reagan-era formula to signal—and then subvert—comfortable, nationalist rhetoric at a new dawn of opportunity.
The teaser comes after several months of anxious speculation from Handmaid's Tale fans about the direction of the show following a troubling season two finale. While new cast members and even an Atwood-penned sequel to the original novel have been announced since season two wrapped, narrative details of the third season have been kept tightly under wraps. But if the subversion of Reagan's cozy re-election campaigning can tell eager fans anything, it's that big changes are ahead in the Handmaid's Tale universe.
Watch the full teaser below. No word yet on when the show's new season will hit Hulu.