The Handmaid's Tale Premiere Traces the Border Between Bending and Breaking
(Episodes 1.01, 1.02 and 1.03)
George Kraychyk/Hulu
TV
Features
The Handmaid's Tale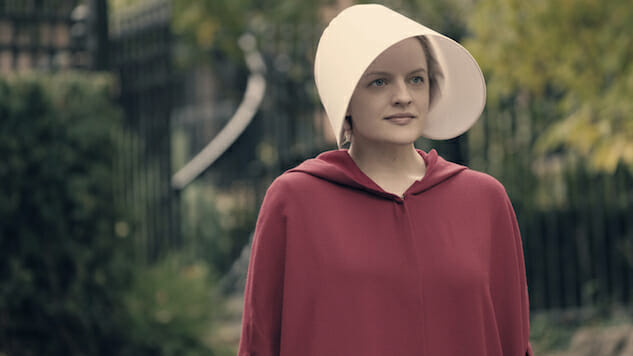 Editor's Note: This essay covers the first three episodes of The Handmaid's Tale, now streaming on Hulu.
At about the midway point of "Late," the third episode of Hulu's adaptation of The Handmaid's Tale, Nick (Max Minghella), the kind but potentially dangerous driver for Commander Waterford (Joseph Fiennes), warns his boss's handmaid, Offred (Elisabeth Moss), with a simple phrase: "Everybody breaks."
A pithy bit of dialogue, for sure, but a perfect arrow right into the heart of these first three installments of this new series. Every character introduced within these hours has a moment of emotional or physical collapse, or a small glimmer of humanity that peeks out through the blank, bleak world they otherwise inhabit. For some, one follows the other, as their brushes of kindness are quickly countered with embarrassment or violence.
Hulu's release of the first three episodes at once makes logistical sense. It sometimes takes even the best series a few weeks to settle into its voice and its story. But it is also thematically perfect, as the three are bookended by harrowing scenes of women being broken.
In the beginning, it's Offred, back when she was known by her given name, June, who has her heart and world shattered when the forces of a theocratic government track down she and her family. In one moment, she loses both her husband and her daughter, the former killed, the latter taken away for good.
At the end of the three hours, it's another handmaid, Ofglen (a gaunt and shattered Alexis Bledel), who is left torn asunder. In her case, though, it is her sexual agency that is quite literally ripped from her. After being caught in an illicit affair with another women (a "gender traitor," in the parlance of this world), she has her clitoris removed. Or as the overseer for the handmaids, Aunt Lydia (Ann Dowd, in full skin-crawling evil mode), puts it, "You won't want what you cannot have."
The core of this series and the 1985 Margaret Atwood novel on which it's based on is how much and how often women are willing and/or able to bend for the people around them before they break. And how many times they can break before they start fighting back or giving up entirely.
At this point in the series, it's not clear where Offred will end up on that spectrum. As a broodmare meant to bring new life into a household in which the Commander and his wife, Serena Joy (Yvonne Strahovski) cannot conceive on their own, she remains remarkably resilient. She suffers through mechanical sex with the Commander—her upper body resting in Serena's lap—by staring at the ceiling and dreaming of better times. Her otherwise rote day-to-day existence is given small moments of release through furtive conversations with Ofglen as they walk to the store or joining with her fellow handmaids in stomping a sexual deviant to death.
The small cracks in her façade are only deepened by the many flashbacks to life before the world changed. Her warm friendship with Moira (Samira Wiley). Her bliss at the sight and smell of her newborn baby. The comfort of being in bed close to her husband, Luke (O-T Fagbenle). She knows she's never going to get back there and knows no way out of her current situation short of death. Yet she prays for life when a member of the secret police comes to question her about her interactions with Ofglen. What, then, does Offred want?
It would seem that she wants her humanity back, but on her own terms. In the second episode, "Birth," which centers on the delivery of another handmaid's baby, some of the other housewives guilt Serena into giving a cookie to Offred. The timid handmaid accepts it, taking a bite, but later spits it out into the sink. In another scene, Offred gets caught in the rain returning from the store and as she pulls off her soaked stockings, she reveals a small bit of leg to Nick, which he stares at longingly. For the briefest of moments, she pulls the hem of her dress up a little higher before lowering it down again, her eyes locked on Nick's.
The danger of this world for Offred is that, when she feels some of herself coming back, she is often quickly slapped back down again. In "Birth," she is invited into the Commander's study to play a game of Scrabble. He calmly extends a little decency to her that leaves her rattled and shaking. Then, in "Late," when the whole household thinks that Offred is pregnant, they treat the handmaid like a fragile glass figurine. Serena smiles and starts preparing a new room for the young woman. When Offred owns up that her period has started, she is roughly shoved back into her old room and shouted at.
The multitudes and nuances of this character are a lot for any actor to handle. Moss is mostly up to the task. Unlike her previous roles on Mad Men and Top of the Lake, she pushes herself to bigger emotional heights that occasionally feel a bit strained. Those scenes when she does find the balance of outer and inner emoting are devastating. Keep an eye on her face during her scene at the end of "Late" when she looks at Serena with this childlike hope that all this kind treatment won't end even when she has to admit she's not pregnant. The openness in her eyes is almost unbearable to look at.
Moss isn't helped much by the sometimes lumbering dialogue, written by series creator Bruce Miller. When the voiceover and the speech aren't pulling directly from the Atwood novel, you can feel the casualness he's forcing on it, as when Offred—after being forced to admit to Aunt Lydia that she thought Ofglen was beautiful and then quizzed on what part in particular—says, "The whole package, I guess?" An odd turn of phrase, considering the circumstances.
Those little things are minor when placed within the whole of the series' first three episodes. Miller and director Reed Morano perfectly encapsulate the claustrophobic, dream-like nature of Atwood's book. In nearly every scene, we are forced into close-ups or have our view blocked by objects or people. It feels like we're wearing those white wings around our own heads, desperate for a small glimpse of something bigger and more spacious. Trouble is, when they do offer those shots up, it's a nearly destroyed church or the bodies of criminals hanging from a wall. As with all the handmaids onscreen, we have to reckon with those images and whether we can accept the ugly possibility of a scientist or gay man or place of worship being treated the same in our real life without breaking.
---
Robert Ham is an arts and culture journalist based in Portland, OR. Read more of his work here and follow him on Twitter.