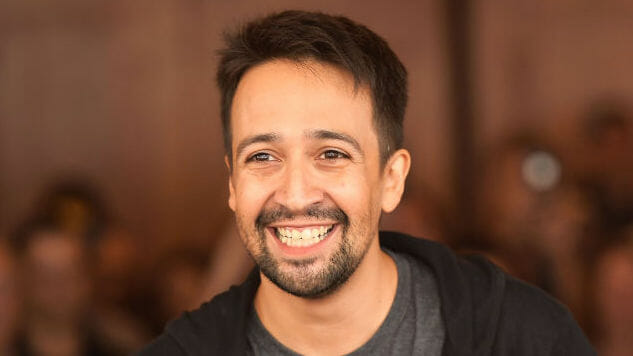 Showtime has announced that it will produce and distribute the forthcoming series The Kingkiller Chronicle, based on the world of Patrick Rothfuss' bestselling fantasy novels.
The series has already made headlines, as it added Lin-Manuel Miranda as executive producer and composer last November. The television show is part of a large, multimedia adaptation of the novels, which Showtime describes in their release as "a collaborative franchise from Lionsgate that includes a television series adaption, a major feature film and interactive games all being developed concurrently."
John Rogers will be the showrunner for the series, which doesn't actually follow the plot of the novels. Instead, it is set in the same fantasy world, and "will follow a pair of wandering performers on their adventures through the unique and startling world of Temerant," taking place before the events of The Name of the Wind. Showtime Networks' President of Programming John Levine expressed enthusiasm for the project, saying it "moves Showtime into a new genre in a powerful and unique way."
Miranda loves the original novels, as he noted in a previous statement about the show: "It's a world you want to spend lifetimes in, as his many fans will attest. Pat also writes about the act of making music more beautifully than any novelist I've ever read." Music has a huge presence in the novels, so it makes sense that Miranda was drawn to it. He seems to be on very good terms with the author, too. Here's a Twitter interaction between Miranda and Rothfuss:
By the way, @Lin_Manuel I've been meaning to apologize for making Kvothe"s name so hard to rhyme…. @jonrog1

— Pat Rothfuss (@PatrickRothfuss) October 26, 2017
A release date for The Kingkiller Chronicle has yet to be announced.