The L Word Sequel Series in the Works at Showtime
Photo by Scott Gries/Getty
TV
News
The L Word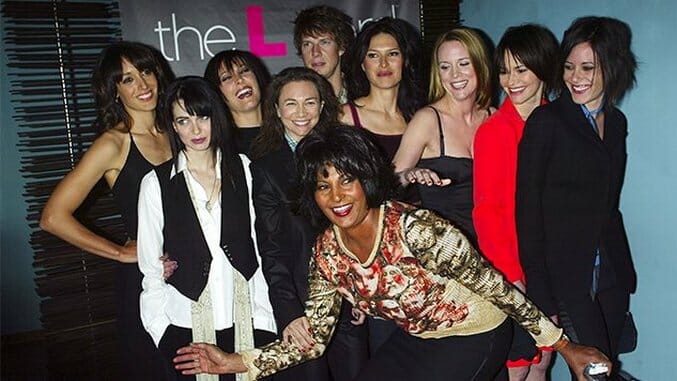 Showtime is doing the Lord's work and bringing back The L Word, and the internet is more than ready. Series creator Ilene Chaiken will executive produce alongside stars Jennifer Beals (Bette), Kate Moennig (Shane) and Leisha Hailey (Alice), who will join a new ensemble cast, according to THR. Other original characters including Erin Daniels (Dana), Laurel Holloman (Tina), Mia Kirshner (Jenny), Sarah Shahi (Carmen) and Pam Grier (Kit) may also appear in the sequel.
The original series aired for six seasons on Showtime before shutting down in 2009. The success of The L Word, which began while Queer as Folk wrapped up its own cable series, is revered for ushering in a new era of positive LGBT visibility in television by centering realistic portrayals of queer communities and deftly handling storylines about equality, legal marriage, HIV/AIDS and transgender issues.
The L Word sequel series comes to Showtime amidst the success of several other reboots, including Showtime's own Twin Peaks revival. NBC is bringing back Will and Grace for another season, while Netflix is looking at recreating Queer Eye for the Straight Guy. Shows like Will and Grace and Queer Eye were part of the wave of LGBT television that both The L Word and Queer as Folk paved the way for; it's about time The L Word gets its victory lap.
The search is still on for a showrunner, which is apparently taking time due to Showtime's commitment to finding a writer with ties to the lesbian community who can accurately document their lives and experiences while connecting them to those the show featured in its 2004 launch.
Meanwhile, people have already begun celebrating the revival. Scroll down to see reactions from stars and fans alike.
STOP THE PRESSES HOLD THE PHONE HOLY HOTDOGS IS THE L WORD REALLY COMING BACK?!!!!!??????

— Mary Lambert (@marylambertsing) July 11, 2017
i just found out that there is going to be a sequel to The L Word and got chills i can literally feel the gayness rushing through my body.

— Ally Hills (@allyhills) July 11, 2017
My prayers were finally answered. #TheLWord

— Tegan and Sara (@teganandsara) July 11, 2017
I hope all my LA lez friends get work from The L Word reboot. There's a ton of dialed-in, talented, hard-working queer women ready to go now

— Jen Richards (@SmartAssJen) July 11, 2017
"There were these girls. Their dresses? Tight. Their mustaches…"

Me explaining The L Word to a millennial

— Cameron Esposito (@cameronesposito) July 11, 2017