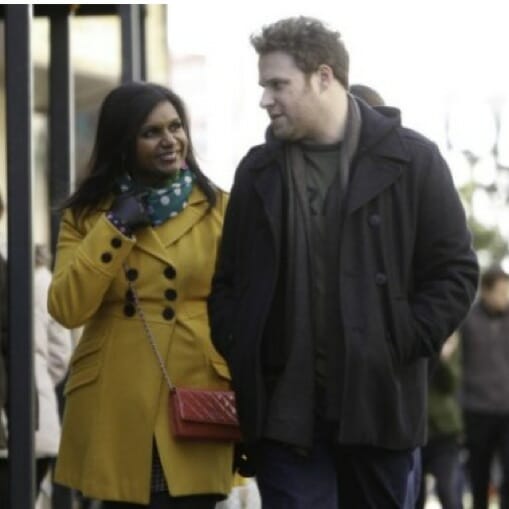 I've been talking for a few weeks now about how The Mindy Project needs to be a romantic comedy and ditch the workplace antics. "The One That Got Away" further proved this point.
Seth Rogen, the show's buzziest guest star to date, did his best Seth Rogen as Sam, Mindy's former camp crush. She reconnects with Sam on Facebook, and the two have a lovely and sweetly flirtatious lunch until Mindy learns he's being deployed back to Afghanistan the next day. Mindy decides to have the best day ever with Sam and do all the things he can't do in Afghanistan like go to the movies (a Nora Ephron double feature, of course) and have sex. It was a totally lovely day until Mindy tried to figure out ways to keep Sam from going back to Afghanistan and put her own desire for a relationship with Sam above what he wanted. This was the first time Mindy's selfishness and self-centeredness truly worked for the show. I empathized with her plight.
However, up until the very last moment of the episode, I kept thinking that maybe Sam wasn't actually in the army and that the entire thing was a scam to get Mindy into bed. Maybe I've watched too much of Barney's playbook on How I Met Your Mother, or maybe The Mindy Project is so wildly inconsistent in tone that I find it hard to trust the show's sweet moments. Even as I write this, I'm still not totally convinced Sam is in the army.
The good news is that The Mindy Project left the door wide open for Sam's return, and Rogen and Kaling shared a breezy chemistry. The other good news is that the writing is becoming sharper. There were some extremely funny lines. I particularly loved Sam asking Mindy, "Did you ever get your period? That was a big thing the last time we talked." Or when Danny said, "One day with you and you messed him up worse than Al Qaeda."
And Mindy's experience at the self-checkout was hilariously spot-on. I too find the whole thing to be a ruse that takes so much longer than just going to a clerk, and I also get frustrated when the machine continues to admonish me after I've scanned my items. The scene was uproarious. The show needs to do more of Mindy's take on everyday occurrences.
The bad news is the rest of the show continues not to work. Clearly Kaling enjoys writing for Chris Messina's Danny the most. After Kaling, Messina gets the most screen time. And the burgeoning and less openly hostile friendship between Mindy and Danny is a nice development. But there's no way I believe that Danny would agree to be a sperm donor for a couple trying to have a child. I think we can just start with the fact that it probably breaks all kinds of medical ethics rules. It was a silly storyline all around.
Poor Ed Weeks truly has nothing to do as Jeremy and, in her second official outing as a series regular, Beth Grant's Beverly remains strange-weird not funny-weird.
Other thoughts on "The One That Got Away":
• "My parents worried that I would get molested, which was crazy because I was not that cute a kid." Yeah, the show really, really, really shouldn't make jokes about child molestation. Really.
• Loved the return of Brown Bear. I'm kind of hoping we get so see what every one of Mindy's paramours thinks of him.
• I did not miss the Duplass brothers. At all.