Why The Tick's Ben Edlund Found Making Season Two "Traumatic" Yet "Nourishing"
Photo: Amazon Prime Video
TV
Features
The Tick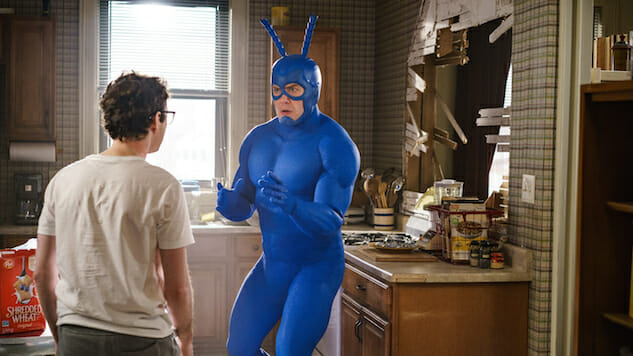 Ben Edlund has done a little of everything, helping bring tons of genre entertainment to the screen—from the niche (The Venture Bros.) to the super-popular (Supernatural, which recently marked its 300th episode). But he's actually done everything when it comes to The Tick. He created the satirical superhero back in high school, then got hired to make it a full comic series. This snowballed into merchandise, an animated series, and Patrick Warburton in form-fitting blue.
Now, the hero is back on TV, with Peter Serafinowicz donning the antennae this go-round for Amazon Prime Video's live-action take on the show, and Edlund acting as executive producer and showrunner. It's a world as funny and weird as the cartoon, where even a boat has a tragic backstory; it shares plenty of tonal and aesthetic similarities to Joss Whedon's Doctor Horrible's Sing-Along Blog, something else Edlund helped create. So what's new with Arthur, The Tick, and Dot in the upcoming episodes? The multi-hyphenate creator sat down with Paste to talk about overcoming sophomore struggles, Cool World, and someone named Teen Yeti. [Editor's note: The following interview has been edited for clarity and length.]
Paste: Season Two goes all over the place with superhero career trajectory. There are jaded senior-level supers and excited entry-level supers and everywhere in-between. Was there one aspect of superhero mundanity you wanted to focus on?
Ben Edlund: In a way AEGIS provides an almost corporate context for Arthur and all these heroes. It's like he decided he has a new job and his new job is being a superhero. He is entry level. It was our task to think about superheroes as having careers—with some looking for greener fields—and having all these different points of view on display for Arthur.
Paste: Since this is the first time a live-action Tick has seen a second season, it's wrapping all its meta-references in with the show's own history. Is this the most complicated The Tick has ever been?
Edlund: I think so. It's the most complete and functioning universe he's ever had. Which is kind of a function of things I've learned between the previous live-action show and now. I've been studying under some of the key genre-makers of our time. Did my time learning how to produce and how to write. As much as it's a goofball show that makes fun of superheroes, it also has its own underlying story.
Paste: You've produced, you've written, but you've also directed a few episodes of TV. How does that experience show up in The Tick?
Edlund: It's very, very good to have directed as a showrunner. It's just another language you can speak. The little directing I have done has given me enough of a sense of it to talk that language effectively. I didn't first-hand direct anything this season, but I wanted to! I was too busy writing and rewriting—and putting out fires on a larger level. Next season, if we're blessed with another season, I will seriously try to helm one at least.
Paste: That would be very cool, and also your first directorial work in almost a decade.
Edlund: Yeah, the last time I directed Supernatural was in 2011 or something like that, so it's coming up. Oh, man! Time!
Paste: You said you were swamped writing and also putting out fires. I hear you like keeping the story pretty secretive and malleable until you're actually shooting it. How much changes as production goes on?
Edlund: In general, we were just kind of behind the eight ball because we underwent a revision of budget right before we went into production. It retracted the complexity of the story… You know, we took a bunch of hits and we had to work that out while we were shooting. Sometimes we would do some contemporaneous restructuring, which put a lot of work on myself and Susan Hurwitz Arneson, one of our co-executive producers, who had the dubious fortune of being on-hand when everything kind of went… well, when we were re-writing.
I credit everyone involved with tremendous goodwill and creative courage, because all the actors and all the directors and all the supportive creative people? Everyone was on board for shooting this thing where, the morning of shooting, there'd be new lines for the actors to absorb and improve upon. We'd workshop things and, ultimately, the actors themselves had internalized their characters to such a degree that they were able to bring material to a polish collectively. It was really, really cool. I'd like to have more of it worked out before we turn the cameras on next time.
Paste: How soon before production began did y'all find out your budget had been "revised"?
Edlund: I'd say we had three weeks when we got a sense of that reality. By the way, it turned out to be of great value to The Tick. To have its horizon cropped, to some degree. It happened to force certain storylines back in on themselves, which merged with the characters at our core. Classic story stuff, which I can never learn enough of, it turns out.
That attrition was very nourishing—it just turned out to be a little last minute and kind of traumatic to process. In the short term. I dunno, I should only be talking about exciting, positive things. But this turned out to be a positive thing! It was just like a mountain you had to climb in the middle.
Paste: The Tick has always had a bit of a DIY, punk attitude, so this does seem to fit.
Edlund: I think you're right. The Tick isn't the one that rolls up in the limo and walks the red carpet. He comes in the back, through the kitchen area. But he's the first to taste the soup!
Paste: The Tick handles superheroes in a way that seems totally unique except for one other show, one that you also worked on: The Venture Bros.
Edlund: Yes, The Venture Bros. to me lives in a—it's like you could just take a jet car from one universe to another and not feel too discombobulated. Although you'd be traveling from animated to live-action. But that works! It worked in Cool World!
Paste: We all know how well Cool World did, so why not replicate it?
Edlund: Oh, sure…[Watchmen], too, feels like it's made of this translating impulse. It takes the extant superhero universe and translates it into a just slightly-off version of itself, and in that translation allow[s] for a higher index of self-awareness. A higher level of commentary. I think that same thing is true of The Venture Bros. for sure, and it's true of The Tick stuff that we were working on together when Jackson Publick was creating The Venture Bros.. To me, it's a language that lends itself to certain forms.
Paste: Final question: Was there a character that got cut out because of the budget that you can tell me about?
Edlund: Ok, there's one that I'm happy to tease because she's great. We didn't feel like we had the cash flow to do the makeup necessary, but we wanted to do this girl named Teen Yeti who was like a, uh, teen yeti. She was great: a very strong, very positive, very good-natured slugger who was going to bond with The Tick.
Season Two of The Tick premieres Friday, April 5 on Amazon Prime Video. Read Paste's episodic reviews of Season One here.
---
Jacob Oller is a writer and film critic whose writing has appeared in
The Guardian, Playboy, Roger Ebert, Film School Rejects, Chicagoist, Vague Visages,
and other publications. He lives in Chicago, plays Dungeons and Dragons, and struggles not to kill his two cats daily. You can follow him on Twitter here: @jacoboller.