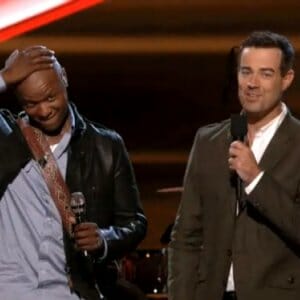 Reality talent searches start to become cumbersome when all the vocal contestants just belt out soulful songs that only showcase their range.
Cool, you can keep up with Diana Ross or Whitney Houston, but you're not either of them. I want to hear something new, something challenging.
While the contestants on The Voice are sometimes guilty of this concept, the judges deserve credit for having their team members try some atypical material.
Fan favorite Javier Colon has the chops to match an R&B singer, but last night his team captain Adam Levine didn't have him singing Boyz II Men.
Colon put forth a valiant effort with his rendition of Coldplay's "Fix You." He replaced Chris Martin's signature piano melody at the start of the song with his acoustic guitar, and while it's hard to match Martin, his R&B inflections were an interesting touch.There's something sincerely lovable about Colon, and his talent matches that sweetness.
He received positive feedback, and I'm not sure what his bald head has to do with his vocal ability, but the coaches seemed especially pleased that he took off his hat during his performance. Probably the most connected of the bunch, Cee Lo Green took the opportunity to name-drop. "A wonderful song choice," he told Colon. "Chris and Gwyneth are both friends of mine." Levine gave him a hard time for it, shooting back, "I'm Cee Lo and I know celebrities.'"
Cee Lo had the wiley Vicci Martinez take on Florence + The Machine's "Dog Days are Over." Trying to take on Flo is no easy task, and Cee Lo even had her participate in the song's thundering drum part. Martinez did bang through an honest attempt, but it missed the mark.
Levine and Cee Lo branch out of the pop field in their personal careers, but it's the innocent country boy, Blake Shelton, who is most unpredictable in his song choices.
A few weeks ago he had folk singer Dia Frampton steal the show with her melodic version of Kanye West's "Heartless." And this week he had her take on a stripped-down version of R.E.M's "Losing My Religion." She won the night with her approach, tossing in a section of hand-clapping. It's clear she's a seasoned performer.
The rules of the show keep changing. The judges gave each of their team members' performances a numerical score, and America also votes. It's unclear whose vote weighs more. Tonight there will be a one hour voting show to see which four make it to the season's finale next week.
It's pretty clear that Adam Levine will choose Colon, Christina will most likely go with Beverly McClellan, and Cee Lo will probably keep the burly soul man, Nikea. But after Frampton's performance last night, it's Shelton who will have the hardest decision.
It appears he's grown attached to shy 16-year-old Xenia, whose performances have a charming awkwardness to them.
"Never thought I'd be emotionally attached to somebody like I am," Shelton said of Xenia.
Despite his attachment, and Xenia's rare vocals, Frampton is the better performer by a slight margin. For sheer entertainment purposes, it will be interesting to see if he goes with his heart or his reason.
Shelton performed his modern country hit "Honey Bee," and Christina Aguilera and Levine collaborated on their new single, "Moves Like Jagger." Shelton's performance was cheesy but charming, and while Christina has a voice on her, "Moves Like Jagger," fell through like an average radio hit.
In addition to the pink striped beehive on Christina Aguilera's head last night, I'm also annoyed by the constant flattery on the show. Yes, all the contestants are very talented, and their confidence does deliver better and better performances, but whatever happened to constructive criticism?