Netflix's Difficult, Exemplary Unbelievable Devastates Without Needing to Shock
Photo Courtesy of Netflix
TV
Reviews
Unbelievable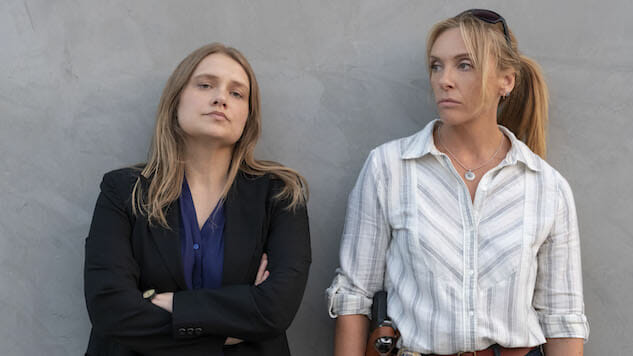 There's something quietly revolutionary about Unbelievable. It is difficult to watch at times, the kind of series likely to live with you long after its final moments come to a close; for a story centered on rape, that is hardly unusual. The work of its three remarkable lead actors is wonderful but also not unique; other television shows and movies have hired exceptional performers to tell these stories. Instead, "Unbelievable" distinguishes itself by the simple act of making one very big assumption: that everyone watching already knows that rape is a horrific violation. It assumes you've got that handled. It assumes that you've seen The Handmaid's Tale or Boys Don't Cry, or most recently, The Nightingale, and have plenty of experience seeing rape depicted in media in visceral, nightmarish fashion. It is fully aware that of the people on the other side of the screen one in six women and one in 33 men will have personally experienced a rape or an attempted rape in their lives. It has absolutely no interest in immersing its audience in trauma and violation. Unbelievable knows that you know rape is bad. It does not act as a voyeur. Under the guidance of showrunner Susannah Grant, it is far more interested in the survivor's perspective—on what happened to her, yes, and how it lingers, but also on the violations that came after.
Based on a Pulitzer-winning piece of journalism by T. Christian Miller and Ken Armstrong (of ProPublica and The Marshall Project, respectively), Netflix's Unbelievable is a series of such quiet power that its full impact may not come crashing down until after its conclusion. (That was certainly my experience.) The first episode begins at the Lynnwood Teen Center in suburban Washington, a home for young people transitioning out of life in the foster care system. Marie Adler (Booksmart's Kaitlyn Dever) sits on a couch, waiting for the police to arrive, sun incongruously streaming through the windows. She prepares, for the first of many times that day, to tell someone in detail about the man in the black mask who tied her up with her own shoelaces and raped her in her home.
"Was the penetration with his penis or his fingers?" the first officer to arrive asks. He doesn't notice, or doesn't acknowledge, the terror in her eyes. She looks away, and replies, "Not his fingers."
Unbelievable may not treat the violence it contains as some sort of endurance test for the audience, but it doesn't excise it from the story either. Another piece of its quietly revolutionary approach: We see the assault almost exclusively from Marie's perspective, terrifying slivers glimpsed beneath a blindfold, her eyes locked on a photo of herself, running joyfully into the ocean. It is deeply upsetting, but it's the experience of a young woman being forced to relive her trauma again and again, for people who fail to see or disregard her obvious distress. Questions trigger flashes of memory. The flashes drive her further and further into herself, as she builds walls around the panic and pain. She's had practice at that. She's so accomplished that two of her former foster mothers—both people who love her, and both rape survivors themselves—doubt the nature of her reaction, and even the truth of her story. She's simply too okay. One of them (Elizabeth Marvel) expresses some doubts to the investigating detective (Eric Lange), and that's the beginning of yet another nightmare.
Unbelievable continues to follow Marie's story, as the system continues to fail her and she spirals out of control. But in Episode 2 of the limited series, it also jumps several years into the future and several states east. Another young woman (Danielle Macdonald of Patti Cake$), another bright morning, another fleet of cop cars outside an apartment complex. But the detective who pulls up, Karen Duvall (Merritt Wever), has a very different approach.
As a dual portrait—of Marie, and of the system that fails her—Unbelievable is incredibly effective. But it's also an excellent crime drama. Through happenstance, Duvall discovers her case is startlingly similar to another in a nearby district, one investigated by Grace Rasmussen (Toni Colette). They begin digging, uncovering more similarities and more cases, and begin the arduous task of chasing every possible lead.
Here's another way Unbelievable does things differently from many crime dramas (and certainly most of its contemporaries): While the personalities involved are undeniably appealing, nothing about the work Duvall and Rasmussen do looks all that thrilling. They get a lot of flimsy leads and chase them all, knowing few will produce any results. They wrestle with the knowledge that they're flailing, that the women at the center of the investigation may never get justice, that the disinterest of many of their male colleagues makes investigating the crime that much harder.
Unbelievable makes it all look like a total slog—but a gripping one, from the audience perspective. Some of that is due to the astonishing skill of Colette and Wever, who turn in performances of towering emotion and startling restraint. And some of that comes back, once again, to perspective. What's the cost for these detectives? What does it take to do this job well?
The performances from Colette, Wever, and Dever are uniformly excellent, with Dever equally parts devastating and subtle. Frankly the entire cast, and Macdonald in particular, does terrific work, but the series belongs to those three. They rarely play pain or suffering. They play control, or the effort to control emotion; they play not the rage or the terror but the work it takes to stuff it down inside. Dever's tears will almost certainly move you, but it's the moments in which she swallows down an entire storm, just to put on an impassive face and get out the door, that will linger longest.
Subtlety may be a strength of the performances, of the direction (frank, observant) and of the writing for these characters, but it's not a quality Unbelievable values when it comes to making its points. Grant and fellow co-creators Michael Chabon and Ayelet Waldman save their bluntness for the big truths within the story. Duvall's first interview with Amber (Macdonald) makes the contrast between her work and that of the Lynnwood Police Department's crystal clear: Do this, don't do that. As she and Rasmussen begin to chase leads and start to wonder if the perpetrator might be in the police department, the writers make clear the staggering problem of domestic violence within law enforcement and the unwillingness of such departments to police their own.
This is a startlingly faithful adaptation—yet another sign, perhaps, of the determination of the part of Grant and company to approach this story with integrity and respect—and as such, it checks the boxes a piece of investigative journalism might check: It shows what happened, yes, but also why. It pulls small details from the lives of these women, moving deliberately through a hostile world. That might not be revolutionary, but it's important. Unbelievable is a story about rape, but it's also a story about survival. It's about the failure of the system, but also the determined pursuit of justice. And most importantly, it lets these women be more than the worst thing that happens to them. It's the rape, but it's the girl running into the ocean, too.
Unbelievable premieres Friday, September 13th on Netflix.
---
Allison Shoemaker is a TV and film critic whose work has appeared in
The A.V. Club
,
Vulture
,
RogerEbert.com
, and other publications. She is also the co-host of the podcasts Hall Of Faces and Podlander Drunkcast: An Outlander Podcast, the latter of which is exactly what it sounds like.