Damon Lindelof Teases Start of HBO's Watchmen Show
Photos by Jesse Grant/Getty, Alberto E. Rodriguez/Getty
TV
News
Watchmen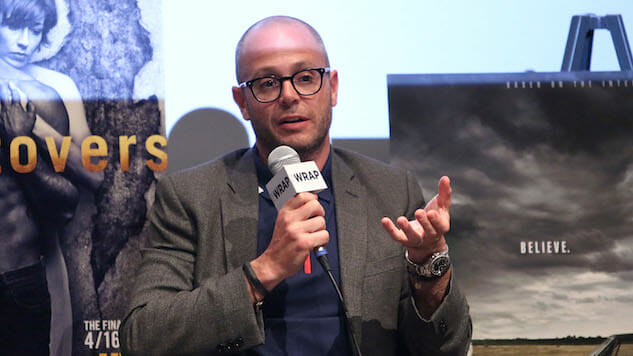 Many a month ago, we reported that HBO was in talks with writer Damon Lindelof to produce a television show based on Alan Moore and Dave Gibbons' acclaimed graphic novel Watchmen. Lindelof, most famous for hit shows like Lost and Emmy-snubbed The Leftovers, as well as ruining Prometheus and Tomorrowland, posted a cryptic photo on his Instagram hinting that this project is alive and on track.
In what certainly looks to be a writing room, Lindelof places a statue with the engraving "In Gratitude" on a table, no doubt a reference to the same statue that retiring Nite Owl Hollis Mason received in the graphic novel. In between the previous report and this tease from Lindelof, there hasn't been any official word from either Lindelof or HBO—with The Leftovers wrapped up, it wouldn't be surprising if Watchmen were truly Lindelof's next project, especially what with this very overt hint.
Watchmen depicts an alternate history in which vigilantes ran free, helping the United States to win the Vietnam War, and Richard Nixon never left office; after the murder of one of their own, some of these vigilantes reunite to uncover a conspiracy that may lead to a new world war. The graphic novel was previously adapted to film by Zack Snyder, who, per THR, was once attached to this television project as well before departing.