Go Through the Looking Glass with HBO's New Watchmen Making-of Featurette
Images via HBO/YouTube
TV
News
Watchmen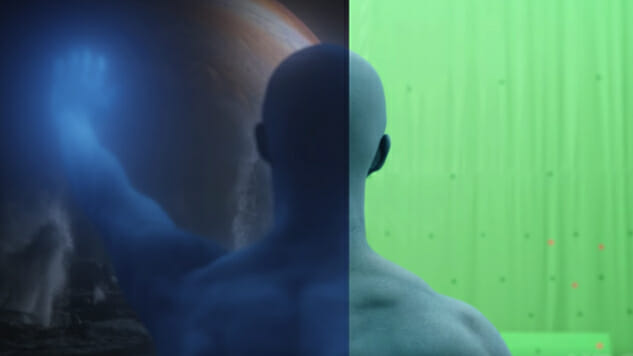 There's plenty working well in Watchmen, one of 2019's very best TV shows, and the visual effects are no exception. The series' Season 1 finale aired Sunday night, but since nothing ever ends, HBO shared on Tuesday a making-of featurette that unmasks the show's impressive (and extensive) digital imagery.
Enhanced as the show itself was by Trent Reznor and Atticus Ross' pulsating score, the featurette opts for a more elegant approach than your average making-of, eschewing talking-head clips and simply showing viewers the show, then stripping away the layers to reveal how the immersive world of Watchmen's many elements were computer-crafted. Of particular interest are Looking Glass' (Tim Blake Nelson) iconic mask, the pilot episode's recreation of the 1921 Tulsa race massacre, and just about everything involving Dr. Manhattan. And speaking of the good doctor, the featurette covers the show's entire first season, so beware of spoilers if, for you, the end is not yet nigh.
Paste contributor Lacy Baugher showered praise (though no squids) upon Watchmen in a recent piece for Paste TV, lauding it as "narratively fascinating and technically brilliant." Today's featurette goes a long way towards revealing just how much work went into that technical brilliance.
You are watching the featurette below and revisiting our review of Watchmen here.