ICYMI: So Help Me Todd Stands Out in the Overcrowded Procedural Landscape
Photo Courtesy of CBS
TV
Features
What to Watch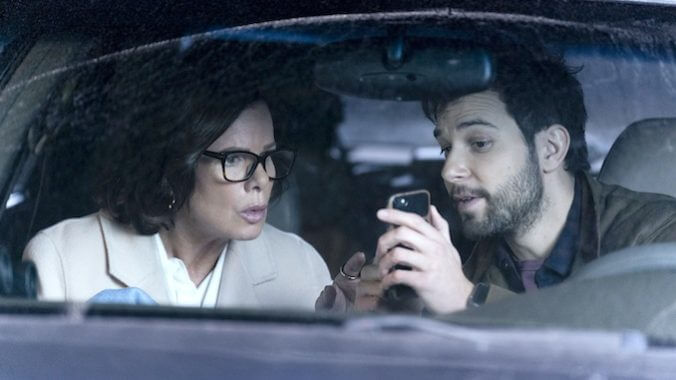 Editor's Note: Welcome to ICYMI! While the writers and actors fight for the fair contracts they deserve, we're highlighting some shows you may have missed in the deluge of content from throughout the year. Join the Paste writers as we celebrate our underrated faves, the blink-and-you-missed-it series, and the perfect binges to fill the void left by delays and corporate greed:

So Help Me Todd, one of the new offerings from CBS in the 2022-23 season, stands out from the vast catalog of procedurals currently on television. Set in idyllic Portland, Oregon, Skylar Astin and the iconic Marcia Gay Harden star as crime-solving mother-and-son duo Todd and Margaret Wright, whose personal lives are in chaos as they help Margaret's clients find the truth about various mysteries and legal cases, and escape undeserved consequences in the courtroom. For many reasons, this offering is one you don't want to miss out on. 
When we meet Todd and Margaret in the series premiere, Todd is down on his luck after losing his license and no longer being able to work as an independent private investigator. He's relatively unemployed, taking odd jobs here and there, and living with his sister Allison (Madeline Wise) and her husband Chuck (Clayton James). Meanwhile, Margaret is an unnamed partner at one of the city's most prestigious law firms, but her world is shaken when her husband—Todd and Allison's step-father—disappears, giving Todd an excellent opportunity to showcase his investigative skills and help his mother after everything she's done to support him. In the end, Todd accepts a job to begin working for Margaret's firm as an investigator of sorts, working to regain his license and setting the stage for the series' weekly format.
Together, they solve cases with unbelievable results (and little regard for how the judicial system actually works, but that's an easy flaw to look past). The mysteries are wild, wacky, and extremely chaotic, leaving viewers on the edge of their seats as each episode's answers are almost completely unexpected in the best ways. Todd and Margaret are both exceptional at their jobs, though they constantly bend the rules—Margaret is sure to say they never break the rules—to get results, leading to some interesting, funny, and nail-biting situations; during one episode later in the season, Todd pretends to be a lawyer without actually pretending to be a lawyer. Simply put, there's a great balance between drama and comedy, offering something to make everyone enjoy themselves. 
Additionally, the series is a great tale about finding yourself even well into adulthood. All of the characters are over 30, yet they're all a little lost in their lives. This is most obvious with Todd, at least at first. As the youngest child with no home, no career, and no relationship, Todd is a relatively blank slate as he discovers who he is going to become after years of recklessness left his life in shambles. But, this is also what Allison's personal story begins to revolve around for the majority of the season. She's a successful surgeon and married, but she's lost in life. Various events lead her to do some introspection, giving the audience insight into what about her life, despite it being seemingly perfect, is leaving her feeling unsteady. Even Margaret is a little adrift; though she loves her career, she's unsure about how to move forward in many different areas of her life and how to keep her personality intact as she does so. They're all—sans oldest child and guest star Lawrence (Matthew Wilkas)—reinventing themselves in various and beautiful ways.
However, no matter how well-done and exciting the weekly mysteries are, So Help Me Todd is a family show first and foremost; the Wright family and their intricacies are the most enchanting aspect. The dynamic between Todd and Margaret works incredibly well, and the chemistry between Astin and Harden is instantly believable. Forgive my blasphemy, but I would go out on a limb to even compare them in some ways to Lorelai and Rory from Gilmore Girls, especially when they are infuriated with one another for being too alike. Allison adds an interesting third point to this family dynamic as she is so unlike both Margaret and Todd, balancing them out and bringing out other sides to them. Despite not having a regular major role in the procedural side of things, Allison's presence adds quite a bit to the show. Also, the third Wright sibling Lawrence (when he deigns to reward them with his presence) helps the series showcase the brutal, beautiful, and rough reality of sibling relationships that is rarely depicted realistically on television. That said, we need much more of Lawrence and his husband Chet (Thomas Cadrot) moving forward.
All in all, So Help Me Todd is a must-watch show. It has a little bit of something for everyone. The cast is impeccable, effortlessly managing to capture their characters and the dynamics between them from the very start. There's some romance thrown in there too, including a couple of excellent one-off love interests that we would love to see again, and slow-burn romances between Todd and Susan (Inga Schlingmann) and Margaret and fellow attorney Gus (Jeffrey Nordling). Plus, a wicked antagonist from Todd's past (played by the talented Eliza Coupe) continues to be a threat to his future. To sum up, the Wright family and their chaos will capture your heart from the very beginning.
So Help Me Todd is now streaming on Paramount+ and has been renewed for a second season that will begin whenever studios finally agree to pay writers and actors fairly.
---
Jay Snow is a freelance writer. He has published many places on the internet. For more of his thoughts on television and to see his other work (or to simply watch him gush again and again over his love for the original Charmed) follow him @snowyjay.
For all the latest TV news, reviews, lists and features, follow @Paste_TV.