We Can't Tell You What Forever's About. Read This Piece and You Might Figure It Out Anyway.
Amazon's "Forever" Redefines "Happily Ever After"
Photo: Colleen Hayes/Amazon Prime Video
TV
Features
Whitney Friedlander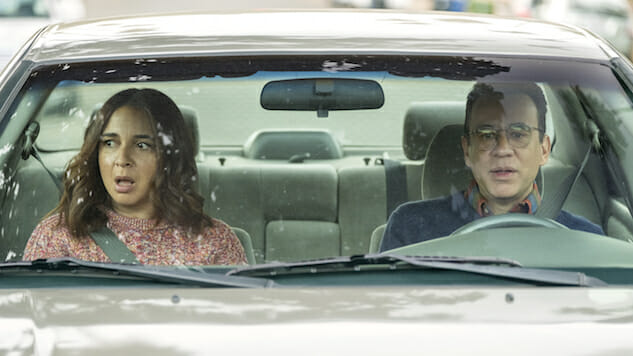 Romantic comedy obsessive Mindy Kaling famously used her TV series The Mindy Project to explore the notion of what happens after a couple finds its "happily ever after"—the mundane routine of chores, bills, and kids that settles into place after the passionate embraces and bodice-ripping sex die down.
Forever, the new Amazon Prime dramedy from Master of None's Alan Yang and 30 Rock's Matt Hubbard, sees Kaling's concept of commitment and doubles down on it. And while I'm not at liberty to say exactly how the series does this—Amazon's stringent demand that major spoilers not be revealed until a week after the premiere is both frustrating to critics and journalists attempting to cover the show and a potential disservice to its cast and crew—I do trust that you, Paste's readers, are the intelligent sort who can look at the name of the show, re-read my introductory paragraphs, and figure the twist out for yourselves.
The elevator pitch is simple: Saturday Night Live alums Fred Armisen and Maya Rudolph star as Oscar and June, who, after a cleverly sped-up montage of their meet-cute, courtship and wedded bliss, find themselves in a bit of a rut. June, the more astute of the two, suggests they liven things up by forgoing the usual trip to their lake house for a ski vacation. That's when things get interesting.
"I think it's about the idea of forever and ever," Armisen tells Paste. "Not just because of the title, but because of, when there are vows, there has to be time to direct to them. The idea of, how long does that go on for? How long do you want it to go on for? Is there value in the day-to-day? Is there value when things get mundane? These are all questions that we don't have an answer for, but it's worth exploring."
The actors both have executive producer titles on the series, and say that they knew pretty early on in the development how the story would play out. Rudolph says she "wasn't necessarily looking for [a project like this], but it does feel my speed at the moment." She likes that Forever gives her a chance to be "honest and also look at the reality of things being sometimes sad—and funny in their sadness. I like that. I like that mix."
Rudolph also knows that Forever might be seen as a companion to Phantom Thread, the film focused on relationship power dynamics that her partner, writer/director Paul Thomas Anderson, released last year. But while Anderson's drama may give cinephiles everywhere permanent side-eye any time their significant others make them an omelet, Forever finds humor in the grating. In one scene, which Hubbard admits is "literally verbatim a fight" he's had with his own wife, Oscar nags June about the proper way to load utensils in the dishwasher. (For the uncivilized: Real Simple magazine says forks go tines up). It's petty and kneading, even if his efforts are genuine. Everyone who sees the scene, be it the crewmembers who were on set during filming or the journalists who watched the screeners, is seemingly incapable of not taking a side. Rudolph says these visceral, ardent responses "encapsulate how many of us in a long-term relationship can relate to these moments."
But Forever is also a conversation about complacency, even as the couple (and their relationship) take an unexpected (and somewhat unexplained) turn. Armisen points out that Oscar thinks these changes are awesome, but others may want to "think what version of it is a prize and what version is a punishment."
Like many women who've come before her, Rudolph's June makes a new friend who more or less tells her she can do better. This one, named Kase, is the sarcastic, angry sort. She's played with fuck-you hostility by Catherine Keener and she encourages June to live it up. Suddenly, June is ditching her quiet nights in and attempts at perfecting pottery and finds herself singing a big-band version of Montell Jordan's "This is How We Do It" to a crowd of revelers dressed like they're looking for the after-party at Jay Gatsby's mansion. Yang says this casting came organically. They never asked anyone else to play the role because they wanted someone "super cool and mysterious" and, frankly, Keener is "the embodiment of cool."
But, save for some scenes in Forever's second episode, there's rather limited discussion of religion and the meaning behind the traditional Western-Christian marriage vows. Hubbard says that this is on purpose. "I wouldn't rule out addressing religion in the future, but for this season it wasn't something that we had a huge take on," he says. (For those wondering: Yes, Yang says he sent a courtesy text to Michael Schur, his and Hubbard's former boss on NBC's Parks and Recreation. It warned that parallels will be drawn between Forever and Schur's current show, NBC's The Good Place, but promised that theirs is not a derivative of the other).
So, is it even safe to call the series a comedy? Armisen responds to the question with an even bigger cosmic question, saying, "I think the term 'comedy,' that's already changing." (Of course, he's right; anyone who thinks otherwise should check out Keener's other new TV series, Showtime's Kidding).
"I think there will always be an element of comedy in what we do and I think this is a different tone," Rudolph says. "There's a lot that's really funny and there's a lot that's really serious and honest. I like the mixture of the two. I can't imagine one without the other. I'd feel weird to do something really dramatic."
And while Hubbard stresses that he does think the show is "pro-marriage," others might have different points of view.
"For a single person like me, the idea of being married to a person for the rest of your life is extremely scary and horrifying by itself," Yang says.
Perhaps that's the lesson to singletons who want their happily ever after: Marriage can be even more of a horror show than dating.
Forever premieres Friday, September 14 on Amazon Prime Video. While there is no official Season Two order, Armisen jokes that "we got signed on for 17 new seasons, to be shot in one month."