Tucked away inside one of the cavernous, cold buildings that make up Cinespace Film Studios in downtown Chicago is the home base for Eminent Ambulance Company, the fake EMT service at the heart of the TV show Sirens. The set designers have given it a perfect lived-in, cobbled together feel. The yellow-ish couch and fake wood end tables look like they saw their best days back in the late '60s. The plastic dining table and chairs were likely salvaged from an estate sale. And in the kitchen, a refrigerator that can't be a day over 40.
Your average TV viewer wouldn't recognize the Eminent home base as readily as, say, Central Perk or the Scranton offices of Dunder Mifflin, but that could change quickly once the show's second season gets underway on January 27th.
The half-hour sitcom, created by Denis Leary and Bob Fisher (the pair behind the acclaimed series Rescue Me), which follows the workplace triumphs and personal catastrophes of EMTs Johnny (Michael Mosley), Hank (Kevin Daniels), and Brian (Kevin Bigley), already picked up some appreciable ratings for its first 10 episodes, averaging 1.6 million viewers per episode. It was enough for parent network USA to order a second season of the fledgling series, and 13 new episodes will air during this first part of 2015.
"We feel very lucky that we got that kind of show of faith," says Fisher, during a break in filming last October. "The show definitely got better as it went along. We're not to the point where people are quoting lines at a wedding, but hopefully we'll get there with this."
Sirens is actually well poised to become a potential breakout hit. They have a prime spot on the USA schedule (Tuesdays at 10pm) and a strong promotional campaign to raise the show's profile. It also can't hurt that the first 10 episodes are now available for your binge watching pleasure on Netflix.
There's also the simple fact that many great sitcoms truly take off in their second year. It's at that point when everyone on the show starts to gel and work as a unit. Having gotten to know the cast over the course of one full season, the writers can then start playing to the actors' strengths. The chemistry between the folks on camera also starts to spark and flow more readily. All of it lends to a feeling of comfort between everyone on set, something that becomes palpable even for the viewers at home.
"We know these characters a lot more," says Bigley. "Bob and Denis know these characters a lot more. So we're more comfortable in our shoes and more comfortable playing around. The first season is all about figuring out what the show is. Now that we've built that, it's about picking up these characters and putting them in different situations."
The writers sure hold true to that. While last year's episodes had their fair share of awkward incidents (like the guys discovering a patient's fetish for equine porn after a failed attempt to clear his browser history), the new season wastes little time tossing the trio into some odd and hilarious situations. In one episode, Brian finds himself attending a high school prom ("It sounds creepy, but it isn't," Bigley says with a laugh), and in a later installment, both he and Johnny end up as unwitting chaperones for a tween's birthday slumber party. As potentially outlandish as it gets, the natural chemistry that the cast has manages to both heighten the comedy, and keep it grounded.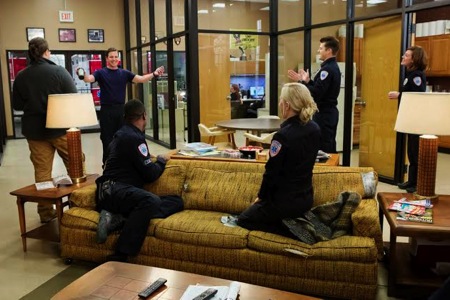 On this particular day of filming, with cast and crew crammed into a small room on the show's hospital set, that comfort level might be working against them. Mosley and Jessica McNamee (she plays Theresa, a Chicago cop and Johnny's girlfriend) cannot keep a straight face whenever Josh Segarra (Theresa's partner in policing, Billy) speaks. It doesn't help matters that the actor lying in the hospital bed, pretending to be in a coma, keeps falling asleep and snoring. "The more you try not to think about it, the worse it gets," McNamee says later. "[Michael] was pinching my back and I was pinching his arm. You really have to hurt yourself to stop laughing."
That level of ease isn't necessarily hard to come by with actors. But in talking with the cast on set, it was amazing to hear how much it continues outside of work. The production company has almost all of the actors staying in the same apartment building in the city, leading to many nights out, bar hopping and sharing meals throughout the city.
"I had all these fears about the casting," remembers Fisher, "I foolishly panicked."
There's no better testament to the feeling of bonhomie that exudes from the set than when Bill Nunn, the veteran actor who plays Cash on the show, decides to stop by and hang out, even though he has nothing to film that day. The trip isn't an easy one for him either, as he has to walk with the aid of a cane, after having his left femur removed following a battle with cancer.
Those health issues almost kept Nunn from being a part of the show, even though he enjoyed working with Leary on the short-lived ABC cop comedy The Job.
"I thought I was retired," Nunn remembers. "When they called me, I said, 'I can't do no TV show. I can't walk!' And they said, 'C'mon, we'll make it work.' I'm almost always sitting down. So if you don't know, you don't know. I thought it was real classy of them."
Another classy aspect of Sirens is that the series makes a point to never paint Johnny, Hank, and Brian like buffoons on the job. Though the pilot episode they filmed featured scenes with the three cracking jokes while tending to a patient, Fisher and Leary wisely cut them for air, realizing that what made Sirens work was knowing that—however poorly things go when they're out of their uniforms—the EMTs handle every call with calm and poise.
"There's still comedy to be found in first responders," Mosley says. "There's that brotherhood, that camaraderie that you can tap into. This year, we blend the brand a little bit in that way. The show's kind of grown up. We still have a bunch of dick jokes, though."
---
Robert Ham is a Portland-based freelance writer and regular contributor to Paste. You can follow him on Twitter.